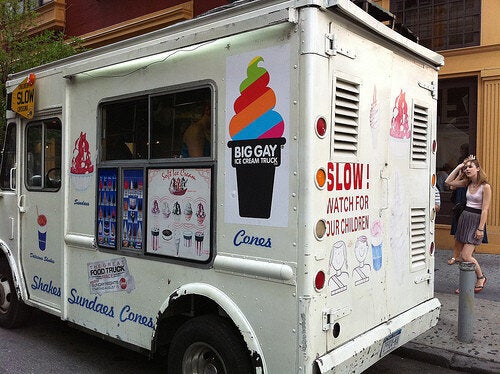 Huffpost Food recently attended the Zagat Food Truck Frenzy in order to learn a little bit more about the people behind the food trucks and get answers to all our burning questions.
First, we chatted with Coolhaus Ice Cream Sandwiches Truck (locations in Los Angeles, Austin, Manhattan and The Hamptons) CEO Natasha Case who told us about a crazy customer that wanted to trade a tattoo for some ice cream sandwiches.
Tip: Track down the Coolhaus truck on Twitter (@coolhaus, @coolhausatx, @coolhausny) and try the Dirty Mint Chip. It will convert even the non-mint lovers.
The line for the Luke's Lobster Truck (@lukeslobster) was insane, so we were lucky enough to snag Mike Waskom for a few minutes (though not lucky enough to snag a lobster roll - all sold out!). He agrees with Natasha that starting a food truck is a hard business, evidenced with how frequently he goes to City Hall to fight parking tickets.
You know you're in for a sweet treat with the Big Gay Ice Cream Truck (@biggayicecream) but perhaps even better than the ice cream and its huge range of toppings is the driver, Doug Quint. He regales us with a story about a customer who instead of grabbing ice cream by its cone, grabbed it by the ice cream itself.
So, if you have a small bladder, being a food truck driver is not the job for you.
Popular in the Community