Search eBay for the term "food truck" and you'll find a graveyard: more than a thousand entries, many listed by owners of food truck businesses that have gone bust.
Many of these ads showcase fully outfitted, custom-built food service vehicles wrapped in colorful designs hawking fare like artisanal waffles, barbecue and Cajun-Cuban fusion. In some cases, the business is for sale along with the truck: Prices range all the way up to $119,900. For despite individual failures, the food truck craze shows no sign of slowing down.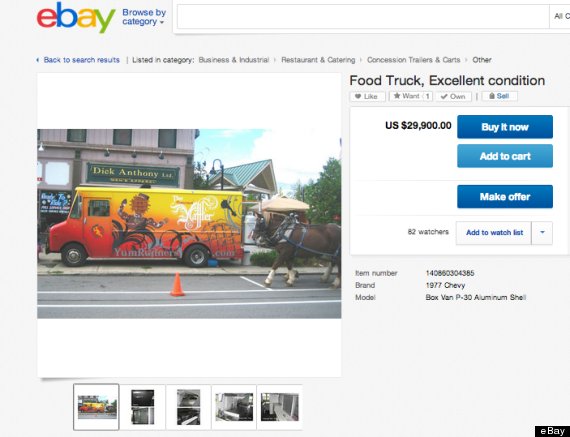 One eBay listing shows what was formerly The Gourmet Waffler, an artisanal-waffle truck based in Rochester, N.Y. Co-owner Jill Stolt shuttered the truck a year ago after two years on the road. She and business partner Carl Wolf recently decided to sell it online.
Dazzled by the trendy food truck industry in cities like Los Angeles and New York, Stolt had been inspired to bring one to Rochester. "We did not have any of the gourmet stuff in Rochester," she told The Huffington Post, "so we were one of the first on the road in this market."
But Stolt said the business, which she had hoped to operate while also running an organization for troubled youth, was more work than she'd expected. A first-time truck owner, she was soon bogged down by a slew of unanticipated difficulties.
Health code requirements varied from small town to small town, she said, and the vehicle often broke down. Hours spent prepping food, frustrating searches for coveted parking spaces and predictably unpredictable weather added to the strain.
Plus, Stolt recalled, "It was very difficult to get folks, especially in the smaller towns, to come up to the trucks. They were kind of afraid of it."
In the end, she listed her $40,000 custom truck on eBay for about $30,000.
Stolt's story was echoed by numerous food truck professionals who spoke to HuffPost: A bright-eyed entrepreneur sees the trend in food trucks and wants to get in on the action, unaware of challenges ahead that often prove too great to overcome.
David Weber, the founder and president of the NYC Food Truck Association, said that operating a food truck is "much, much harder work than even owning a restaurant -- and owning a restaurant is hard work."
Weber, who co-founded Rickshaw Dumpling, described confronting many of the same headaches as Stolt did: onerous city regulations, parking difficulties, bad weather, truck maintenance and, perhaps the hardest, long hours. Rickshaw Dumpling currently has a fleet of four trucks, two brick-and-mortar locations and one kiosk in Times Square, but Weber left the business in 2012 to work for the NYC Food Truck Association full-time.
"For the lunch rush, which is primarily where a food truck is going to be doing their business for the day, there's hours of prep, loading, parking, setup … hours of cleaning and potentially prep for the next day," said Weber. "You can easily work an eight- to 10-hour day for two hours of service."
In contrast, restaurants with fixed locations usually have larger staffs and more space, meaning various tasks can be taken care of concurrently, not to mention that deliveries can be made directly to the establishment.
But the lure of a lower barrier to entry -- food trucks cost a fraction of the price of kickstarting a restaurant -- can be too great to resist. Weber described the new entrepreneurs as "gold rushers." He estimated that roughly a dozen new food trucks have popped up every year in New York City for the last few years, with five or six dropping out in 2012. Oftentimes a truck will close for the winter and choose not to reopen in the spring.
Although new markets like Rochester may be difficult to crack, entrepreneurs in cities with established food truck communities face another challenge: not being boring. So many new food trucks open on a regular basis in Los Angeles and surrounding areas that "it's like white noise," said Matthew Geller, CEO of the Southern California Mobile Food Vendors Association and author of The Food Truck Handbook: Start, Grow, and Succeed in the Mobile Food Business.
Geller, who has helped food truck communities across the country found their own associations, said that "there's a myth of success that dates back to 2009" in Los Angeles, or whenever that particular market started to see the new trend in food trucks. But gone are the days when people were excited by a food truck simply because it was a food truck. "People have come to just expect to see them," said Geller.
He estimated that about 100 trucks launched in Los Angeles last year, and 35 failed. Around 200 food trucks are currently on the road in LA, not including the old-school hot dog and shawarma carts.
In Washington, D.C., where Geller helped the community establish the DC Food Truck Association, executive director Che Ruddell-Tabisola (who also operates BBQ Bus) estimated that about 30 trucks have gone out of business since 2009, and around 100 are chugging along.
Even in such established food truck markets, the number of trucks varies based on more than population. Some cities have more stringent permit and health code restrictions than others. And trucks in warm, dry regions can often stay on the road longer than those in cold, wet ones. It's less expensive to start up a food truck in some cities. In Los Angeles, for example, the vast majority of food truck owners rent their vehicles relatively on the cheap, whereas that's somewhat of a rarity in New York.
Risks aside, it's not all bad in the food truck business. "I think that food trucks are amazing in that way that they can incubate a hospitality concept," Weber said. "They're really hard to run, they're really hard to scale. But they really give you great proof of concept."
In other words, Weber suggests that whether or not a particular food truck works as a business, it's a way to test the popularity of certain food concepts in a market. An entrepreneur who ultimately prefers the stability of a brick-and-mortar location might be willing to take the financial risk if his or her food proved popular on the road.
Back in Rochester, Jill Stolt said she has fielded several inquiries from people interested in buying what was once The Gourmet Waffler. Between her operational profits and the sale of the truck, she estimated that she would break about even on the business. And she said she doesn't regret her time as a food truck owner.
Now, Stolt is busy operating WellVentions, the organization she'd originally planned to run at the same time as The Gourmet Waffler. It works closely with programs for at-risk kids, helping them to develop entrepreneurial skills and learn about nutritious food, using -- you guessed it -- a food truck. She plans to buy one for the kids in a few months.
"I do believe that it's still a very vibrant and new industry," Stolt said. "I don't think it's reached critical mass. The amount of calls we've been getting on the truck and the amount of new businesses that I hear opening in Rochester is substantial. I sincerely believe that there are more getting into it than getting out of it."
Related
Before You Go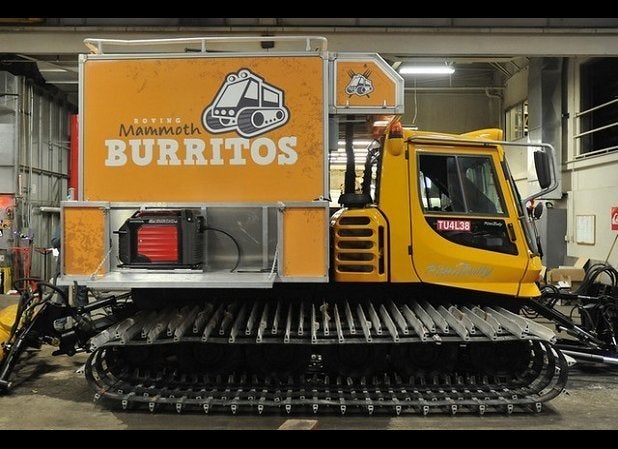 The Coolest Food Trucks