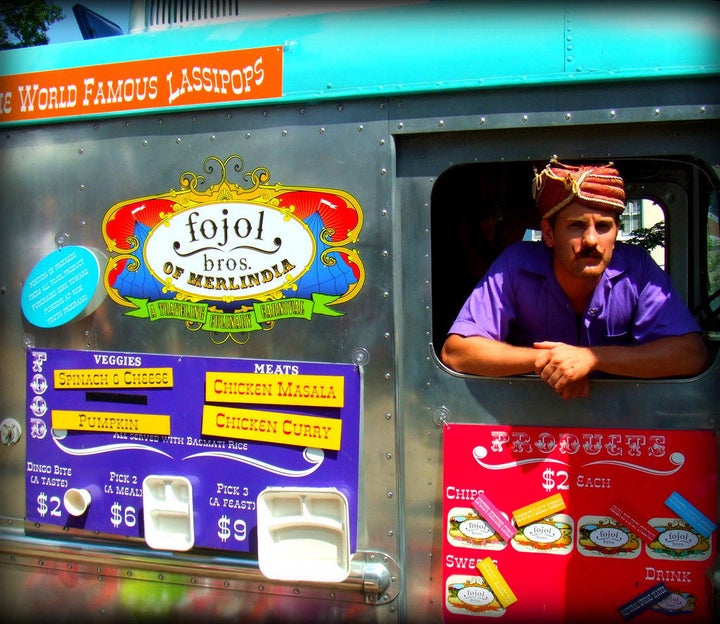 By trying to balance the interests of various parties, the Washington, D.C. Department of Consumer and Regulatory Affairs' newly proposed vending regulations reflect a number of compromises. On the whole, however, we believe they are a positive step forward and should be adopted.

In recent years Washington, D.C. and other cities across the nation have seen amazing growth in food trucks -- and for good reason. We are an outgrowth of a renaissance in culinary excitement that's sweeping the nation. D.C. is a world-class food destination, and food trucks are an important part of that movement.

More importantly, food trucks bring many benefits to the District. Our followers tell us they feel engaged in city life and are proud to live and work in a city that's becoming known for its great food options. D.C. food trucks have turned formerly barren areas, such as Franklin Square, into gathering places. We've traveled to lesser-developed parts of the District, bringing new food choices to residents and workers in areas where brick-and-mortar restaurants have not yet opened or where lunch options are limited. Business Investment Districts and building managers in several areas of the District have welcomed our presence as a feature that keeps tenants and employees happy and encourages businesses to locate there.

Although a handful of restaurant owners take issue with food trucks, the vast majority supports us. The more enlightened restaurant owners have told us that if you're good at what you do, food trucks don't represent competition; if you're not so good at what you do, food trucks should spur you to do better. Nevertheless, we remain sensitive to concerns. Out of respect for our restaurant friends, the D.C. Food Truck Association's (DCFTA) Code of Conduct includes a provision that we avoid parking near restaurants that serve the same food. On the rare occasions when a restaurant complains about our presence, we do what we can to remedy the situation.

Red Hook Lobster Pound-DC has always been of the opinion that food trucks represent win-win opportunities on multiple levels -- for small business, for existing retail establishments and bars and restaurants, for the District, workers and residents. Food trucks are small businesses and are part of the engine that help the District (and the country) out of our current economic crisis: Win-win. Retail stores have told us that they love it when we park near them because the followers we attract (often from outside the area) get exposed to and shop at their stores: Win-win. On numerous occasions, we've partnered with bars, restaurants and coffee houses that are interested in us parking in front of their businesses for the same reason -- we attract new customers: Win-win.

The District's existing 30-year-old vending regulations were adopted in an era when ice cream trucks, souvenir trailers and hot dog carts represented the extent of street vending in the District. It's not surprising that those regulations are ill-suited to today's mobile vending operations. Existing regulations prohibit us from stopping at a location unless there is a customer waiting. Similarly they require us to leave a location once the line ends. Our mobile kitchens, however, require time to set up before we start service and more time to safely break down following service. If someone walks up to the truck and we're otherwise parked legally at the location, we should be permitted to serve that person whether they are the first person or the tenth person in line when they arrived.

The newly proposed regulations would generally cure this problem. If adopted, the regulations will allow trucks to stay open for as long as we're legally parked, regardless of whether there is a customer standing in line at the truck. This is an important improvement.

The food truck community has always understood that public health and safety are of paramount importance when it comes to food handling and to the use of public spaces. Every DC food truck already must comply with the exact same Department of Health regulations as any other restaurant. And all members of the DCFTA must comply with a Code of Conduct that requires us to collect trash and leave our service locations cleaner than how we find them and to actively engage with our customers so that they don't impair passage on the sidewalk.

We are gratified that the proposed regulations don't attempt to go beyond acceptable health and safety regulations and delve into impermissible areas such as distance restrictions or outright prohibitions against food trucks. Cities that have attempted to impose regulations such as those that are designed to protect brick-and-mortar restaurants from competition have lost in the courts.

Our primary area of concern in the proposed regulations is the section governing Vending Development Zones, or VDZs. Although we believe they can be implemented in a manner that improves vending, we fear that interests opposed to food trucks will attempt to use them to limit street vending by imposing restrictions that go beyond the protection of health and safety. VDZ provisions appear to start from a position where food trucks are excluded unless they are specifically included. We believe that any regulations that exclude food trucks from potentially large swaths of the District are not only bad policy but also illegal. We intend to actively participate in all VDZ proceedings to help ensure that any plans adopted are consistent with the original intent of the regulations -- to develop new vending opportunities. If it looks like VDZs are being used for the unintended purpose of limiting such opportunities or eliminating them entirely, we'll actively solicit the support of our followers to defeat the plan and those promoting it.

The bottom line is that the proposed regulations are an improvement over the old regulations that do not make sense in this new age of mobile food vending in the District. If adopted, the regulations would provide an opportunity for small businesses to continue to grow and to provide benefits to the District, to other businesses and to residents and workers. Our support of the proposed regulations is tempered by the possibility that food truck opponents will attempt to use the VDZ provisions to limit or eliminate food truck access in certain parts of the District, but we will remain vigilant in doing everything in our power to protect against that possibility.

We encourage you to file comments with DCRA at in support of the proposed regulations and to continue to support your local foodtruck community.

Red Hook Lobster Pound-DC has been serving fresh Maine lobster rolls in the Washington, DC metropolitan area since 2010. It was voted Best Food Truck in the Washington City Paper 2011 Readers' Poll and was the first food truck to be included in the Washington Post's Fall Dining Guide. It was ranked No. 11 in the Washington City Paper's list of Most Powerful Restaurants and has been featured in numerous publications including Bon Appetite Magazine, Maxim and the Washingtonian Magazine. Red Hook Lobster Pound-DC strives to provide followers with a taste of summer in Maine and spread "Lobstah Love" through various charitable activities.
Popular in the Community