There's something about gourmet ice cream trucks that makes them cool. No pun intended, a gourmet ice cream truck is just more hip than an ice cream shop. Maybe it's the quirky people who operate them, maybe it's their funky flavors, or maybe it's their high quality ingredients. Whatever it is, this new breed of ice cream truck has adults chasing after them, or at least following them on Twitter.
Lake Street Creamery, founded by Beth Colla and Tim Ferguson, hit the streets of Los Angeles this June. The laugh-a-minute couple drew me in on their website, which has crazy kitten videos. One video appeared here on Huffington Post, then went viral on YouTube.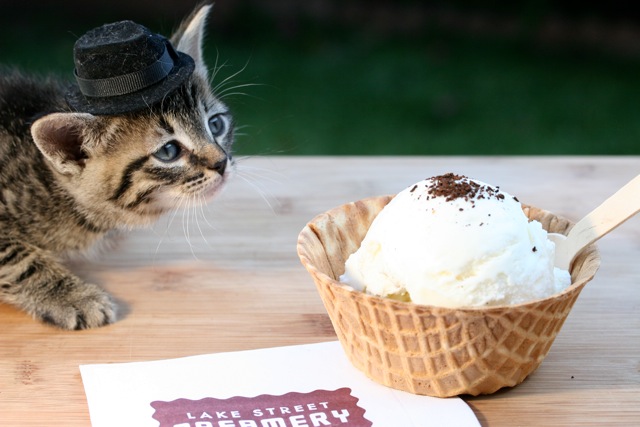 YouTube's 'Kitten Wearing a Tiny Hat,' with Donut Ice Cream (photo by Tim Ferguson)
The duo started their ice cream business out of necessity, serving their home made creations from tables set up in front of willing food truck vendors. "We got a lot of love and encouragement, so we decided to get our own truck," said Beth.
"We have a lot of fun with the flavors we're doing," said Tim. "Donut," made with fresh cake donuts, "Pancake Breakfast," made of flapjacks, maple syrup, bacon bits and fresh ground coffee, and "Don Draper," with vanilla beans, bourbon, liquid smoke and caramel, are just a few.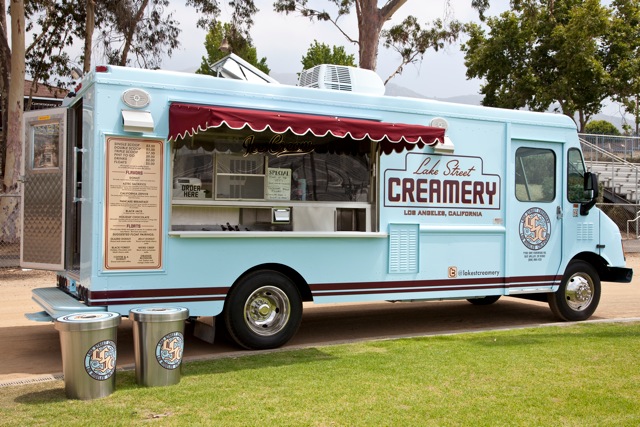 Lake Street Creamery Ice Cream Truck (photo by Tim Ferguson)
Beth and Tim were invited on the set of Mad Men because of their Don Draper ice cream. When they arrived, the cast was holding up a banner that read "Welcome Lake Street Creamery." "We were freaking out," said Beth. "Then Don Draper came up and said 'I better have my flavor.' It was awesome."
The thing that sets this ice cream truck apart is that the ice cream is made on board . Tim calls it "an ice cream parlour on wheels."
Coolhaus was founded in Los Angeles in 2009 by Natasha Case and Freya Estreller, but they're now in Austin, TX, and coming to New York City in 2011. With a background in architecture and commercial real estate, the name Coolhaus is what Natasha calls "a triple-play on the famous Dutch architect Remment Koolhaas, the Bauhaus movement, and of course a cool house for cold ice cream."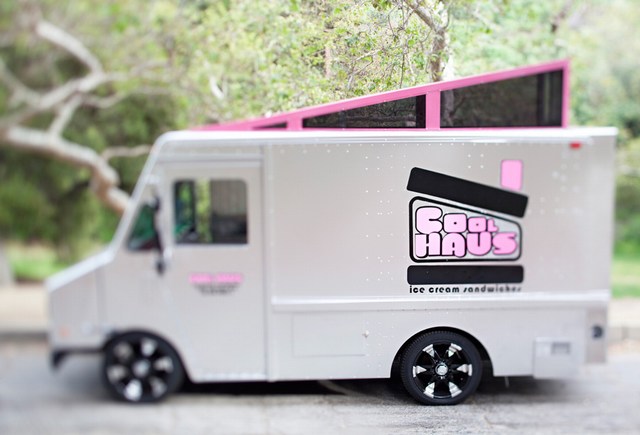 Coolhaus Ice Cream Truck (Photo by Jean and Austin Tsai)
Selling only ice cream sandwiches, the Coolhaus truck is decorated with images of architectural masterpieces and the work of local architects. "We use our truck to introduce people to architecture, which can be a little closed on itself and intimidating," said Natasha. "I wanted to make architecture fun and accessible."
A unique aspect of Coolhaus is the wrappers for the ice cream sandwiches, they're made of edible rice paper. "I can never find a trash can in LA so the idea was that when you're done eating you can just pop the wrapper in your mouth so there's no waste."
Coolhaus flavors are eclectic, "Dirty Mint," with molasses and brown sugar, "Cabernet/Lambrusco," and "Balsamic, Fig and Mascarpone." They use all organic dairy, and buy their produce from small, local farms.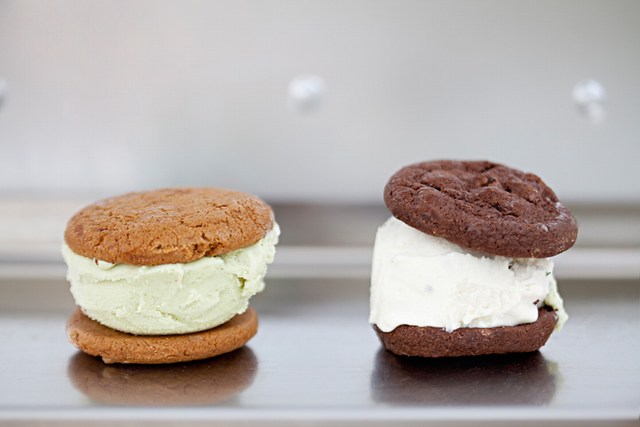 Coolhaus' Ginger Cookie w/ Matcha Green Tea, Chocolate Cookie w/ Dirty Mint Chip (Photo by Jean and Austin Tsai)
Van Leeuwen Artisanal Ice Cream rolled out its New York City truck in 2008. With five trucks on the move, founding brothers Ben and Peter van Leeuwen, and Laura O'Neill (Ben's wife), have expanded their business with on-truck espresso, pints for sale at area Whole Foods Markets and other shops, as well as opening a tiny ice cream parlour in Greenpoint, Brooklyn.
"Soon we'll have a 6th truck parked outside the old Tavern on The Green," said Laura when I visited the shop in Brooklyn.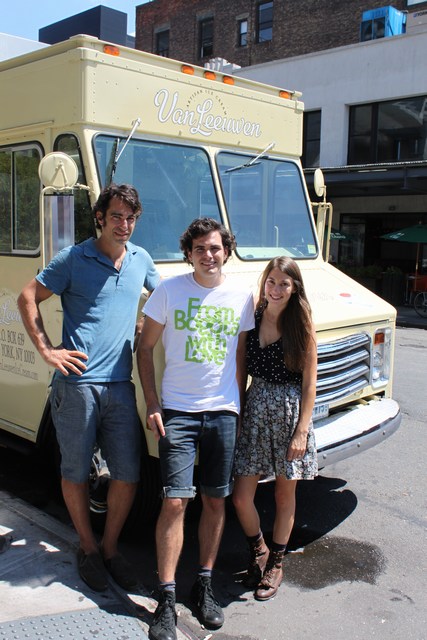 Peter and Ben van Leeuwen and Laura O'Neill (Photo by Adrienne Winterhalter)
When they were in college, the brothers Van Leeuwen drove a Good Humor truck during the summer, that's when the idea hit them. "An ice cream truck is a great business model, but the ice cream itself could be done much better," said Ben.
Van Leeuwen's flavors are rich and decadent and include ingredients like Michel Cluizel organic chocolate, Tahitian vanilla beans, and hormone-free dairy. "We've always been obsessed with food and ingredients," added Ben. They're constantly developing new flavors. A recent addition, "Palm Sugar," was complex, nutty, and peppery.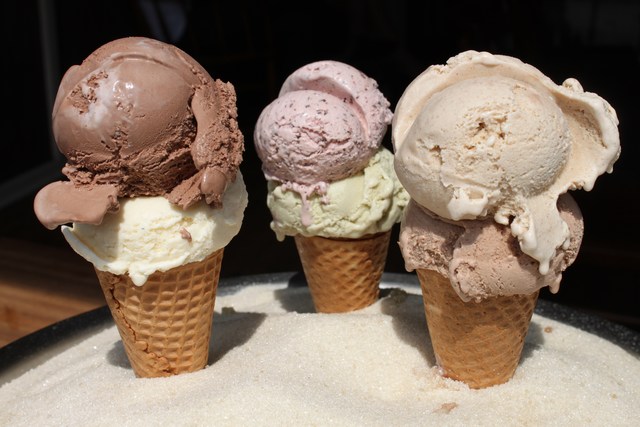 Van Leeuwen Scoops: Vanilla and Chocolate, Cherry Chip and Pistachio, Cinnamon and Gianduja (Photo by Laura O'Neill)
Another New York City operation is Big Gay Ice Cream Truck. Founded by Doug Quint and Bryan Petroff. Big Gay had a fitting debut at last year's Brooklyn Gay Pride Day.
Doug, a classically trained bassoonist, wanted to find a summer gig in the city so he didn't have to travel all over to music festivals. "I wanted to do something a little strange and the opportunity to have an ice cream truck for the summer came up," explained Doug. "I've always had a fascination with soft serve and ice cream trucks so it just seemed like the thing to do."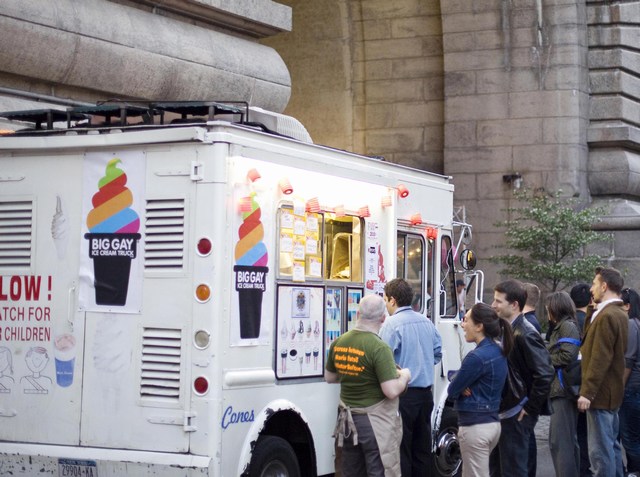 The Big Gay Ice Cream Truck at Manhattan Bridge (Photo by Donny Tsang)
Doug and Bryan started by renting a standard soft-serve ice cream truck. "Then we started thinking about a different kind of menu, and how to make the truck stand out from other soft serves," explained Doug. "We named it Big Gay because it was just our big gay ice cream truck."
Big Gay's stand-apart soft serves include the "Salty Pimp" with dulce de leche, sea salt, and a chocolate dip. "Atomic Winter" is a vanilla ice cream sundae with spicy sriracha sauce, chocolate drizzle, crushed cashews, and a pickle.

Big Gay's Salty Pimp (Photo by Robyn Lee)
So where do you find these cool gourmet ice cream trucks? On Twitter, of course. Each truck has its own Twitter account where they tweet locations and specials as they roam the streets. As Tim of Lake Street Creamery put it, "Twitter is like word of mouth on crack."
Lake Street Creamery
http://twitter.com/lakestcreamery
Coolhaus
http://twitter.com/COOLHAUS
Van Leeuwen Artisanal Ice Cream
http://twitter.com/VLAIC
Big Gay Ice Cream Truck
http://twitter.com/biggayicecream
Calling all HuffPost superfans!
Sign up for membership to become a founding member and help shape HuffPost's next chapter