During the hectic lunch hours in New York City, people of all ages and backgrounds form a long queue in front of Korilla BBQ, a food truck serving Korean-style burritos. Once the workers completely sell out of food, they shout, "That's a wrap!" and drive their mobile truck away to stock up on ingredients. While on the road, Chef James, the brainchild behind the business, takes out his iPhone and sends a Tweet to his 22K+ followers: "Korilla @116th & Amsterdam open for dinner service at 5pm!"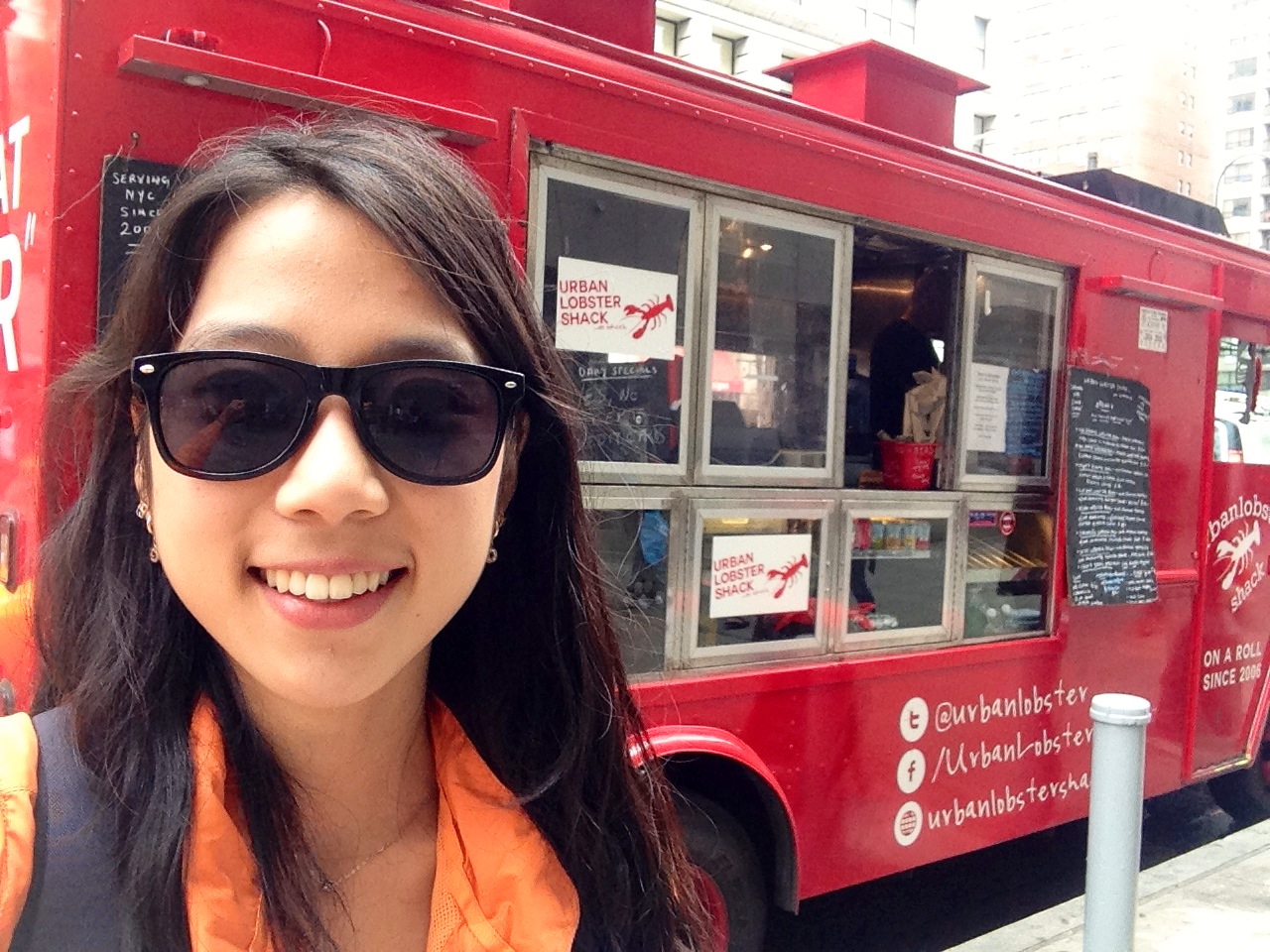 Food trucks, such as Korilla BBQ, have gained remarkable popularity in recent years. For my senior thesis, I am exploring the emergence of this new U.S. market for food trucks, a rapidly growing business that in 2011 accounted for 37 percent of the $1.4 billion in street revenue nationwide. My research delves into the transformation of the public's attitude towards food trucks from denigrated "roach coaches" to pop culture phenomenon, and more broadly, the change in the landscape of American food culture. The research explores two interrelated factors that helped to change the image of New York City's food trucks: the evolving customer base and unique marketing strategy via social media.
Most food trucks emerged in the late 2000s at the start of the economic recession as customers began demanding quick and inexpensive meals. With their relatively low marketing and operational costs, food trucks proved to be extremely prosperous; within a couple of years, the business solidified as a lucrative venture that chefs lauded as being more rewarding and financially feasible than maintaining brick-and-mortar restaurants.
But economics only partly explain the transformation of the food truck business. Perhaps an even bigger factor is the change in its customer base, which can be noted by the type of food served in these food trucks as well as the role of social media in spreading their popularity.
French sociologist Pierre Bourdieu specifically talks about class-related tastes, arguing that tastes in food depend on the idea each class has about the effects of food on the body. Bourdieu describes the eating habits of the working class and the professions, with the former being "more attentive to the strength of the body than its shape, and tend to go for products that are both cheap and nutritious," while the latter opts for "products that are tasty, health-giving, light, and not fattening." Likewise, the quality of food in food trucks has also improved -- no longer are these trucks serving defrosted, instant meals, but gourmet food prepared by former chefs of upscale restaurants.
In addition, the world of food has become increasingly entwined with the world of technology. Social media marketing has enabled food trucks to interact directly with their customers to foster a sense of community and to create brand loyalty. Indeed, with close to a billion people on Facebook, marketers are beginning to realize the power of social media as a tool to build personal brand image and establish consumer trust. GIS social media platforms, such as Twitter, have been particularly useful for food truck vendors because they can communicate to specific, local audiences about their latest locations or special menu items. Social media also allows customers to engage in a thrill of "the chase" as they track the location of their favorite food trucks.
Over a period of three months this summer, I attempted to find out all I can about the food trucks business by following different trucks at multiple locations and interviewing as many customers and operators as I could. As the mecca of U.S. food culture, New York City seemed liked the opportune destination for my research, especially given the city's sheer number of food trucks due to its population density.
Because food trucks used to be considered the nadir of culinary achievement, catering to people in blue-collar professions, I first wanted to understand the customer demographics of NYC's popular food trucks. Why did customers of higher income and social status start eating at food trucks? Second, I wanted to examine how food trucks use social media tools like Twitter to announce their location changes and new menu items, as well as to build brand awareness and customer loyalty. Finally, I wished to analyze whether there is a segmented market for food trucks, with those still serving the traditional working class customers and others catering to higher income customers. Do these food trucks have different customer bases, media and marketing strategies, and even different food? Is there a correlation between class and food?
As I flip through many pages of notes, transcribed interviews, and audio recordings I have collected over the summer, I have a sudden epiphany that my thesis is actually coming into fruition. Certainly, I still have to do a lot of analytical work to digest all the information into a cohesive piece of work, but in the meantime, I think I will take a little break and grab a bite from my favorite food truck in the city.
Support HuffPost
The Stakes Have Never Been Higher
Related
Popular in the Community