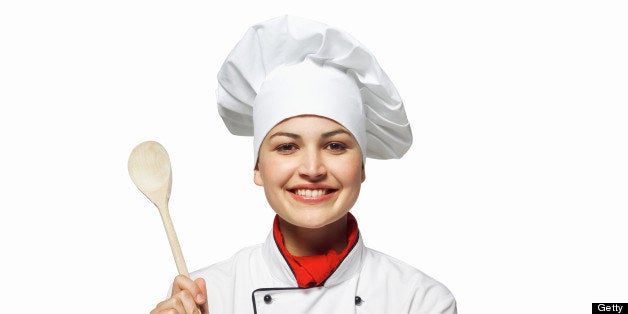 Once again, it's "one and done" for the lone woman ranger on the annual Food & Wine "Best New Chefs" (BNC) in America list. Every year, I take issue with the magazine's BNC, which recognizes innovative, up-and-coming chefs who have been in charge of a kitchen for five or fewer years. If these designated honorees are "the future of food," when will creative women chef power rangers rise in the culinary universe? Perhaps women chefs should cook up a "Food & Whine" protest?
Here's the beef: Why aren't more women on the list? This has become the annual male call for the BNC. The (mostly female) editors solicit nominations from food writers, critics and experts around the country. Then they travel incognito to taste the food first-hand.
Congratulations to this year's lone woman ranger: Jamie Malone, 30, chef at Sea Change, the sustainable seafood restaurant at the Guthrie Theater in Minneapolis, MN. She was also nominated as a 2013 Rising Star Chef by the James Beard Awards.
Only 40 women, of the 250 BNC, have made the list since it was launched in 1988. No woman was chosen in 2003. One woman was selected in the period from 2004-2007 and from 2009 -2011. Two women were named in 2008 and 2012.
Four women were among F&W's five "Best New Pastry Chefs" this year: Stephanie Prida, Manresa, Los Gatos, Ca.; Sarah Jordan, Boka and GT Fish & Oyster, Chicago; Monica Glass, Clio and Uni Sashimi Bar, Boston and Melanie Durant, Empire State South, Atlanta.
No woman won F&W's "People's Best New Chef" or Regional Winner. Jodi Elliott, Foreign & Domestic, Austin, won the readers' "People's Best New Pastry Chef" online competition. Laura Pyles, Revel, Seattle, was a Regional Pastry winner.
F&W's "Best New Chefs All-Stars" featured only four women among the individual "superstars," representing each of the 25 years: Nancy Silverton, 1990; Nancy Oakes, 1993; Anne Quatrano, 1995 and Barbara Lynch, 1996.
WOMEN WIN JAMES BEARD FOOD "OSCARS"
This year, four women were among the ten James Beard Foundation (JBF) Regional Restaurant and Chef Awards: "Best Chef," Great Lakes: Stephanie Izard, Girl & The Goat, Chicago; Northeast: Melissa Kelly, Primo, Rockland, ME. and Southwest: Jennifer Jasinski, Rioja, Denver, CO.
Merry Edwards, of Merry Edwards Winery, Sebastopol, CA, was named "Outstanding Wine, Beer or Spirits Professional." Maguy Le Coze, of Le Bernardin, NYC, was selected "Outstanding Restaurateur." The Lifetime Achievement Award honoree was Cecilia Chiang, chef and restaurateur, San Francisco.
This year's JBF "Who's Who of Food and Beverage" inductees included Dorothy Kalins, editor, NYC; Barbara Lynch, chef and restaurateur, Boston and Zarela Martinez, chef and restaurateur, NYC. Lynch has created Full Plate, a bi-monthly lunch series with professional women from different industries, at her Menton restaurant.
The 2014 James Beard Awards Ceremony and Gala Reception will be celebrated on Monday, May 5, at Lincoln Center in NYC. Information and reservations at: www.JamesBeard.org and Tel: 914-231-6180.
"Women in Whites," to honor women in the culinary industry, will be the theme of the JBF gala on Friday, November 15, at The Four Seasons Restaurant in NYC. Among the women chefs and winemakers will be JBF Award Winners Melissa Kelly, of Primo; Barbara Lynch, of No 9 Par; Sherry Yard of Helms Bakery and Merry Edwards. Information and reservations at:
www.JamesBeard.org/events/women-whites-2013-james-beard-foundation-gala and Tel: 212-627-2308.
NEW FOOD BUSINESS OPPORTUNITIES FOR WOMEN

Emerging food entrepreneurs have an opportunity to exhibit in a special area at the Fancy Food Shows of the Specialty Food Association called "New Brands on the Shelf." Information at: www.specialtyfood.com.
FOOD PROFESSIONAL RESOURCES FOR WOMEN

Leading organizations formed to support and advance women in the profession include:
Le Dames d'Escoffier International (LDEI) has an invitation-only membership of almost 1,700 members in 28 chapters across the U.S, Canada and UK Information at: www.ldei.org.
Women Chefs & Restaurateurs (WCR) offers networking, professional and support services, with over 1,500 members in a dozen local exchanges nationwide. The annual Women Who Inspire Dinner, with the most influential women chefs in the country, will be in Chicago in March. Information at: www.womenchefs.org.
The Association of Food Journalists (AFJ) provides networking and education for writers, editors and critics. Information at: www.afjonline.com

WOMEN CHEFS SUPPORT TWO TASTINGS BENEFITS
Ann Burrell will be Celebrity Chef Host and MC at the first Pink Apron Party to raise funds for the Ellen Hermanson Breast Center at Southampton Hospital in Long Island, NY, on Saturday, August 17, at the hospital. Christie Brinkley and Barbara Smith and Dan Gasby of B. Smith's, are honorary chairs. Alexandra Guarnaschelli, Iron Chef and executive chef at Butter and The Darby, is Celebrity Chef Chair. The 25 all-women Kitchen Cabinet includes Amanda Cohen of Dirt Candy; Jessica Craig, pastry chef of Nick & Toni's; Laura Donnelly, pastry chef of Maidstone Arms; Sara Beth Levine of Sarabeth's and Anita Lo of Anissa. Information and reservations at:
www.ellensrun.org and Tel: 631-907-1952 or 212-840-0916.
More than 25 leading women chefs will host the tenth anniversary SHARE (Self-Help for Women with Breast or Ovarian Cancer) Tasting Buffet Benefit Reception and Silent Auction on Monday, September 23, at Pier Sixty, Chelsea Piers in NYC. Hosted by Ruth Reichl, Food Writer and Editor; Amanda Freitag, Celebrity Chef; Amy Scherber of Amy's Bread and Alexandra Guarnaschelli; Anita Lo and Rebecca Charles of Pearl Oyster Bar. Culinary Chairs are caterer Abigail Kirsch with Alison Awerbuch. Stage, screen and TV celebrity Sou Chefs will assist the women chefs. Information and reservations at: www.sharebenefit.org and Tel: 212-937-5581.
FOOD FOR THOUGHT: NOMINATE "BEST NEW WOMEN CHEFS"

Fired up? Let's dish about who should be on the Food & Wine "Best New Chefs" list next year. Why are so few women chefs recognized? What can we do for women chefs to become top toques and reap their just desserts? Bon Appetit!