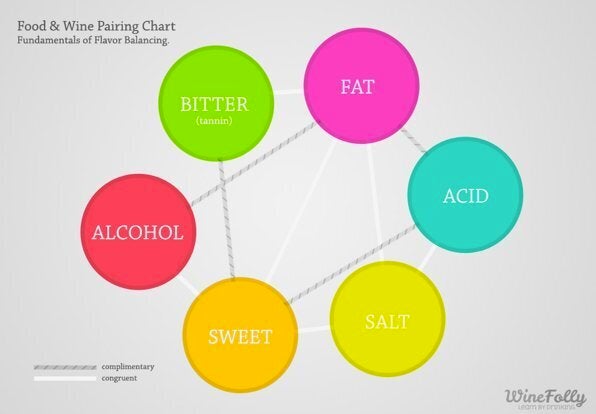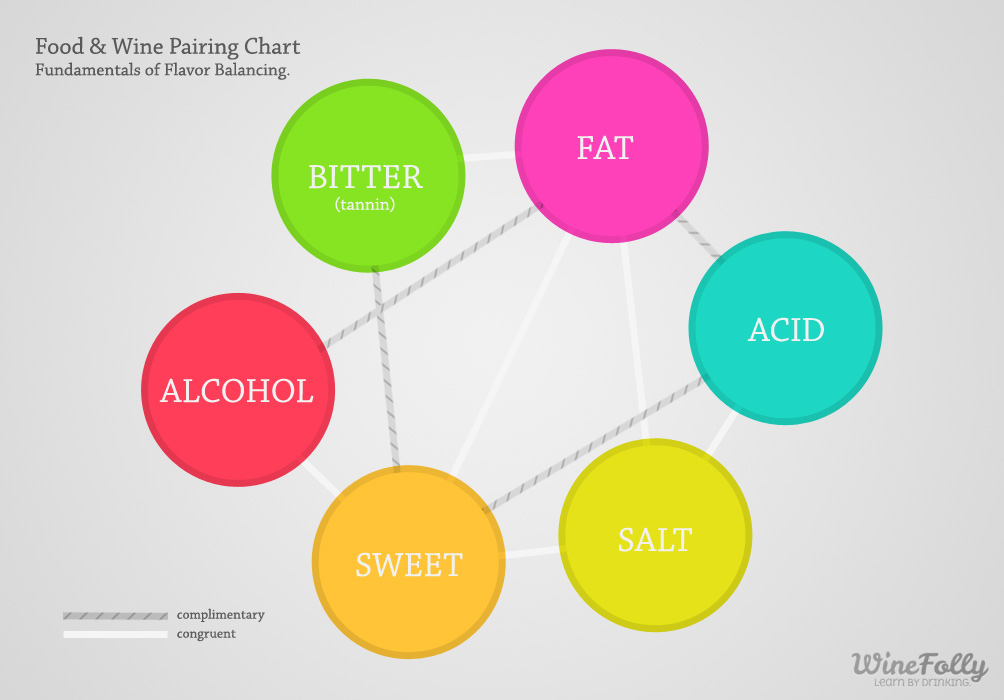 What makes a perfect food and wine pairing? Turns out, there are six common flavor fundamentals anyone can learn that provide the basis to matching food and wine. Let's take a look at these six basics and provide some real world examples from some fantastic dining spots around the country.
The basics of understanding how flavors interact with one another is actually quite simple (although not always easy to pull off). The six basic fundamental flavors are:
• Acid
• Fat
• Salt
• Sweet
• Bitter (aka tannin)
• Alcohol (aka spice)
Acid + Acid
Acidity in food is often found in first courses such as salads, sea fare and tapenade. When pairing a wine with an acidic dish, it's important to ensure the wine has higher acid than the food -- otherwise it will taste flat. White wines and champagne are popular choices for this type of pairing. Keep in mind that if the wine is oaked, it will often have less acidity.
Salads tend to be higher acid with the use of vinaigrette and acidic veggies and fruit. In this pairing, the zesty grapefruit is complimented by a totally dry prosecco such as Silvano Follador Prosecco Valdobbiandene Brut. The more "green" flavors in the dish like the salty-tart green olive and fatty avocado bring out the delicate fruity pear and citrus flavors in the wine.
Bitter + Fat
Bitterness is found in many red wines in the form of tannin. The most classic pairing to complement a big tannic red wine is steak. However, pairing with meats can be more interesting depending on what spices are used, such as a zinfandel with five-spice pork ribs. The spices magnify each other. Vegetarians can easily look toward fatty vegetarian options with nuts, oil or cheese to make a great pairing.
The trick to this pairing is the acid in the tomato sauce needs a wine with higher acids, so look at a cooler climate such as Washington State, Oregon or France as a place to start. Tarantino's adds a unique twist by using green bell pepper in their basic marinara sauce. The savory bell pepper flavor is brought out in the dish when paired with a cabernet franc, which generally exhibits more earthy, peppery and bitter notes. The Charles Joguet "Les Petites Roches" Chinon is a cabernet franc from France and a great pairing with lasagna.
Acid + Fat
Acidity balances fat and vice versa. A fundamental example is white wine butter sauce, where the white wine adds acidity to make the butter sauce pop.
Dish: Hereford Beef Filet, Shiitake Risotto, Wilted Spinach, Crispy Egg Yolk
Restaurant: Ivy Wild, Sewannee, TN
Wine: Leonetti Cellars Merlot
In this dish there's a lot of umami along with the fat in the dish, so a red wine will compliment the meatiness nicely. Washington State tends to produce red wines with brilliant acidity and fruit; the merlot from Leonetti is a fantastic choice to liven a rich, meaty dish.
Sweet and Spicy
Indian food with its spice is tricky to pair; it requires a wine with sweetness to cut the burn in the food. Highly spiced dishes lean towards a sweeter wine such as a riesling or gewürtzraminer.
Dish: Spiced duck breast with ground fennel seed curry
Restaurant: Vij's, Vancouver, BC
Wine: Dr. Hermann Riesling
Riesling with Indian food is a classic pairing, putting sweet and spicy into action. Vij's pairing works because a richer dish such as duck works calls for the lighter alcohol and cleansing acidity found in many German rieslings. The wine acts more as a palate cleanser and helps the imbiber enjoy the spicy flavors.
Salty and Sweet
Salty and sweet works in foods, and it also works with food and wine pairings. Make sure that if the food is already a little sweet that the wine is sweeter (so it shows it off).
A micro-sized dessert item at Poppy, Nutter Butters are the housemade variation of the candy by the same name. Composed of peanut-sugar wafer candy on the bottom and topped with soft caramel, they are a delicious peanut treat. Because of the salty peanuts in the dessert, we paired it with a fresh style of port (with more riper "berry" flavors) and the pairing tastes like a 21+ PB&J.
Alcohol + Fat
Alcohol often appears as spice, thus it's tricky to pair with dishes other than those with sweetness, fat or salt. High alcohol wines tend to be dessert wines, so look for a fantastic dessert to pair.
Dish: Crème Brûlée, Popcorn Ice Cream, Curried Peanuts, Pretzel Streusel
Restaurant: RN74, Seattle, WA
Wine: Kopke 20-year Tawny Port
A perfect pairing of tawny port with crème brûlée is magnified by the additional salty popcorn ice cream and pretzel. The wine acts as a neutralizer against the richness of an egg-yolk based dessert and the nutty flavors are multiplied as they match each other in both the wine and the dessert.
Wine Pairings to Avoid
Bitter + Bitter:
Many dry red wines have bitterness because they have tannins (on the same level as coffee or tea). Because of our human sensitivity to bitter, it's hard to pair bitter wines with bitter foods. This is why the somewhat disappointing chocolate and red wine pairing leaves your mouth feeling strangely dried out. If you are pairing food with a dry red wine, try to avoid overly bitter foods like dark leafy vegetables or overly sweet foods to help your wine taste its best.
Spice + Spice: Wines above 14% ABV often have what people describe as spiciness and can exacerbate a spicy food experience. Take a look at the wine's alcohol level if you're about to pour on the habañero sauce. Your tummy will thank you.
Madeline Puckette is the host of winefolly.com, a wine learning website serving up wine courses, videos and articles to inspire wine drinkers everywhere. A certified sommelier through Court of Masters, Madeline Puckette offers an alternative approach to loving wine: learn by drinking. Follow Madeline @Winefolly as she finds the most passionate people behind the wine.
Related