Food and wine...my favorite combination...or is that wine and food? Whatever the case, the Los Angeles Food and Wine Festival (August 21-24) offered it all and more.
Presented by Coast Luxury Management, the fourth annual LAFW featured celebrity chefs such as Curtis Stone, Michael Chiarello, Iron Chef Masaharu Morimoto, Thomas Keller, Guy Fieri, etc., along with an array of special events. Co-founder David Bernahl II confirmed that LAFW takes an entire year to plan. One can understand why. The event brought together an eclectic group of talented chefs and restaurants.
I was unable to attend all the various tasting/cooking events happening earlier in the weekend, but I did manage to make it to the Lexus Grand Tasting, Live on Grand event on Sunday, August 24, the final day of the festival.
It began with a red carpet entrance complete with a photo opt (I opted out), followed by a quick stop to snag a glass and then step into a true foodie's fantasy. The air-conditioned tents provided a comfortable setting away from the glaring Los Angeles sun.
A bit overwhelming at the start, one had to decide the best plan of action before the wine tasting commenced and the clarity of sobriety left (not to worry, I was the designated drinker). Next to Lexus, Delta Airlines was probably the most visited non-food booth, raffling off a free vacation while offering wine glass holders. These hands free beverage straps, which allowed the wine to dangle from the neck, afforded one the convenience of mastering the important food festival technique of skillfully grabbing and grazing in style.
One of our LA Art Party staff writers, Michael Baroff, accompanied me to the event. This proved helpful, as one stood on line for the next exquisite food taste while the other decided which wine would best complement the next dish. We arrived at the front of the line just in time to embrace a perfect pairing. The Luna Collection from Napa was located next to the popular Joe's Stone Crab booth, which presented an extravagant edible cone filled with cold-water lobster salad with a corn cream foam and cilantro. This kept Luna representative Lance C. Hooker busy pouring from its quirky and delicious Lunatic label.
As I reached for a taunting prawn calling to me, I recognized Chef Nick Shipp from one of my favorite Los Angeles restaurants, Upper West. Serving barbecued shrimp lathered in a zesty citrus-curry glaze, the divine dish was accompanied with a delicate aji amarillo espuma along with delicious peach & ginger escabeche and Vietnamese herbs.
Other delectable offerings came from top name restaurants that included Acabar, Bucato, Formosa Café, Fundamental, and lots more.
The event also featured a variety of wine tastings from vineyards such as Flowers, Kistler, Red Car, Rombauer, etc. Although the event was touted to feature hundreds of wineries, needless to say, despite the fact that I was the designated drinker, I still could not try them all.
LA Art Party staffer Baroff said he was feeling adventurous, as he bravely tasted an uni appetizer and held a sea urchin. I stayed long enough to shoot this photo, then meandered off to try a pinot noir from Calista Wines.
Last but not least Formosa Café's Chef Brian Huskey provided an exceptionally tasty dish comprised of Korean barbecued brisket served on bib lettuce with pickled fresno and charred corn.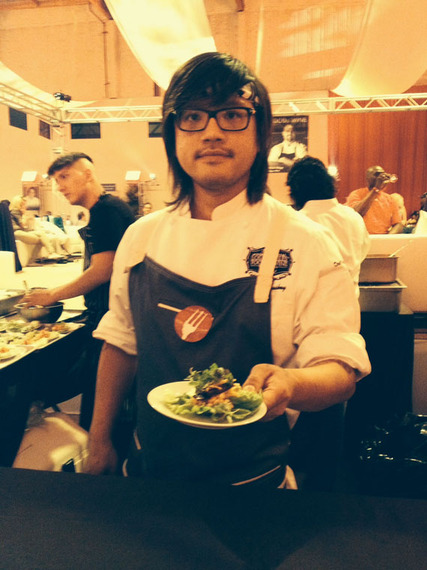 See Image: courtesy of LA Art Party; A tasty treat from Formosa Café's Chef Brian Huskey

Charities such as No Kid Hungry and Berkley Foundation will benefit from a portion of the sales.
If you are a foodie or a lover of wine, be sure to buy your tickets early for the 2015 Los Angeles Food and Wine event. For more info, see the LAFW website.
Related