By the time you are reading this, I will no longer be one of your resident HuffPost Taste Editors, covering all things on the whiskey, pickles and "hanger" beat. By the time you are reading this, I will be elbows deep in construction dust in a 110-year-old building, so close to the ocean that you can feel the salt spray from a decently hearty wave. By the time you read this, I will have quit my dream job in food writing to open a sandwich shop called Pop+Dutch with my husband in Provincetown, MA -- which you may know as "the San Francisco of the East Coast," or possibly "the end of the world, or whatever."
Last summer, Sean and I were wandering through Sunset Park, traversing the two short avenue blocks between Mexico and China, drinking an agua fresca on our way to eat dim sum, when it hit us both like a ton of bricks -- we wanted to be the ones standing behind the counter, ladling out cold aguas frescas for hot, weary wanderers. But we wanted to do it our way. We wanted to make the food we love to eat, served up with the amount of sass you've probably come to expect, in a place that would appreciate some more good food and good sass.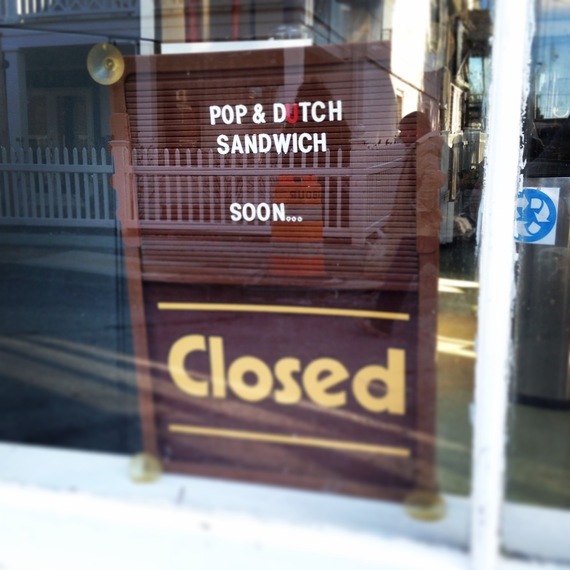 Don't worry, this isn't a "why I left New York" post -- because frankly, New York does not give a f**k (and no one not named Joan Didion ever needs to write another one of those) -- but it is a "why I left a reasonably comfortable city life, with a desk job that I love and the best friends on earth, to go do manual labor on my feet seven days a week" post. Brooklyn, a place we both came to love and regard as home for the last half-decade, simply put, doesn't need us. There is so much good food there, that it has actually become a joke -- which is about as great a doom to befall your city as I can think of.
Cape Cod, by contrast, has a different problem. Because of its incredible proximity to some of the best, freshest and most abundant seafood in the US, most of the restaurants here tend to be focused on the things you'd expect to eat on a day trip here: lobster rolls, fried clams, oysters in every possible preparation you can think of (P.S., guys, I ate oysters with spinach artichoke dip broiled on top the other day and I've been thinking about them ever since). I love lobster rolls. I love them in a Stephen King's "Misery" chain-them-to-the-radiator kind of way -- but even I can only eat a few a week without desperately craving a vegetable, a nicely composed salad, or even a roast beef sandwich.
And that, dudes, is where we're hoping Pop+Dutch will come in. We're going to roast our own roast beef and turkey in-house for sandwiches, use tons of hearty greens, focus on the kind of respectably healthy things we always crave after one too many lobster rolls and make them as quickly as possible so you can get to the danged beach already. But, we're also us. So there will be overly buttery breakfast sandwiches, pimento cheese out the proverbial yin-yang and a metric f**k-ton of cold brewed iced coffee. A little bit of Brooklyn in Provincetown, but hopefully in the "yay, this is delicious" way and not the "oh hell, the hipsters have arrived" way.
All that sounds amazing through the lens of our daydreamy gaze toward summer -- sipping iced coffee and bumping '90s hip-hop while we do food prep and scramble eggs, but, as we've obviously already begun to experience, it also involves a not-insignificant amount of grueling work to get there. In addition to knowing which mayonnaise is the best, you also have to know whether $1.39 per square foot is a good deal for flooring materials. What could possibly possess us to abandon our admittedly spectacular life in New York to renovate a 110-year-old building and sling sandwiches to Cape Cod vacationers, you might be asking? Roughly five things: 1) Sense of adventure, 2) a desire to try all the things, 3) an urge to create something with our own four hands that is uniquely ours, 4) a lifelong obsession with making food and feeding it to people, and 5) a very tangible understanding that life is too short to not do everything you've ever wanted to do, with as much urgency as possible.
In my final weeks as Associate Editor at HuffPost Taste, I did a lot of thinking about just what the hell I thought I was doing. But, as I slowly let the secret slip to other food writers, I recognized a glimmer of camaraderie in their eyes. All of us were writing about food because we couldn't ever stop thinking about it, and don't we all, on some level, actually just want to be making it all the time? I guess Sean and I are going to find out.
Related