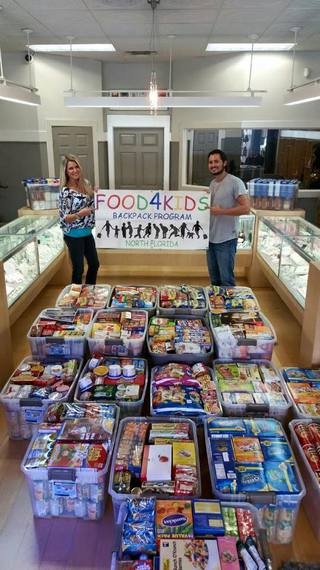 Sheena and Clint inside their showroom holding up the Food4Kids banner with a portion of the food collected
The Plumfund Story: Fundraising for Food4Kids Backpack Program of North Florida
One out of four children in North Florida is affected by poverty and lives in a food insecure home. Despite programs that offer free and low-cost meals, afterschool snacks and food stamps to target hunger, there is still a significant number of families that are struggling to put food on the table. Food4KidsFl.org is a registered 501 (c) 3 non-profit organization with a mission to battle childhood hunger. Food4Kids is completely organized and run by volunteers who are passionate about making a difference in these needy families' lives. Food4Kids targets children who are "chronically hungry" and are at risk of not receiving food over the weekend. The children that are identified for this program are given a backpack each Friday afternoon containing seven prepared meals -- enough to feed them for the entire the weekend.
My husband Clint and I were both born and raised in Alachua County, Florida and feel supported in our beloved community where we operate our small business. That is why we first decided to partner with Food4Kids four years ago, to give back and inspire others to strive to make a difference in their communities.
Last August 22, Clint and I hosted our fourth annual Food Drive Extravaganza at Haile Jewelry and Loans in support of Food4Kids. It was the celebration of a month-long food-collection campaign of non-perishable food items that go in the backpacks given out to kids. While donations were generous, we knew there was more that could be done to make sure there was enough to stuff the bags with healthy, fulfilling foods. That is when we turned to Plumfund.
Plumfund In Action: 10,000 Pounds of Food Feed 1,429 Children
During our 2014 food drive, so many people handed us money directly or mailed us checks to go out and do the shopping for them. With so many people reaching out and wanting to help, but without the time or resources to drop off items at our drop centers, we knew an online fundraiser was an important addition. Our original goal for our 2015 plumfund was to raise $1,000, but once that goal was met (and exceeded!) we increased our goal. We were able to raise $1,900 from several generous neighbors and many strangers just wanting to help. That $1,900 ended up buying over 4,200 pounds of food items that we added to our collection.
This year, we were hoping to gather 10,000 pounds of food -- a lofty goal, since our previous three years together totaled just 5,000 lbs. We are happy to report that with the help of local businesses and an extremely generous and caring community we were able to beat our goal with just over 10,000 lbs of food. We packed 1,429 weekend backpacks, which fed 1,429 children in our community! The effort has truly made a huge difference to hungry children in Alachua County.
After such amazing efforts from the local community and the substantial donations received through Plumfund, we have once again set sights extremely high for next year. In 2016, we hope to raise more than 20,000 lbs of food to feed even more deserving children.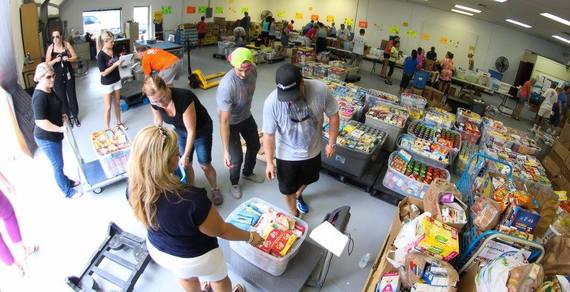 Food4Kids Warehouse where weighing and sorting takes place
This post is part of a series produced by The Huffington Post and Plumfund, in conjunction with Giving Tuesday. In the series, we'll feature inspirational stories of giving and receiving from users and friends of Plumfund, the free crowdfunding site. You'll find one post every weekday in November leading up to Giving Tuesday. To learn more about this campaign or start your own, visit Plumfund.com.

REAL LIFE. REAL NEWS. REAL VOICES.
Help us tell more of the stories that matter from voices that too often remain unheard.