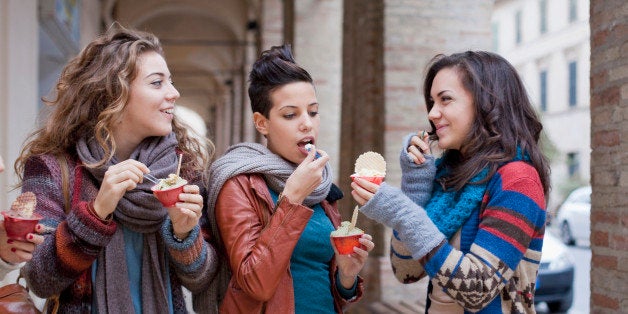 This article was written by teen reporters from The Mash, a weekly publication distributed to Chicagoland high schools.
By Emily Schwartz, Walter Payton and Zoe Davis, Whitney Young
You may have noticed something different the last time you ate at your favorite restaurant or shopped at a local farmers market. Or perhaps you picked up on it while scrolling through your Instagram feed. Teens everywhere are diving into the culinary scene. For some, that means photographing every bite, but others are taking it one step further.
Between the cost of a trendy dining experience in Chicago and the intimidation of the foodie scene, breaking into this culture may seem like a challenge. But chefs and teens agree that becoming a true foodie is easier than you'd think.
Despite popular belief, most food aficionados don't start at fancy restaurants. Why not develop your love for food at home?
Sophia Hampton, a senior at Staples High School in Westport, Connecticut, did just that. Today, she's published in "Future Chefs," a cookbook of original recipes by teens. Her delicata-crab hash with poached duck egg and kale Caesar salad made the cut.
Hampton started cooking because she didn't always like the food her dad prepared—something most teens can relate to.
"I decided that if I was going to eat anything I actually liked, I was going to have to make it myself," she said.
Hampton's best advice for aspiring foodies is to get in the kitchen.
"Start cooking," she said. "There are so many resources online, like recipes, tutorials and articles about food. Go to your local farmers market, read about local seasonal ingredients and start cooking with them."
Aside from blogs and online resources, there are also hands-on cooking classes for beginners and experts. The Chopping Block, a Chicago cooking school, offers a variety of classes for teens, including courses on chocolate, homemade ravioli and French cuisine.
Students who are looking to learn specific skills or techniques may find these classes especially helpful.
Chef Sara Salzinski, curriculum director for The Chopping Block, said she aims to make students feel comfortable in the kitchen. Of course, outside learning is always encouraged. Salzinski recommends that young food lovers start by watching and exploring.
"Watch a few episodes of 'Jacque Pepin' or 'Cook's Illustrated' on PBS," she said. "They are so educational, and I always learn something when I tune in. Try some ethnic restaurants so you can discover what type of food comes from where."
With cooking classes, an infinite bank of online recipes and new restaurants popping up every other day, the opportunities are endless.
But sometimes becoming a dedicated foodie means stepping behind the lens of a camera. As our food-obsessed culture becomes more popular and teen friendly, social media platforms like Instagram have stepped up as major players in the hype. Hashtags like #foodstagram and #instafood generate millions of results, and capturing these photos is easier than ever.
Walter Payton senior Clarke Silvers has made Instagramming food a personal hobby.
"Getting involved in foodie culture is as easy as having a camera and a social media account," Silvers said. "I always go to street fairs and farmers markets to take artsy pictures of food. Wherever food prices are expensive, the photos are free."
REAL LIFE. REAL NEWS. REAL VOICES.
Help us tell more of the stories that matter from voices that too often remain unheard.
BEFORE YOU GO
PHOTO GALLERY
Best Teen TED Talks