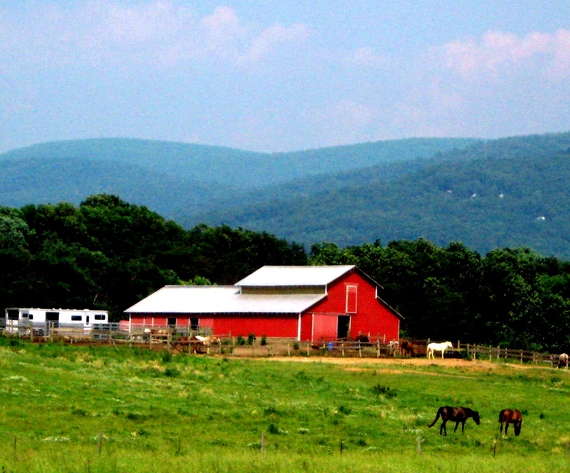 The Piedmont region of Virginia has earned a reputation as a serene escape, especially for those living in the hectic Washington, D.C. corridor. The area springs alive with an abundance of horse farms and wineries less than an hour outside of the city. Amid all this pastoral beauty lie some hidden gems for foodies. Here's a look at a few:
A detour through the quaint town of Warrenton is warranted if for no other reason than the Red Truck Bakery. Here, you will find mind-blowing homemade chewing (not brittle) granola studded with sugared dried fruit. Granola, really? Yes, this is that good. In fact, Guy Fieri of Diners, Drive-Ins and Dives dubs this the best granola in the United States. This former gas station at the center of town also turns out terrific croissants and booze-infused pies.
Hopkins Ordinary Ale Works is tucked in the unpretentious town of Sperryville on the lower level of a bed and breakfast owned by Sherri Fickel and Kevin Kraditor. Last year Kevin morphed from home brewer into public brewery turning out straightforward, honest craft beers. Committed to the Piedmont region, he taps local farmers for the barely he uses to make his brews. Every season he reveals a special Saison, infused with seasonal ingredients grown on local farms.
While the Inn at Little Washington can hardly be called a hidden gem, the widely acclaimed inn and restaurant does harbor a few surprises, such as the fact that the restaurant sources 60% of its fruits, veggies and herbs from the property's ambitious garden. Plus, the restaurant runs a stage program allowing die-hard devotee guests to work alongside Chef Patrick O'Connell in the kitchen for a week.
Down the street in the tiny town of Little Washington, sits the Foster Harris House, a sweet five-room B&B run by Diane and John MacPherson. Its claim to fame is its restaurant, which relies exclusively on local ingredients. You know something special is about to unfold when you're handed a complimentary signature cocktail, a mixture of sour cherry, sparkling wine and mist of elderflower. John MacPherson is a self-taught chef whose passion for food is contagious. He doesn't only make what's seasonal and local but creates dishes around what farmers and foragers have brought to his kitchen door that day. MacPherson takes bike riders along the back roads to visit growers, purveyors and wineries on his Tour d'Epicure bike tours, lending an intimate understanding of the terroir that supports this area's culinary achievements.
Griffin Tavern proves that the region isn't just about haute cuisine. It's also about good food served right. This tavern, housed in an historic house, in the spit of a town called Flint Hill, is a local hang with live music, trivia night and even the occasional karaoke. Rachel Rowland, the pub's chef, turns out an innovative menu that includes duck legs in teriayake sauce to fried tofu with chili sauce to cheesy grits and shrimp and an authentic English shepherd's pie.
Related