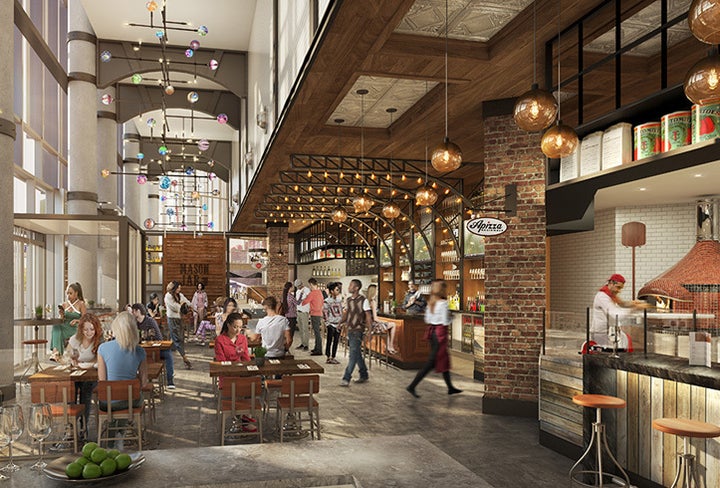 As of tomorrow, Brooklyn will get yet another taste of Manhattan- quite literally this time as the neighboring borough gets a bite out of one of The Big Apple's most delicious offerings; Gotham West Market, owned by Gotham Organization. The Hell's Kitchen day and night dining destination that offers an eclectic and trendy plethora of eating options has brought the same charm, style and great food over to the luxurious area that is Fort Greene, nestling itself sweetly inside the lavish apartment towers known as The Ashland- a spectacular modern day palace is living proof that even downtown Brooklyn is now very much the place to be.
From tapas, to barbeque, to wood-fired pizza, the eatery offers eight different dining and drinking options to choose from, as well as a rotating pop-up space- that for the next six months will be run by the fabulous Gwendolyn Woods and Fifi Bell-Clanton, who will be utilizing the space to run a branch of their famed Crown Heights delight; The Crabby Shack. And if eager eaters aren't hungry for some of their amazing lobster rolls or other seafood items, they won't have to go far to find another selection that might be a perfect fit- like fried or rotisserie chicken from the scrumptious Flip Bird, opened by John Stage of Dinosaur Bar-B-Que- who will also be providing a terrific breakfast spot, and the highly acclaimed Devocion Colombian coffee.
And then, of course, there's Yann De Rochefort's Boqueria- a tapas restaurant that not only will be taking reservations and serve large plates of delicious paella to its ferocious foodies, but it will also provide a trendy on-site wine and cocktail bar. But, that's not the only hotspot to score drinks inside the Gotham Market at The Ashland- those who are looking to enjoy a great cocktail can also head on over to Bar Granger, a place that is sure to be a stylish staple in Brooklyn. And if famished Fort Greene residents are simply looking for a slice of pizza, they needn't look any further as Gotham Market offers some of the best around at Apizza Regionale- which also offers some of the best Italian food one can find, and that's sayin' something for New York!
And last, but certainly not least, if Brooklyn has been known for anything it has been the renaissance of The Mason Jar- and Gotham Market seems to smartly know how to capitalize on that with their clever restaurant and bar that shares the same name. Their stylish and sophisticated, yet classic and comfortable miniature sports bar is everything one could want in an eatery, and food critics are already raving about the space that offers elegant high ceilings, outrageous lighting, and perfect food.
It won't be long until it Gotham Market is packed to the gills and it becomes downright impossible to get a table at places like Boqueria, so, for those that missed the boat on being the first to dine at amazing eatery's like Eataly, NOW is the time to go check out this fantastic new hotspot. And...bring your appetite!
Popular in the Community