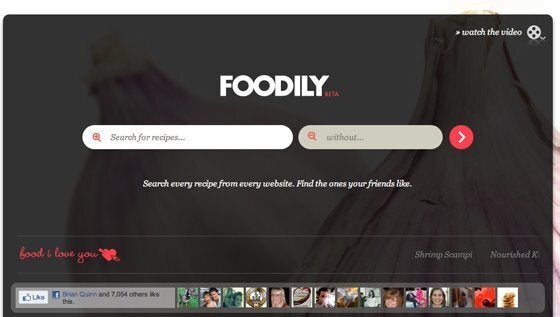 This post is part of a new series from HuffPostTech, Socialized, that will profile a different social startup--from apps to services to websites--every day. Want to be featured on the site? Email us about your startup, which should have a social media component and be less than two years old, at bianca@huffingtonpost.com.
Part search, part sharing, Foodily is aiming to be the Facebook of food (with a little Google thrown in, too).
What it is: Foodily is a search engine just for food that aggregates over a million recipes from around the web and offers a slew of social sharing tools to enable users to trade cooking tips and recommendations.
The site's index has recipes culled from more than a hundred sources ranging from TV's top chefs to food bloggers with a knack for cooking.
How it works: The homepage has the slick simplicity of Google's front door, offering just two boxes to help users begin deciding what to cook: a search box into which they can enter the type of recipe they're looking for, and a second search box into which they can specify what ingredient they don't have or don't want to use (for example, you could search for "lasagna" without "meat").
The recipe search results are presented side-by-side with images, ingredients, and instructions, allowing users to scroll through and compare the dishes. Users are also able to share the recipe (on Facebook, Twitter, or via email); save the recipe in a folder on the site (a collection Foodily compares to food "playlists"); or click to read the full recipe on the site that originally posted it.
Why you'd use it: What sets Foodily apart from sites like Epicurious and AllRecipes is its emphasis on integrating search, food, and, via social networks, input from people you know. Using Facebook Connect, Foodily enables users to see what recipes their Facebook friends have liked and commented on. Users can also share recipes they've "liked" via Facebook, as well as create "events" on Facebook, to which friends can be invited, using the menus assembled from Foodily searches.
The idea is "retaining conversation with the content," explained Foodily CEO Andrea Cutright. "Lots of people, myself included, love to talk about what food they ate. Being able to see that information in the context of a recipe is something that's never been done before."
How to get it: Visit Foodily.com to see the service for yourself. Tell us what you think:
Take a look: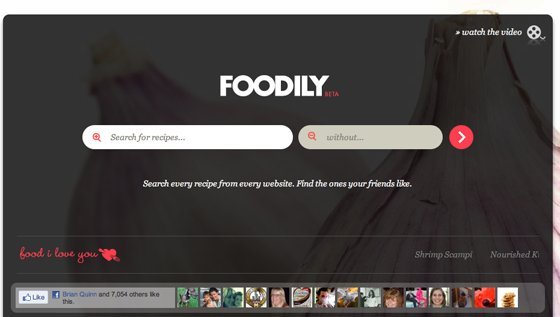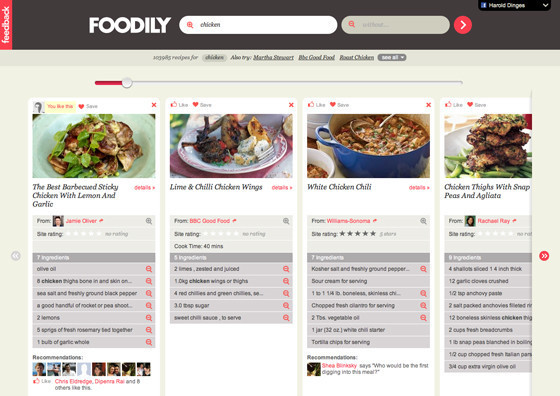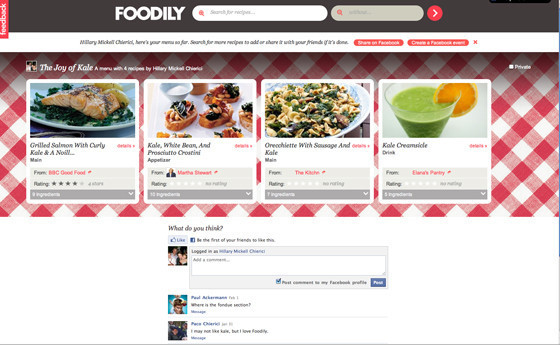 Related
Popular in the Community