"A turkey sandwich doesn't have to be just a turkey sandwich." So says Esther Cynmon Linsmayer, executive chef, and co-owner of Food + Lab, a café and gourmet marketplace with an emphasis on using the finest ingredients to create some of the most memorable, and tasty, sandwiches, salads, soups, and breakfasts in Silver Lake and West Hollywood.
Together with her son, Nino Mier, Linsmayer created Food + Lab. She oversees the menu, and he's in charge of the day to day business. Linsmayer laughs, "He's the brain and I'm the muscle."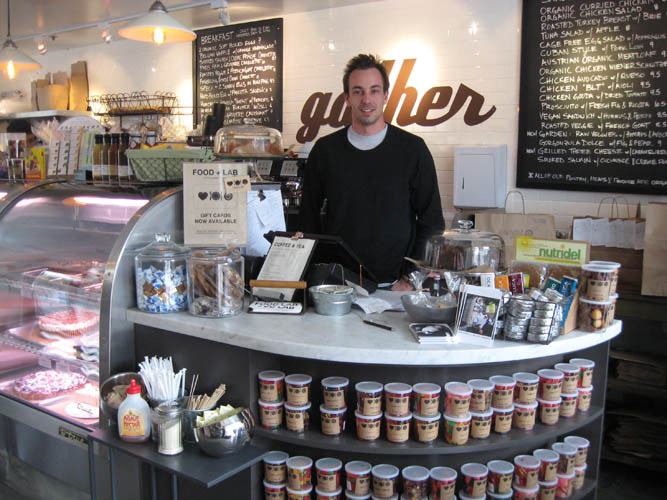 Nino Mier at the counter of West Hollywood's Food + Lab
Mier adds, "A restaurant is run on margins to make money. I tried in the beginning to talk sense into my mother, and say 'you can't use the best of the best on everything.' It was a battle lost. So we make much less money on every sandwich because she insists on not cutting corners and using the best ingredients -- every bread and dressing and sauce is homemade."
Linsmayer notes, "Where do you find a cafe where the owner actually makes all the food? I literally make everything."
The owners, both native Austrians, use their Central European influences to craft Food + Lab's culinary aesthetic. The menu is a delicious array of creative offerings including authentic Belgian waffles, speck and eggs served in a sizzling skillet, schnitzel with lingonberries, fresh Muesli, Austrian meatloaf, incredible soup specials (the gazpacho and the corn and bacon chowder are highlights), and a hundred different sandwich recipes including Cevapcici, a Yugoslavian pork sausage sandwich with a yogurt dill sauce, and cucumbers on ciabatta bread.
Linsmayer says, "I've been always cooking. I did go to Cordon Bleu in Paris, but was kind of bored there because I don't like people telling me what to do. How to season. How not to season. Slice like this. I'm self taught, and I just have an instinct for cooking, and I never measure anything."
Delicious tuna sandwich on olive bread: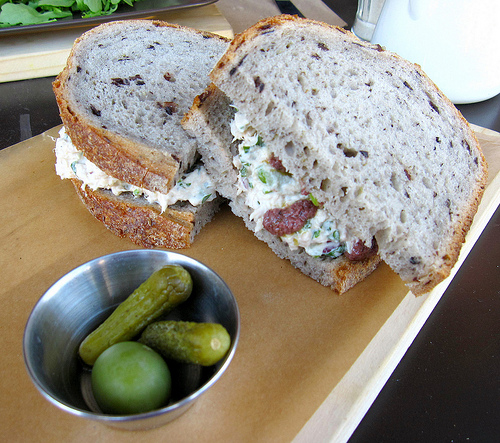 Even though Food + Lab opened just before the recent economic downturn, the café and catering has been steadily building, and Hollywood has taken notice. They're frequently called to create lunches for shows including The Big Bang Theory, Mike & Molly, True Blood, American Dad, and Family Guy to name a few, but only seven years ago, they were a humble door-to-door business.
Mier explains, "I walked with a basket that weighed about 40 pounds to all the high end stores in Beverly Hills: Gucci, Armani. We sold salads, sandwiches, fruit cups from the basket. And that's how our name got around."
Then one day, a fashion photographer friend, Mathias Vriens, asked if we could cater the food for a photo shoot. It was a hit. Before we knew it, we started getting calls from London, and all over. We were running a whole catering company out of my mother's place in L.A., and we knew we had to find a kitchen. And by the grace of God -- I am not religious, but I became religious when I found this -- a sign in a window on Highland that said 'Kitchen For Rent.' My mother is in that kitchen every morning cooking for both our cafes.
Linsmayer chimes in "And I clean that kitchen five times a day top to bottom. An "A" rating for cleanliness wouldn't be high enough."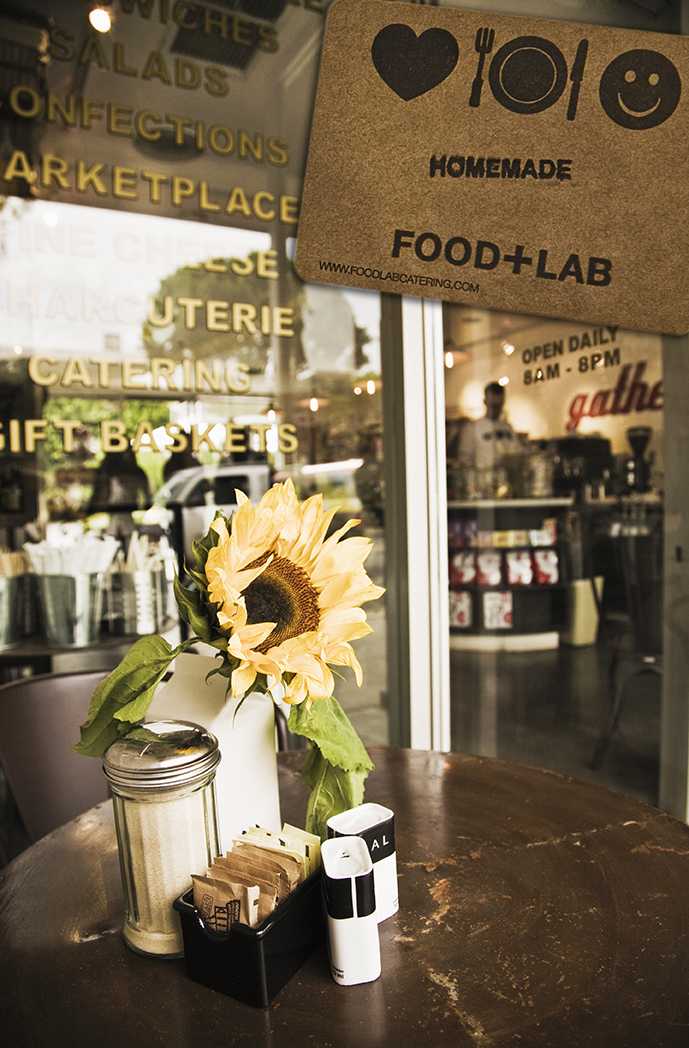 Looking ahead, they see Food + Lab as a brand that could eventually branch out into every major city, but for now, the West Hollywood and Silver Lake locations are their sole focus.
Among some of Food + Lab's charming details are the wooden blocks on which the food is served, the delectable financier pastries that accompany the ample servings of rich Viennese coffee, and a gallery of original drawings and paintings for sale adorning the café's walls. Mier, a professional painter, and art collector himself, curates the gallery. He also designed the company's logo: a heart, plate and smiley face.
"The logo is our mission statement: Love Eat Smile. With Food + Lab, we want an easy, relaxed environment. We don't offer wifi because we don't want lingerers. We're not an office or a library. It takes away from the energy -- we want people talking and enjoying the food. We want energy."
Food + Lab is located at 7253 Santa Monica Blvd in West Hollywood, and 3206 West Sunset Blvd in Silver Lake. For more information, check out www.foodlabcatering.com For information on Nino Mier's art business, check out: www.artelierltd.com.