Our newest American federal holiday has arrived, and people all over the country are celebrating and honoring it in their own ways. It's only the third year that Juneteenth has been nationally recognized, but it's gaining attention and growing in scope, especially within the culinary community.
The holiday commemorates the events of June 19, 1865, when enslaved people in Galveston, Texas, learned from Union soldiers that they were free, two years after Abraham Lincoln signed the Emancipation Proclamation. While it was first celebrated in Texas, it's now a nationwide opportunity to gather in community and celebrate both traditional and new takes on food that's important to the Black community.
We spoke with Black chefs to find out how they honor the holiday with food, and here's what they had to say.
Martel Stone: Remember, honor and cook plenty of greens.
"For me, Juneteenth is a holiday with so much room for exploration," said Martel Stone, the chef and CEO of The Black Supper Collective, an initiative to connect Black chefs from around the world and provide them with a platform for self-expression.
"It wasn't until Juneteenth became a mainstream holiday that it garnered many people's attention," he said. "Now it's acknowledged in many places, including clothing stores, book shops and supermarkets all filled with discounted specials intentionally catered to satiate assumed Black cravings."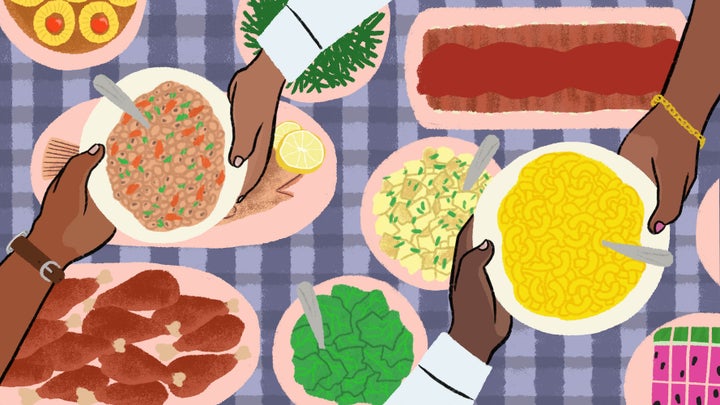 For Stone, the joy of celebrating on a long summertime weekend also carries an obligation to acknowledge the past.
"While the holiday itself does symbolize a step toward freedom, it simultaneously represents pain, blood and sacrifice," he said. "It offers a space to sit down with family, friends and loved ones to come together, eat and celebrate. While this is important, in some ways it takes the sting off uncomfortable truths that are really important to remember and honor."
"There's no wrong way to celebrate, and it's OK to ease into it. You may want to check out what other folks are doing, and then find ways to create your own memories. ... Just do something, and be a part of it."
This year, Stone will be cooking plenty of greens, recalling the smell of them cooking ("after you recover from the pungent scent of them breaking down") as one of his fondest memories from growing up in North Philadelphia.
What's a great pairing? "In an ideal world, my Juneteenth party table includes fried fish like whiting, snapper or croaker to go along with those braised greens."
Reginald Scott: Indulge, enjoy, honor.
Reginald Scott, the chef and owner of Houston's barbecue restaurant The Smoke, said he didn't grow up celebrating Juneteenth at home. But that's changed for him in recent years.
"As the parent of two daughters, I see that awareness of ongoing social injustices continues to grow, and Juneteenth has gained greater recognition and significance in my home," he said.
He plans to load his party table with brisket, wings, collard greens, baked beans, macaroni and cheese, and peach cobbler.
"This year, we'll use our table to indulge in delicious food, enjoy fun activities and cultural traditions."
Kalen Allen: "Southern cuisine, all the way."
He gained fame through YouTube food reaction shots and frequent appearances on "The Ellen DeGeneres Show." This Juneteenth, Kalen Allen will be enjoying favorite foods from his youth, while remembering celebrations past.
"I grew up in Kansas City, Kansas, and our church, Metropolitan Baptist, had a Juneteenth celebration every year," he recalled. "They'd clear out the parking lot and we'd have a marching band, games, concerts and food."
Speaking of food, he reeled off a delicious list of Juneteenth favorites that included peach cobbler, his grandmother's upside-down cake and sweet potato pie. Like Stone, he has one clear "must have" during Juneteenth — collard greens. "It feels a little like eating black-eyed peas on New Year's Day for good luck," he said.
Allen learned to cook by watching his grandmother. "She made it up as she went along, and so do I," he said.
Another favorite dish from his grandma? "She'd make fried potatoes in a cast iron skillet," he said. "That's a Black person's Holy Grail, right there. Some things just have to be cooked in cast iron."
"While the holiday itself does symbolize a step toward freedom, it simultaneously represents pain, blood and sacrifice."
This year, Allen isn't sure if he'll be celebrating in New York or Los Angeles, but he knows he'll gather with friends to eat well.
"One thing I love is that Juneteenth happens the same month as Pride, and for those of us living in the intersectionality of Blackness and queerness, that's significant. Black History Month is just one month in February, so this is an opportunity to expand and dive a little deeper in your education."
Petrushka Bazin Larsen: a taste of Harlem.
When she was growing up in Washington, D.C., Petrushka Bazin Larsen didn't participate in big Juneteenth celebrations. But a college internship at the Studio Museum in Harlem changed all that.
These days, Larsen is co-owner of Sugar Hill Creamery, Harlem's first family-owned ice cream shop since 1982, and she and her family attend many neighborhood events on the holiday.
"The story of how this day came to be is such a history lesson for younger generations, who probably find it unfathomable that people could still be enslaved longer than they needed to be because the information about their freedom had not yet reached them," she said. "On Juneteenth in Harlem, I make sure that I'm outside walking around and taking in all the vibes our neighborhood exudes."
At the shop, watermelon black sesame nondairy flavor is usually available in the dipping cases.
"The flavor is reminiscent of walks through Harlem, where watermelon stands dot the sidewalks and games of pick-up basketball abound," she said. "When scooped, the flavor looks like its own spherical ball of orange and black deliciousness. We highly recommend it."
Jocelyn Delk Adams: "A sense of community."
She's a cookbook author, television personality and founder of Grandbaby Cakes. And Jocelyn Delk Adams is also a committed celebrator of all that Juneteenth represents.
"It's become a wonderful time for me to spend with my family," she said. "It's a time to reflect on our history and celebrate the day when word of freedom finally reached enslaved people in Texas. It also lets us step back and acknowledge the ongoing fight for racial justice and equality, which is a fight that we must continue."
And, of course, there's the food.
"Food and gatherings have always played a central role in the Black community," she said. "Juneteenth is one of those special occasions where we get to come together and enjoy some amazing traditional dishes like barbecue and potato salad."
At Adams' party table, you can expect to find traditional cookout dishes like ribs and summer salads. Because red is an important color for the holiday, "we include traditional red foods like beverages, red velvet cake, watermelon and any additional foods that tie to our heritage and bring us together to celebrate." To finish off your meal, Adams suggested her recipe for classic 7Up Pound Cake.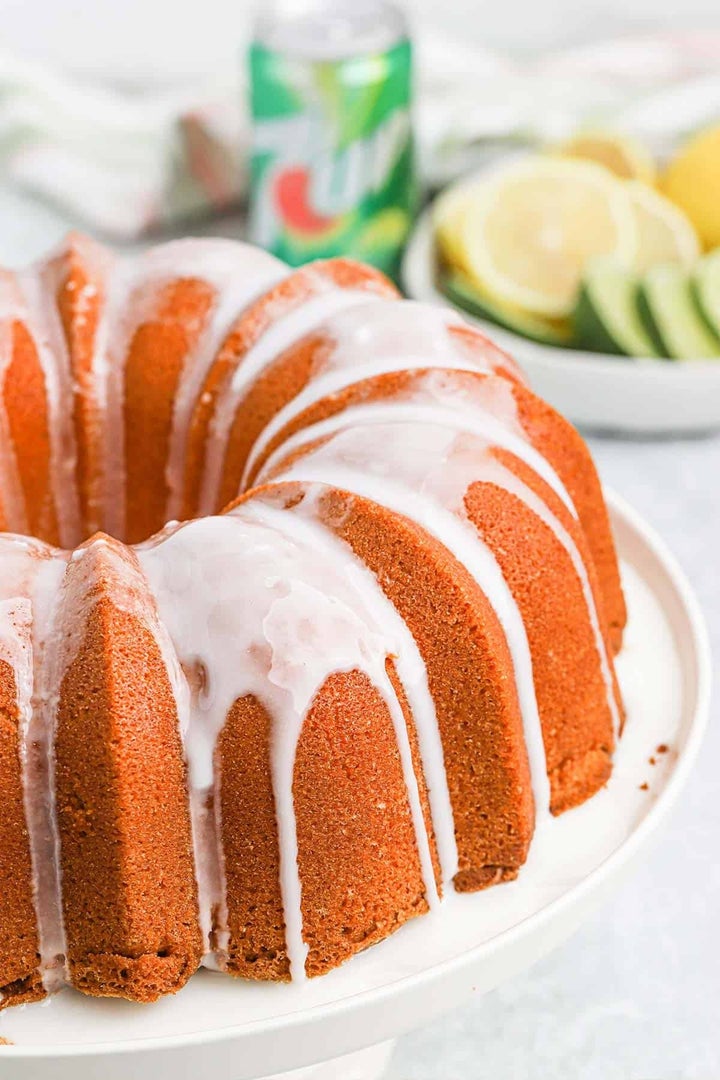 Vallery Lomas: Seeing red.
"Juneteenth celebrations often intersect soul food with summer fare, like food you'll see at a family reunion," she said. "There are some foods that are almost mandatory at a summertime celebration, like potato salad. But Juneteenth also allows us to lean into other traditions, like red foods. Red velvet cake is a favorite for me."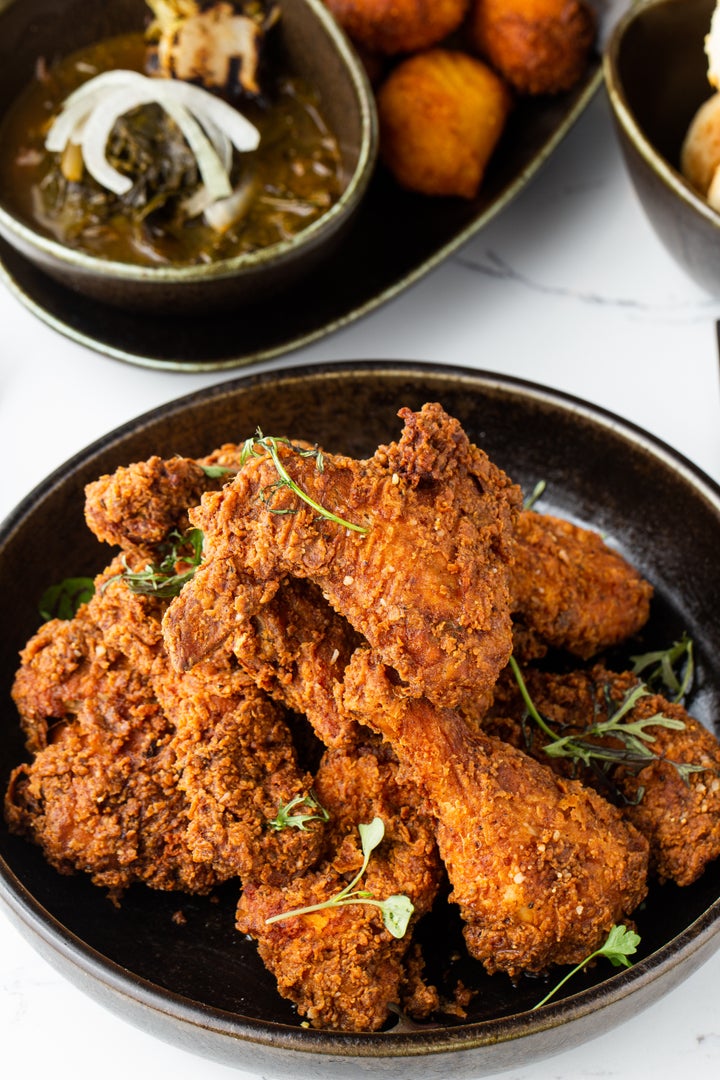 Tiffany Derry: Deep in the heart of Texas.
This all started in Texas, of course, a state where Juneteenth celebrations began and are still going strong. Chef Tiffany Derry, who grew up in Beaumont, Texas, has fond memories of gathering in the park for Juneteenth barbecues and crawfish boils. As much fun as those summer gatherings were, when she looks back, she wishes there had been more discussion of the "why" behind the day.
"I have a son now, and I realize that just having a tradition is not enough," she said. "I need to talk about why I can be here and be proud and live the life I have. It's not just another crawfish boil — it's a special day."
This year, she'll be hosting a huge party at her Roots Chicken Shak restaurant in Plano. "Last year, we had close to 1,000 people celebrating," she said. "This year, we're having a fashion show, music, art, culture and of course plenty of food." The restaurant will be serving her signature duck fat-fried chicken wings, chicken sandwiches and red punch.
As she strengthens her commitment to lifting up the deeper meaning while celebrating, she's aware that these are early days for our newest national holiday.
"There's no wrong way to celebrate, and it's OK to ease into it," Derry said. "You may want to check out what other folks are doing, and then find ways to create your own memories. You can shop at a Black-owned business or eat at a Black-owned restaurant, for example. Just do something, and be a part of it."
Support HuffPost
A No-B.S. Guide To Life
Before You Go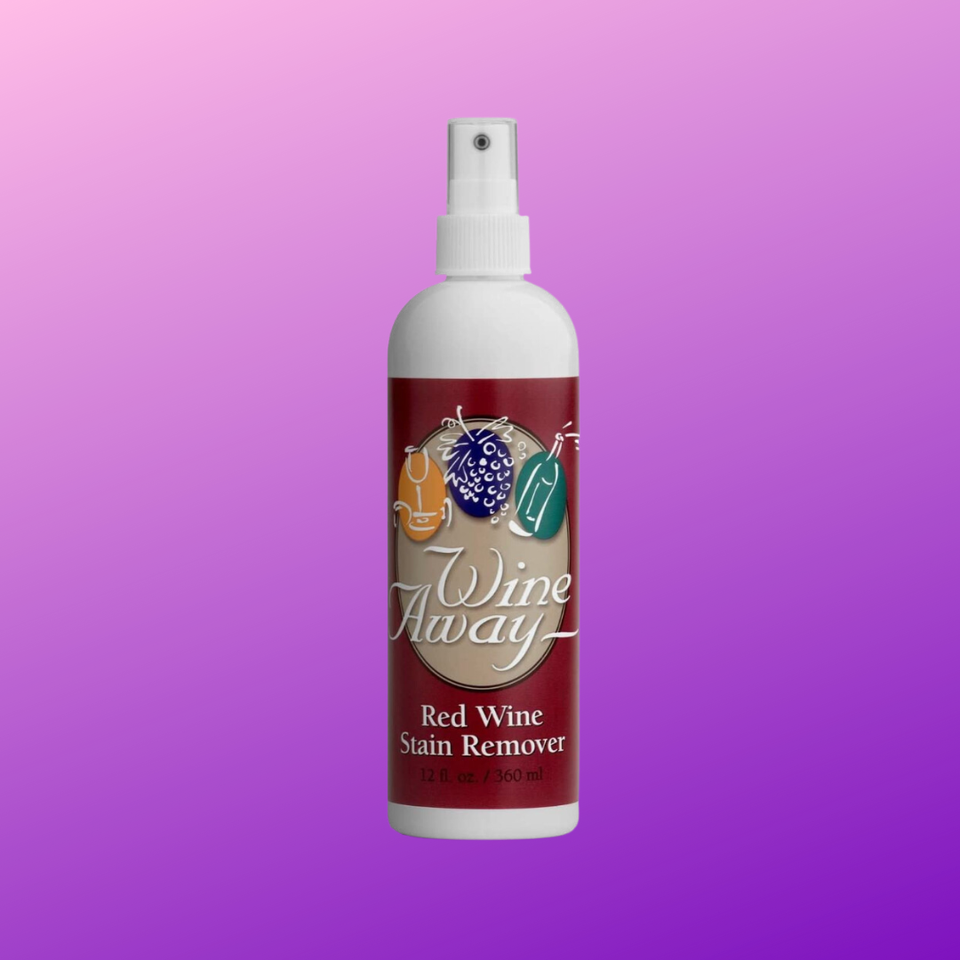 Miraculous Kitchen Cleaning Products For Messy Cooks
Popular in the Community