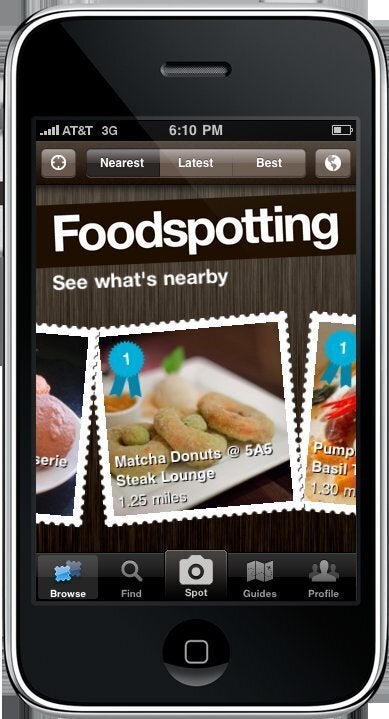 Foodspotting is betting that serious foodies don't care about a restaurant's music, candelight, or fancy Philippe Starck chairs. For them, it's not about the quality of the table linens, whether or not the dishware was imported, or even the service, but about one thing and one thing only: the food.
Foodspotting, a self-proclaimed "Flickr-Meets-Foursquare service," is a free app for foodies that helps users share and find food recommendations--not restaurant tips, but suggestions for where to find the best dish, be it biscuits or baklava. Interestingly, according to Alexa Andrzejewski, co-founder and CEO of Foodspotting, burgers are among the most frequently shared foods on the app.
The app lets users upload a photograph of a delicious dish they've tried, describe the food, and then "pin" the plate to a particular restaurant. It offers both a way to share food finds and to find food.
Foodspotting 2.0, out today, is offering users more ways to share recommendations, interact, and get "real world rewards." The app includes guides, curated by friends and even celebrity chefs, outlining the best grub in a particular area, or where to find the best of a specific type of food, from cupcakes to lobster rolls. The Travel Channel has created a series of Anthony Bourdain Foodspotting guides that include his favorite meals in New York, San Francisco, Tokyo, and other cities (so far, Foodspotting's most active users have been in these cities, as well as Hawaii and Los Angeles, Andrzejewski notes.)
According to the app's creators, Foodspotting 2.0 will let you "earn recognition and real world rewards for completing certain guides," add photos to other people's guides, and earn "points ("Tips") when others bookmark ("Want") or recommend ("Nom") foods they spotted first."
Check out Shane Snow's Foodspotting infographic (below) for more on how Foodspotting can be and has been used. What do you think of the app? Some have noted that they don't want to remove the peripheral dining experiences, such as service and ambiance, which they feel are a key part of a good meal. Would you try it out? Weigh in below.
WATCH:
Support HuffPost
The Stakes Have Never Been Higher
Related
Popular in the Community