From farm to plate, were proper guidelines followed?
Many of us take this for granted. We trust the system to protect us. And, largely, it does; incidences of contaminated foods are newsworthy because they are so rare.
Yet it's still a subject worth considering, especially this week.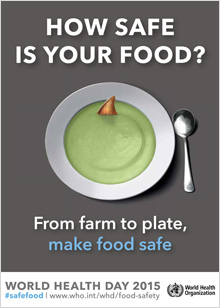 Tuesday is World Health Day, and this year's emphasis is food safety. The World Health Organization is using this day to emphasize the importance of food safety to food producers, policy-makers and individuals around the globe.
Your role is easy. Just be curious. Learn what's in your meal and where those ingredients came from; delve deeper and you can learn how they were handled and how the food was prepared.
Maybe one day there will be an app for all that. Until then, I'd like to introduce you to an app that's coming out later this year, one that tackles the biggest question about food: How healthy are the foods we buy and eat?
This free app is called FoodSwitch, and it'll be a nifty tool to have when grocery shopping. It's been wildly popular in Australia, where it originated, and in the United Kingdom and New Zealand. It also will be launched in India and China later this year.
Dr. Mark Huffman is helping bring this concept to the United States. His team at Northwestern University is working with researchers at The George Institute for Global Health (in Australia) and the University of North Carolina to customize it for the products on our grocery shelves and our nation's dietary guidelines.
Dr. Huffman is a cardiologist, researcher and assistant professor at Northwestern University with a keen interest in global health. He's a senior program advisor to the World Heart Federation, and it's my pleasure to let him take over this space to tell you more about FoodSwitch.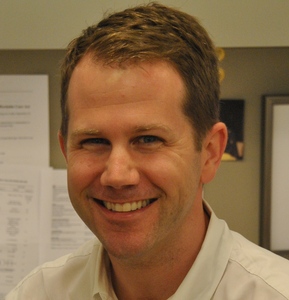 Picture yourself in the bread aisle at the grocery store.
You want a loaf of whole wheat because you know it's good for you. But that still leaves so many options. And you don't have the time or the patience to compare labels.
That's where the FoodSwitch mobile app can help.
Grab a loaf and use your phone's camera to scan the barcode. Up will pop some traffic light icons: Green for go, yellow for caution, red for stop.
The rating is based on its nutritional value -- specifically, how much total fat, saturated fat, sugar and salt is in the product. You also will see a list of similar products that are healthier, helping you decide whether to buy the one you scanned or another that's probably on a nearby shelf and could better lower your risks for heart disease and stroke.
While other apps help guide grocery shopping, FoodSwitch is unique because it targets any and all packaged foods. The potential is endless, thanks to crowdsourcing.
When launched in Australia in 2012, the database featured 15,000 items. In the first 48 hours, users uploaded pictures of nutritional information for another 26,000 products. (Note: That's all it takes -- just snapping a picture, not typing in detailed info.) The Aussies now have more than 90,000 items in their database, and they're still getting about 300 uploads per day.
The traffic light system is now one of two guides consumers can use. There's also a "star" mode, offering up anywhere from one-half to five stars.
The overall nutritional snapshot is now the "classic" filter. Five other filters provide rankings based solely on salt, gluten, fat, sugar and energy.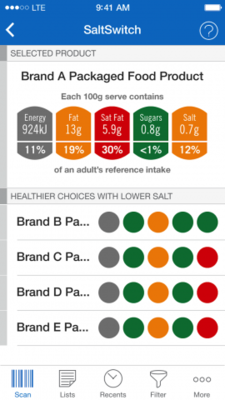 The data they've compiled is a treasure trove, and its value stretches beyond shoppers. Food companies are paying to tap into it. As they see how their products compare to the competition, presumably they will seek to improve their ratings.
We don't have metrics showing whether higher-rated products are selling more -- or, conversely, if lower-rated products are selling less -- but the fact companies are paying attention is an encouraging sign.
What I like best is that this provides an information lever. We can have data to show "here is where things stand." So if a company pledges to, say, reduce sodium by 15 percent, this will enable us to monitor whether it's really happening. The World Health Organization has a goal of reducing sodium intake by 30 percent by 2025, so this could be an accountability tool to help monitor that.
I learned about this app from its leader, Dr. Bruce Neal of The George Institute for Global Health in Sydney, and FoodSwitch's global database manager, Dr. Elizabeth Dunford. I'm a cardiologist, so to bring it to the U.S., our team has been fortunate to have linked up with a nutrition expert, Dr. Barry Popkin of the University of North Carolina.
We at Northwestern have uploaded nearly 13,000 items, and the North Carolina team has more than 7,000 items. Now we're working on refining the categories, and that's where the nutrition expertise from Dr. Popkin and his team is essential. For instance, if you want grape jelly, the app should compare various brands of that flavor as opposed to throwing in a better-ranked raspberry jelly.
The bottom line is that FoodSwitch can help consumers make better, heart-healthier decisions in a quick, easy way. Such scrutiny could push food makers to improve their products, and perhaps serve as a surveillance tool for policy-makers and other regulators.
My hope is that the packaged food industry embraces this opportunity. I firmly believe the companies that get ahead of the curve are likely to improve their business.
The whole point of FoodSwitch is empowering consumers to know what's out there. The more people that join the search, the more products we log, the greater our power. Individually, we can make our voices heard by using both our app and our pocketbook.
After all, what we're currently doing isn't working. Voluntary efforts of food manufacturers have not demonstrated a radical change in the food supply. We know this because of our high rates of obesity, hypertension and other troubling trends.