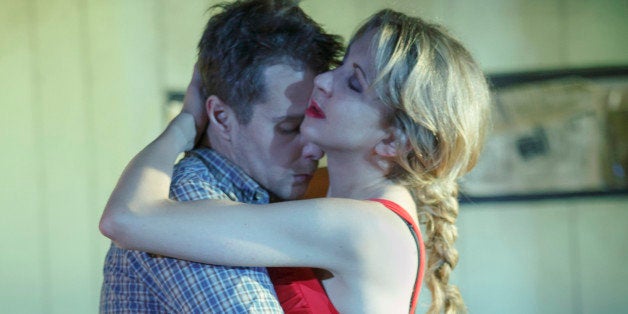 Whether we like to admit it or not, our parents follow us around all our lives, stalking our every movement and subconsciously pervading our every thought. For Eddie and May, the battered lovers in Sam Shepard's searing play Fool for Love, the sins of the father plague their very existence.
In a gripping revival that the Manhattan Theatre Club has brought to Broadway from the Williamstown Theatre Festival, the superb Nina Arianda and the excellent Sam Rockwell square off in a bleak motel room by the Mojave Desert for a night of tequila and recrimination and confronting ugly truths. Invective flies like shrapnel, doors slam, furniture is smashed, and in the end each must face the consequences of a parent's desertion alone.
Fool for Love is a gem of a play, first produced at San Francisco's Magic Theatre in 1983 and transferred intact to New York's Circle Rep the same year. It is one of Shepard's most intense plays, baring the raw obsession and passion of a love-hate relationship caught in an endless cycle of intimacy and abandonment.
There are two other characters in the play: Martin, a man (or a guy - there is a difference, as Eddie explains) who represents May's chance for escape to a normal life, and the Old Man, who sits at the side of the stage observing the donnybrook between May and Eddie like Zeus presiding over a Greek tragedy and commenting from time to time.
Under Daniel Aukin's adept direction, a long silence creates a current of tension before a word is spoken. Eddie appears to be asleep in a chair while May sits on the edge of the bed, her head hanging down between her legs, a portrait of a woman in despair. The Old Man stares off into the distance. A dog barks somewhere.
But it is not long before the motel room explodes in a fury of accusations from May about Eddie's infidelities and his pattern of leaving her. Eddie tries to assure her that he's not going anywhere this time, that he drove 2,480 miles just to see her and take her to live with him in a trailer in Wyoming. But May will have none of it. She's heard it all before.
She screams at him to get out of her life, then in a heartbeat pleads with him to stay when he heads toward the door. "I get sick every time you come around," she shouts at him. "Then I get sick when you leave. You're like a disease to me."
At one point Eddie goes out to his truck and returns with a bottle of tequila and a rifle. A little later he goes out to fetch some rope and begins to lasso the furniture and even May when she tries to retreat to the bathroom. Eddie's latest conquest, identified only as the Countess, fires a shot from offstage and sets fire to his trailer outside. But these are only diversions. It is when Martin arrives to collect May for their movie date that the gloves really come off.
There is a tornado of a back story to May's and Eddie's stormy relationship and it would be a spoiler to go into detail for anyone who has never seen a production of Fool for Love. But Eddie and May each give their version of it to Martin, with the Old Man adding occasional anecdotal footnotes. It is a harrowing tale and one that leaves both Eddie and May at the end of their emotional rope.
Arianda is breathtaking as May. No stranger to impassioned sexual conflict (she won a Tony for her portrayal of Vanda, the dominatrix in Venus in Fur), Arianda is at once frightening and fragile as May, venomously threatening to kill Eddie one minute then desperately clinging to him the next.
When it is May's turn to give her side of their story, Arianda recounts the shameful past with a ferocity that cries for vengeance. It is a performance that makes the case for May being the central focus of the play.
Rockwell delivers an admirable performance as Eddie. He has mastered the swagger of a "guy" (though he may not win any calf-roping prizes) and the cowboy cadence of the West. For anyone who saw Ed Harris, who created the role, there is less of a menace or rough edge to Rockwell's Eddie. But if one rarely feels concern for May's safety in Rockwell's reading of the part, there is a clear understanding of the desires that drive him
Tom Pelphrey is quietly brilliant as Martin, May's escape hatch who suddenly finds himself in the middle of this old fight and acts as a sort of referee. And Gordon Joseph Weiss is taciturn as the Old Man, almost removed from the battle though he was the cause of it.
Fool for Love was conceived as a chamber piece and most revivals, as well as the original New York staging, have been in more intimate settings, giving the audience the feeling they were in the motel room. Some of the intensity of Eddie's and May's war of attrition is blunted with its transference to a proscenium in a larger Broadway house. But Shepard's scorching dialogue still burns the stage and Eddie's and May's story still haunts.
REAL LIFE. REAL NEWS. REAL VOICES.
Help us tell more of the stories that matter from voices that too often remain unheard.