This blog post was co-authored by Sandra Macías del Villar, Program Officer for Latin America and the Caribbean at The Global Fund for Children. A longer version of this blog appears on GFC's website.
Upon arriving at Haiti's Toussaint L'Ouverture International Airport, you are immediately welcomed by a group of twoubadou musicians who with warm Caribbean tones and smiles make visitors feel excited to arrive at the Pearl of the Antilles.
In the air-conditioned terminal, a duty-free store sells high-end fashion goods, multiple cell phone companies stand ready to provide SIM cards and cell phone packages, and a variety of international rental-car companies are available outside of Arrivals. After exiting the airport and driving into the city, you are met by waving Haitian flags that welcome you to the first independent black republic of the world.
It can be difficult to imagine that, just a couple of years ago, this road was paved with tents.
Six years since the January 12, 2010, earthquake shook Haiti, many things have improved. But the rise of new five-star hotels and renowned restaurants should not be taken as an indication of progress and change for all.
As the Haitian proverb says, kay koule twompe soley, men li pa twompe lapli--a leaky house can fool the sun, but it won't fool the rain.
Sadly, as of June 2015, 45,000 people in Haiti are still being tracked as internally displaced persons, and the full number is probably larger, considering there are still hundreds of families living in makeshift shacks. Furthermore, in a country where 90 percent of the schools are private, education is not an option for many. Even though there have been efforts by the Haitian government to provide universal education, an estimated 200,000 or more school-age children are still not enrolled in school.
According to a 2015 World Food Programme report, 100,000 children under age 5 suffer from acute malnutrition, while one child out of three is stunted, or irreversibly short for their age. The same report states that 2.5 million Haitians (one in four) live in extreme poverty.
Fortunately, not all the news is bleak. If there is one thing Haitians have, it is pride.
This pride, love, and respect for their country and their community is what pushed many to dig through the rubble within hours of the earthquake and become first responders, community organizers, guardians, caregivers, teachers, and leaders. Haitians have been agents of change in their country before, during, and after the earthquake. As a Haitian friend once said, "We can change our country; we have the capacity to help ourselves."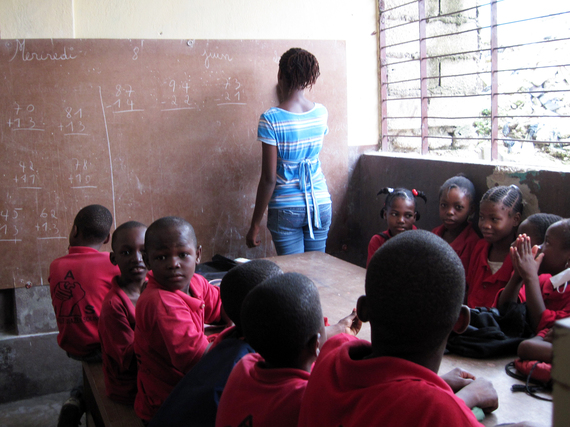 GFC grassroots partner Asamble Vwazen Solino in 2011, one year after the earthquake. Today, GFC continues to support AVS's primary school. © The Global Fund for Children
Today, after most international relief organizations have pulled out of Haiti or significantly decreased their presence, many of those community organizers are still responding to local needs through community-based organizations. Even though less than 1 percent of the total money disbursed by multilateral and bilateral donors was received by Haitian nongovernmental organizations, the continued impact of their work--carried out on shoestring budgets--is praiseworthy.
Take for example Asamble Vwazen Solino (AVS), one of The Global Fund for Children's seven grassroots partners in Haiti. This neighborhood association was created by a group of concerned residents looking to help their community increase access to education and to raise awareness within their community.
Established in 2006 in Solino, a neighborhood deeply deprived of public services and often neglected by mainstream international aid, AVS has been enrolling students in its school ever since, with only a short break right after the earthquake because of structural damage. AVS gained several new donors immediately following the earthquake, but most of these have since gone. Many were only willing to fund short-term projects, like summer camps, or emergency aid, like water filters--not the long-term recovery support that truly helps organizations to thrive.
Despite the ups and downs, AVS is still pushing to create educational and other opportunities for its students and the community at large. In addition to providing free, formal schooling, the organization offers activities to complement its curriculum and raise awareness about human rights and current world affairs. Since 2010, AVS has been serving close to 500 children annually, 75 percent of whom enroll in school and successfully pass their annual state exams.
Because of its commitment to rights and education, AVS also supports the efforts of other locally led organizations such as Solidarite Famn Ayisyen, a national women's organization dedicated to advocating for women's and children's rights and protection; Fòs Refleksyon ak Aksyon sou Koze Kay, which advocates for the right to safe housing; and Groupe d'Appui aux Rapatriés et Réfugiés, a network that fights for migrant rights.
Perhaps these are not the names that immediately come to mind when you think of organizations working in Haiti. The truth is, these organizations are made by Haitians, for Haitians, and they have been working with Haitians and have been led by Haitians for decades.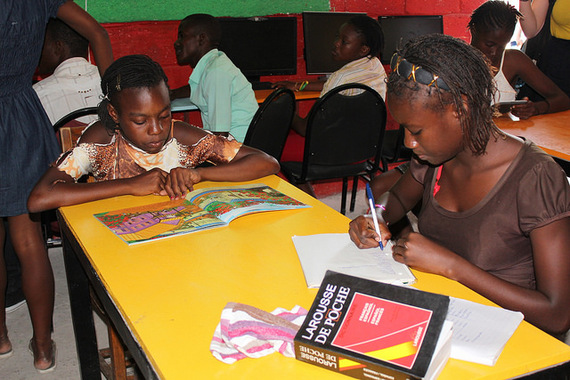 Children reading and studying in 2014 at SAKALA, a GFC grassroots partner that serves children in Cité Soleil, a neighborhood within Port-au-Prince that is extremely poor and prone to violence. © The Global Fund for Children
The list of Haitian organizations working on the ground to address the needs of their communities is long. Unfortunately, mainstream news of Haiti and the international aid community often outshines the local efforts of Haitians working every day to make their country a better place. During a meeting of our Haitian partners two months ago, they all raised the issue of not being able to access funds that are readily available to large international organizations.
Two years ago, we asked some of these same partners what they would like to tell the world about Haiti. One of them replied:
"I'd like the world to know that Haiti is a rich country in human and physical resources. We have culture. People need to get to know Haiti beyond the headlines that only highlight misery. Our history comes from people braking chains of slavery, and we helped others liberate themselves in America. The Haitian people are people with dignity."
On this sixth anniversary of one of the most devastating natural disasters in the world, we invite you to come to Haiti. You will be able to enjoy breathtaking views in one of the new beautiful high-rise hotels. You will enjoy live music while sipping the country's finest rum punch. But we also invite you to not be fooled like the sun, to remember that there is more to Haiti than meets the eye. Leave the resorts and visit the countryside; try the delicious Haitian cuisine and get to know the Haitian people.
Better yet, see the work of many Haitians firsthand and ask how you can help and can support their efforts to fix the leaky roof.
For more information on how The Global Fund for Children supports and strengthens innovative, locally-based organizations around the world, please visit www.globalfundforchildren.org.
Popular in the Community