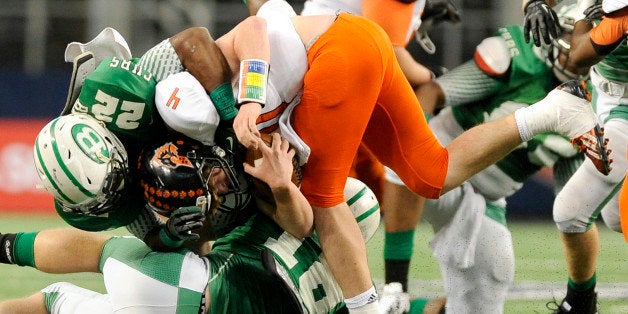 "It's much more dangerous riding a bike or a skateboard than playing youth football," said Maroon, who is a consultant to the NFL's Head, Neck and Spine Committee and the Pittsburgh Steelers' team neurosurgeon.
Listen to the full interview here. (Source: SoundCloud)
"In some aspects, this is comparing apples to oranges," Christopher Giza, a professor of pediatric neurology and neurosurgery at the UCLA Brain Injury Research Center, said.
While bicycling and football both have the potential for traumatic brain injury (TBI), he said, "the frequency and severity and the relative risks are all slightly different."
"It's difficult to compare injury risk of playing football to riding a bike or a skateboard," agreed Kevin M. Guskiewicz, a leading concussion researcher from the University of North Carolina at Chapel Hill and the co-director of the Matthew Gfeller Sport-Related Traumatic Brain Injury Research Center.
Christopher Nowinski, the co-founder and executive director of the Sports Legacy Institute, a nonprofit research organization dedicated to the sports concussion crisis, took a stronger stance when asked about the bicycling-to-football comparison, calling the claim "false" in an email.
"It is unfortunate that this important information is being miscommunicated in the media," Nowinski wrote.
According to the CDC, bicycling does lead to more annual TBIs than all other activities for children 19 and younger, just barely topping football. But break down those totals by gender, and you'll remember something important: Young women don't play tackle football very often.



A breakdown of why women of various ages end up in the emergency room with TBIs. Football is nowhere to be seen. (Source: CDC)
If you take a look at the male numbers, you'll notice something else: Football accounts for the most emergency room visits for all males between the ages of 10 and 19.


It's pretty clear. (Source: CDC)
Injuries sustained while biking or at the playground send boys under 10 to the emergency room more often than football-related injuries -- but that's likely because children often don't start playing tackle football until the age of 10 or so, Farrey and Nowinski noted. Consider the number of people who bike compared to play tackle football, and the discrepancy suddenly looks even more stark.
Football players also have to grapple with a number of neurological concerns that cyclists do not. Players may hide or not know how to properly identify concussion symptoms. A 2014 study from Harvard University and Boston University researchers estimated that college football players experience six suspected concussions for every one that is actually diagnosed.
Another consideration is how often the typical football player suffers significant -- if not concussion-causing -- hits to the head. Even at the youth level, in a single season a football player may take hundreds of hits to the head at magnitudes that can compare to those in college. The long-term effects of these subconcussive blows are not fully known, but there is a growing body of research to suggest they can lead to significant brain damage.
"Riding a bike or a skateboard are not known to cause hundreds of impacts to the head in a year," Nowinski said.
"Joe Maroon doesn't speak for the NFL, nor we for him," Miller said when asked about Maroon's description of the NFL's brain trauma problem as "over-exaggerated."
But Farrey from the Aspen Institute noted that NFL Commissioner Roger Goodell's wife, Jane Skinner, said in 2013 that "kids are more likely to get injured riding their bike on the way to (football) practice than at practice." A blog post that same year on the NFL-affiliated USA Football's website depicted the claim that biking is more dangerous than football as not only accurate, but "nothing new."
"The NFL is doing a lot of good work in terms of training coaches and reforming the game," Farrey said. "But if they're going to make real progress, they're going to have to start telling parents the truth."
"If you lie to mothers, they don't forget it and they don't forgive it," he added.
Another person who disagrees with the idea that football is safer than bicycling: Chris Borland. The former San Francisco 49ers linebacker retired earlier this week after only one season in the league, citing brain trauma-related concerns -- which is why Maroon was brought onto the NFL Network for his interview in the first place.
"You can ride a bicycle and the act of riding a bicycle isn't causing brain trauma," Borland told "CBS This Morning" on Thursday. "Yeah, you could fall, but that's if something goes wrong. Everything could go right in football and it's still dangerous."
CORRECTION: A previous version of this article misstated Tom Farrey's title as the executive director of the Aspen Institute. He is the executive director of the Sports & Society Program at the Aspen Institute.
Support HuffPost
The Stakes Have Never Been Higher
Related
Popular in the Community