High school football has received a lot of unwanted attention in past weeks due to the actions of a small number of players. It appears yet another incident of misconduct by a high school player in California has surfaced.
CBS' Los Angeles affiliate reported Monday that a player on the Salesian High School football team rubbed IcyHot, the topical cream used for aches and muscle strains, on the face of La Canada High School's Angel Salazar during a Sept. 4 game. Salazar had to be quickly rushed off the field to deal with the burning sensation from the IcyHot cream on his face.
The principal for La Canada High School, Ian McFeat, believes they have identified on video the exact moment when the Salesian player allegedly covered Salazar's face with the IcyHot substance, viewable below.
"That's the kind of substance that, if it really got in your eyes, it can do some damage," McFeat told CBS Los Angeles.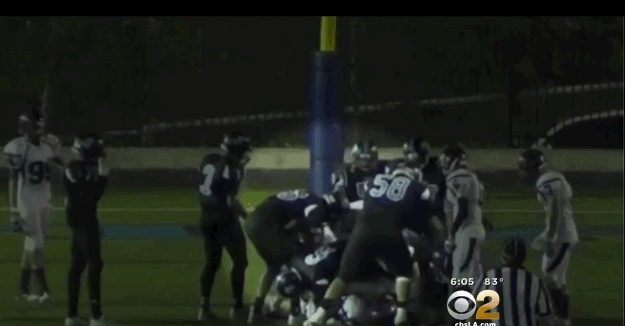 In a phone call to The Huffington Post, McFeat said he hoped people would take away a larger lesson from the incident. 
"I would hope that incidents like these help to shed light on the need for us to really focus on sportsmanship and focus on instilling values within our athletes" the La Canada prinicpal said.
Misconduct on the field by high school football players has been the subject of multiple national stories in recent weeks. Three of the most notable are two teenagers who blindsided a ref in Texas, a player who hit an opponent with a helmet in New Jersey and another Texas teen who shoved a referee.
The Los Angeles Times reported that the Salesian player said to be involved in the incident played for the team in the following week. 
Salesian High School did not immediately respond to requests for comment from The Huffington Post.
Calling all HuffPost superfans!
Sign up for membership to become a founding member and help shape HuffPost's next chapter