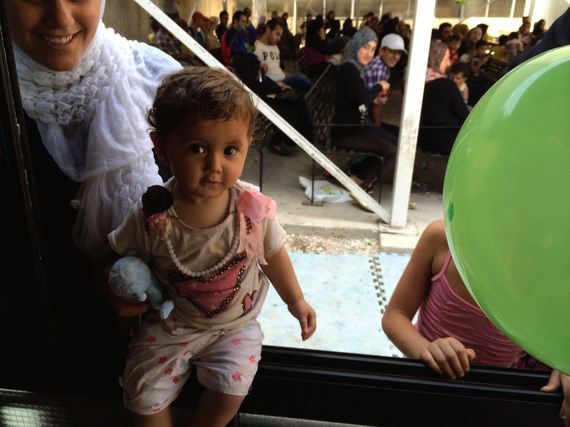 A Syrian baby holds a blue teddy bear that I gave out to Syrian refugee children.
Clutching a teddy bear in one arm and a balloon in another, the little boy with a deep scar under his eye looked up and asked in Arabic, very gently... almost a whisper: "Khala (aunt) Rym. Can I have toothpaste for my sisters and I?"
The children next to him overheard and joined in: "Yes please. Toothpaste!"
I had traveled from the UAE to Lebanon to give out Eid gifts to Syrian refugee children, packing everything I could think of that a child in need would want for Eid.
Yet it never ever occurred to me that they would want something as basic as toothpaste.
Tracking down toothpaste and more than 200 pink tooth brushes, the only ones available in bulk from the nearest store in one of the mountainous areas of Lebanon, there was a moment's worry that the boys might object to the color.
But they loved their new toothbrushes, waving them as they ran to show their parents, mostly mothers, since many had lost their fathers in Syria's seemingly never-ending conflict.
And so, for a moment, these children forgot they were homeless, that they were hungry, and that they were ill with malnutrition with cracks around their mouths because of a lack of vitamins, cavities and gum disease, dehydrated skin with scabies and rashes and hair with lice owing to lack of water for showering. 
They were so happy with something most of us take for granted, that some began brushing their teeth right there in the middle of the street, some even swallowed the toothpaste. 
The things we take for granted.
There an old saying that goes, charity starts at home. But what I recently rediscovered, is that it actually starts with you. Anyone can become a #HumanitarianHero, if just for a short time. In honor of Wold Humanitarian Day, I retell my very small initiative of giving in the hopes it inspires others to do something special for anyone needing a helping hand or smile.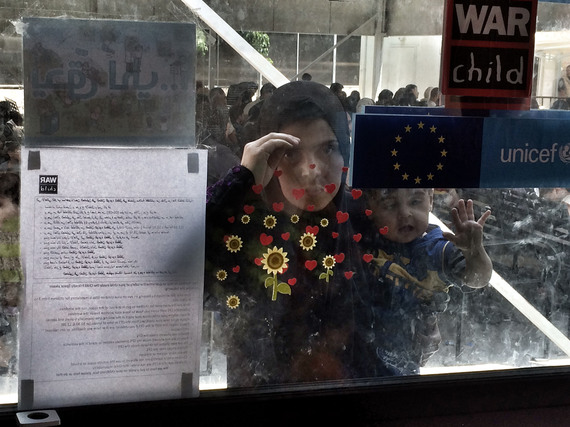 A Syrian mother and her child. I felt this photo captured so much. Some of her pain, and the pain of hundreds of thousands of displaced Syrians.
It all began sometime in June, when I was sitting with my laptop on my lap, with the TV blaring in the background, looking for deals on flights to Barcelona, Spain. Family friends and I have decided to spend my birthday there and explore the city.
I happen to look up and there was a report about Syrian refugees on one of the Arabic news channels, and while I have seen so many, a small fragile-looking Syrian child caught my attention.
The reporter was asking her: "If you could have anything, what would it be?" With dark circles under her eyes, the girl looked up at the camera and said: "A toy. I want a toy for Eid."
And that was it. 
I knew what I wanted to do for my birthday, which fell during Ramadan. I wanted to give out gifts to children who have lost their homes and who have endured so much misery and pain. I wanted them for just a moment, to feel like a child again, as we all do on our birthdays when the cake comes out with candles. 
I canceled my trip to Spain, and booked one to Beirut, Lebanon, with the mission to get this child, and many like her, toys.
It was time to put politics aside and just focus on the children. Every child deserves to smile and to have a toy, regardless of their nationality, class and situation. 
The Fifa World Cup in Brazil was just getting under way, so football fever seemed a universal way to get children of all ages, including teenagers, to participate in something that could be both fun and therapeutic.
It proved impossible to find a football pitch, so table football, or foosball -- also known as "baby football" in Lebanon -- would have to substitute, with the children taking part in a tournament in which there would be prizes for all. I decided that in Rym's foosball tournament, there would be no losers, all would get prizes regardless of their scores.
Many phone calls later, and with the help of many kind hearts, several foosball tables were secured in Beirut at a reasonable price. Two large suitcases were packed with everything from teddy bears to skipping ropes and cars and toys that would involve the whole family. Good quality toys are expensive in Lebanon, but the UAE proved ideal for bargains. 
Perhaps one of the funniest moments was when a security figure at a check point asked me to open the bags and saw it was packed with toys, one bag filled with teddy bears.
"Why do you need all these teddy bears?" he asked. I replied: "For hugs. They will provide hugs."
The man:"Do you have a permit to give out all these teddy bears?" I said: "Yes," pulling out a sheet of paper with many scribbles, I said: "Here is Santa Claus's signature."
Without bothering to look, he shakes his head and allows me to go through. Sometimes acting nuts just works.
After reaching out to several charities, some of whom flatly rejected the plan and others who asked just for cash, an organization called War Child offered to help. The charity offers child-friendly spaces across the world in conflict zones, providing a place where children can be themselves, reading and playing with them, allowing them to release their aggression and grief through art, crafts and singing. Most of the children, they explained, had no toys after fleeing their homes.
War Child's branch in Lebanon is a small, roofed structure made of colorful mats with several windows, based inside the UN complex in Jnah Beirut. Thousands of Syrian refugees pass through there to register with the UNHCR.
After more haggling than I have ever done in my life, all throughout this venture, the foosball tables reached their destination. Everyone had a chance to play, including girls, at first shy and hesitant about a "a rough boys' game", but who ended up being the best players.
The amazing dedicated team at War Child made it possible for me to give out as many toys to as many children as possible. The bubble-maker machine I had brought with me meant that when the children came into the War Child center, they could chase bubbles and leave their problems outside. 
Using face and body paints, I drew on the children who in turn drew on each other. Most chose hearts, flowers and animals (mostly cats and few dogs), some drew the Syrian flag and others the flags of World Cup teams such as Brazil and Germany. Others simply painted red and black circles around their arms.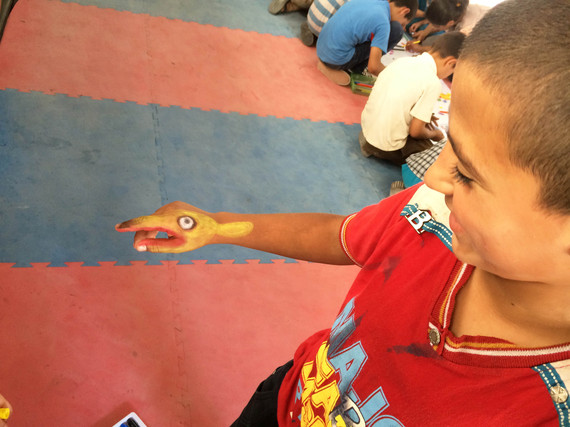 "I am not afraid. I will protect my sisters and my mother," said one child of about 10 years old from Aleppo, whose father was in the army. His whereabouts is unknown and he is presumed dead.
The boy then saluted me as he went to help the other children clear up after themselves and help put the toys away.
He once had a home like the rest of us, with a TV and toys, and even a pet cat called Lulu. "We left Lulu behind," he said, now fighting back tears.
Now, and he knows it, he has no home and lives with other Syrian families in a small rented apartment. Despite a few electrical fans, the center is very hot during the summer, and urgently needs air conditioning for the sake of the hundreds of children that pass through. 
Every person I met along this journey had a tragic story to share. Besides health and security concerns, every family just wanted a home or to go back home.
"I just feel so degraded. I have nothing of my dignity left and I have no way to protect my family, my children, from further misery and humiliation," one mother told me as she held her child, a little girl who lost a leg during their escape from the bombardment of Deraa. 
One Syrian boy in his early teens left a huge impression. He saw me giving out teddy bears in one of the neighborhoods packed with refugees and shyly asked for one of the fluffy toys for his "younger sister."
I had bright blue teddy bears left, and so I handed one to him and asked if he would like anything for himself. He said no, and left after thanking me for the toy.
Leaving the area, I saw him sitting on the pavement, hugging the little bear.
I found out that he cleans cars for a living and seems to have no family. He has been seen sleeping on the streets, and carries a bucket and a rag wherever he goes.
Many other children are begging on the streets, selling gum or tissue boxes while others shine shoes for a living. They may have been from different areas and from different ages, but all had one thing in common -- they looked tired and much older than their ages.
I saw several parents drag and force their children to beg, leaving the child crying at the side of the road pleading to be allowed to go home. No way for any child to spend their childhood.
Like in every crisis, those with special needs and the terminally ill have an even harder time, and get sidelined because there is often no help for them. The situation is overwhelming for all those involved.
So many Lebanese have opened their home to the refugees, and continue to help them despite the rise in resentment because of strain on resources and loss of jobs -- like for instance where a Lebanese employer would employ a desperate Syrian at half the salary and not provide health care. As always, in times of crisis, you see the best in people, and the worst.
Given the amount of pressure on the tiny country from the massive refugee influx, the dire state of infrastructure, the unstable government and the security breaches that happen from time to time, it is commendable that a fully-fledged war didn't break out ages ago.
Somehow in the madness and disorganization, Lebanon works -- and that is mostly due to the adaptability and attitude of so many Lebanese people who simply take things as they come.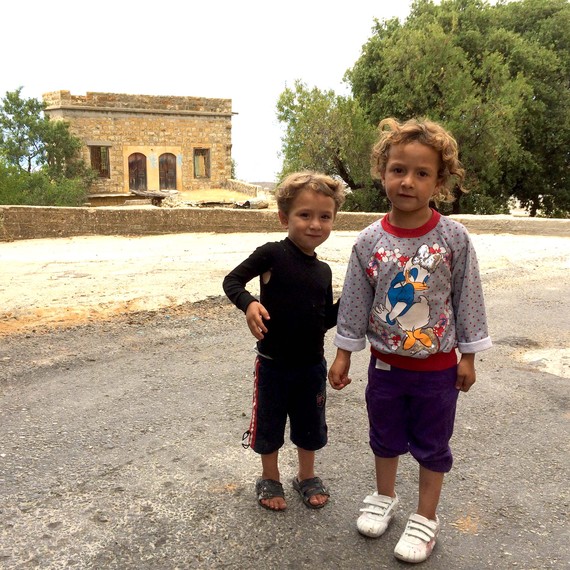 Syrian refugee children living in the mountains, who despite their torn clothes, were all smiles and invited me to play hide and seek with them.
Despite all the efforts, every Syrian refugee child I met on this trip was ill with something, a health and medical crisis that is, and will become, even more critical. UN officials say that most donors want to just focus on education. While this is critical, health care must not be forgotten. A sick child cannot learn much.
Lice is a particular problem. Many of the children have them, and I caught some almost immediately. The solution turned out to be to invent a game I called "Qrd" (monkey). A quick douse of the hair with lice medicine that promises "one spray is all it takes" and we would then sit and comb each other out. Soon we were all free of lice.
Beside health and nutritional needs, I met several victims of domestic violence. The parents or, more often, the single parent had released their frustrations on the child, resulting in black eyes and bruises along their bodies.
A friend of mine saw a mother of three leave her children with an aid organization, then run away to throw herself off a cliff.
"I just can't feed my children. I can't see them suffer and beg me for help and I can't do anything," she wrote in a note she left with one of the children.
I saw a Lebanese mother at a government entity begging for help to get her son across the border.
"My husband is Syrian. They already took him. Please, now my son is at risk!" I heard her pleading with a high-level official. They all tried to help her, but it was too late. Her teenage son was taken by Syrian authorities at the border.
As she completely broke down, and sat on the floor weeping, we all felt so helpless and angry.
One small way to help refugees is to give them the things that you are not using. I packed up my house in Beirut and gave everything - clothes, furniture, kitchen stuff and toiletries -- to the SAWA charity. There are many good organizations making a real difference.
With all the crises across the Arab world, no one can keep up with the tragedies occurring daily. But even if we are suffering "donor fatigue", we should do what we can to help.
Lebanon is unlike Jordan and Turkey, where there are organized camps for the refugees. It makes it more difficult to carry out set programs of aid and development.
But with the help of some of my own money and generous donations from friends, 1,000 children were able to smile again.
If I can do it, so can anyone. At the risk of sounding preachy, every little bit does help. I have seen the impact. They got clean water, fresh croissants, toys and basic hygiene products such as Dettol, lice medicine and toothpaste. It turned out there was a way around every obstacle.
And the best part is what they gave me: the best birthday ever, filled with hundreds of hugs and kisses.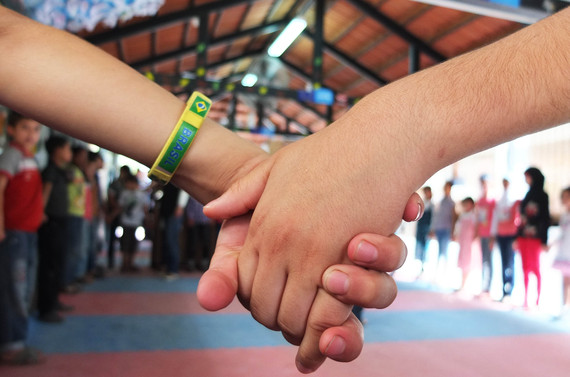 Rym Al Ghazal is a senior feature writer and columnist for the National Newspaper. She is working on her second book, Single in the City.