"We don't really own anything. We are merely custodians of it during our lifetime." — Jim Irsay, owner of the Indianapolis Colts
Twenty years ago, I asked a mutual friend a question that would change my life forever.
"Football… what is it about football?" I wanted to know. "It bonds some men every Sunday for life — when they may have nothing else in common but watching the game."
"I have a friend who can answer that question for you. He's a sports writer."
Don't ask me how Hunter S. Thompson's books managed to evade my radar until I met him in 1997 — to have my question answered while we watched a game on his TV.
We bonded as football friends.
Two years later he asked me to work as his research assistant, and I moved to Owl Farm in 2000. Shortly after that, he started writing a weekly column for ESPN. When he wrote a political column in the '80s, he weaved in sports. In the ESPN sports column, he weaved in politics. The botched election of 2000 – and the subsequent wars brought about by George W. Bush — inspired Hunter to write more in the last five years of his life than he had during the previous 15. And "we" was the prominent thread in his political sensibilities.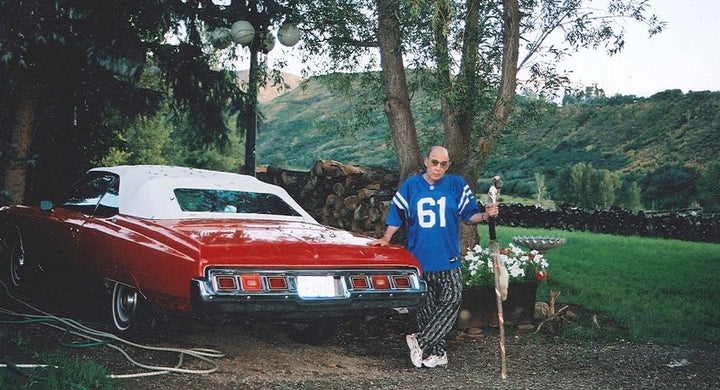 As Trump's "win" of the election shocked a nation, people began turning to Hunter's work more than ever. And, oddly, the last game of the season felt like a repeat of November 8th. There will be no more elections or football games for a while. But off-season is only temporary, just as the Trump presidency is just temporary…and may even be shorter than four years.
Hunter [S. Thompson] echoed in every bit of his work that WE is the most important word in politics.
Hunter's death in 2005 was tragic for all of us who loved him; serious darkness that came in waves and continues to this day. Trumps "win" meant another pang of Hunter's absence. But one thing that brought comfort was the fact that he left 40-plus years of writing to be discovered by each new generation. And rediscovered when the rest of us need it most — like now.
Recently I received a death rattle email and call from one of the trustees of the Trust that Hunter set up, announcing that money was still so tight that they intended to sell Owl Farm, despite Hunter's written wishes for this to remain my home. They gave me 45 days to come up with money to save the Farm.
With the greatest fear I've felt since Hunter's death, and instead of heading to court, I reached out to the thing that has brought millions of people together. Not politics, but football. Hunter's good friend Jim Irsay, owner of the NFL Indianapolis Colts franchise, loaned me the money to buy Owl Farm from the Trust and save it from being sold. This means I will be able to continue with my plans to make our home a private museum, and to preserve the land adjacent to the valley's wilderness from development. The threat of losing my home was only temporary.
Thanks to "we," and thanks to football.
Hunter's suicide note to me (12 years ago), that somehow was published in Rolling Stone Magazine, was titled "Football Season is Over." But I have a new attitude. Millions of us were not defeated but are instead empowered by Trump's temporary coup of the presidency — and Hunter's friend saved Owl Farm. Now I believe football season is NEVER over.
So I do own Owl Farm. But I'm reminded that I am merely a custodian, during my lifetime, of this beautiful land.
Hunter echoed in every bit of his work that WE is the most important word in politics. Millions of people came together and are watching and supporting the Democrats and also the observant Republicans who see that WE is working.
So don't be sad that there is no football this Sunday. It's temporary… in reality, football season is never over.
Calling all HuffPost superfans!
Sign up for membership to become a founding member and help shape HuffPost's next chapter
BEFORE YOU GO