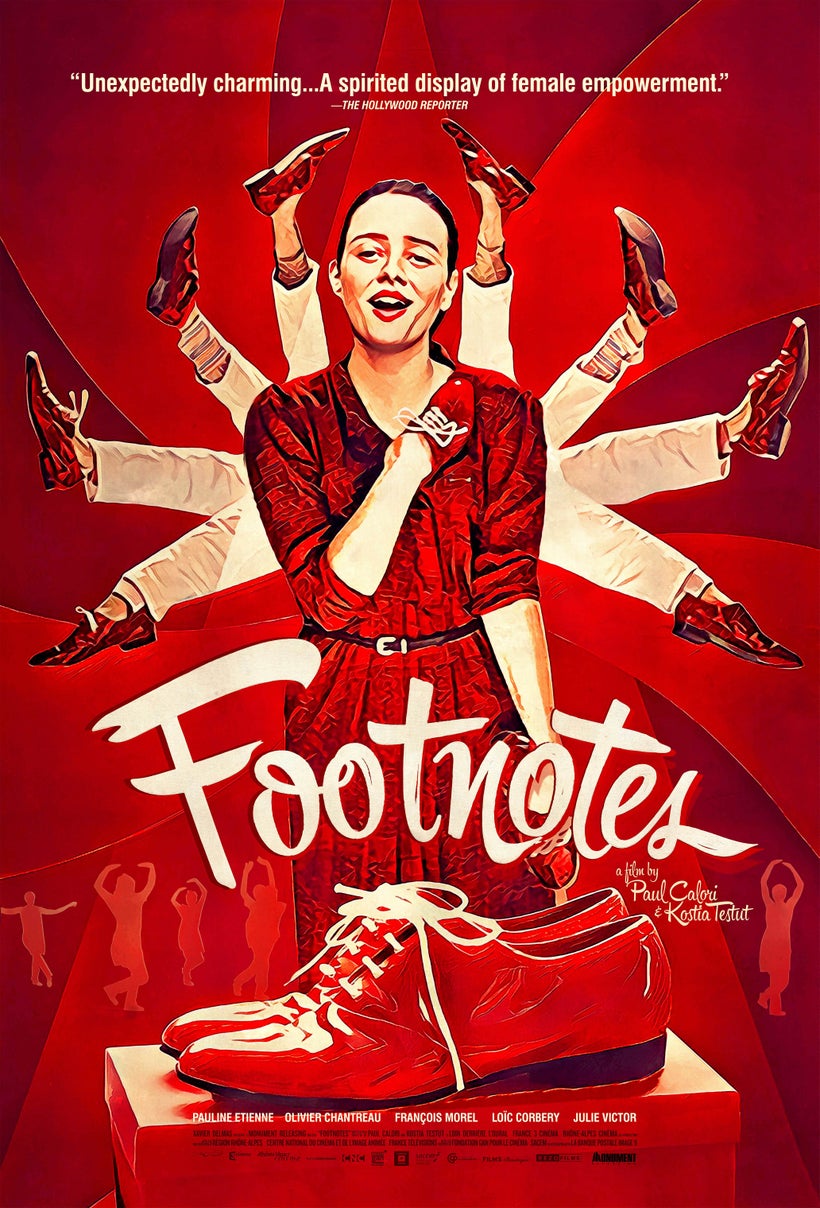 Footnotes (Sur Quel Pied Danser), France's often delightful, lefty response to La La Land, has workers uniting in song and dance to protest a downsizing of their luxury shoe factory. Sort of a low rent Pajama Game with a book by Karl Marx and lyrics by Jimmy Choo.
Here with their feature debut, writers/directors Kostia Testut and Paul Calori, wanted to avoid the "highly stylized way" of a West Side Story, or so they said. They insisted instead that the choreography "not [be] an ornamental or gratuitous element." The same with the songs. Consequently, the result, not to be sneered at, is more Umbrellas of Cherbourg than Funny Face.
For example, in the warehouse, in front of stacked cardboard boxes, middle-aged women workers, suddenly afraid of being laid off, start vocalizing: "Girls, let's fight back. We can't take this lying down."
Worker 1: "Your ideas are crappy. The only strategy . . . Here it is, comrades. We girls go on a hunger strike."
Worker 2: "You go on a diet if you like."
Worker 3: "An online petition today."
Worker 4: "Lock the boss away."
Worker 5: "No way. The boss would love it, I say!"
Worker 6: "We could kidnap his brat.
And so on and so forth. (Please note that the above is a translation. In the original French, it might all be Sondheim.)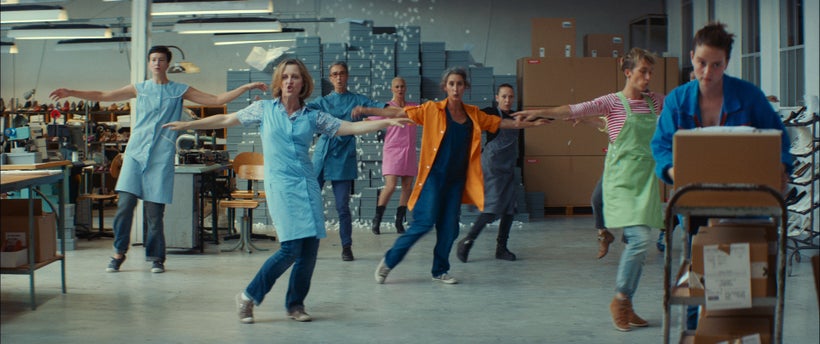 The heroine here is the less-than-radical Julie (Pauline Étienne), a young woman who can't find a permanent job no matter how hard she tries. Either she's not bosomy enough or pretty enough or she's less than desirable for fifty other reasons even though she's a diligent employee during her several trial periods, leading her to apply for positions she's totally unsuitable for.
Finally, after Julie does get a position at the aforementioned factory as a stockperson, she learns within days that another dark cloud is about to rain upon her sneakers: a labor dispute about French pumps being made in China. She might become unemployed before her very first paycheck.
So it's decision time. Will the need for the necessities of life prevent Julie from joining her peers on a strike line and possibly get fired? And does this mean she'll again be circling taunting employment ads? And what about Samy (Olive Chantreau), a studly company truck driver? Will romance and highly satisfying sex dictate her future choices?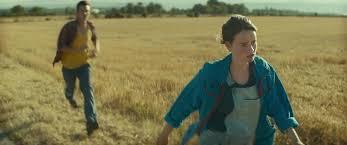 The question never bluntly asked here is whether the jobs are even worth fighting for. Also, how threadbare are the salaries? And how satisfying is it to cut shoe leather, then shape it, and polish it, and then ship it out hour after hour, day after day, year after year? All these characters seemingly have is pride in their output, which they can't even afford to purchase.
France's leading misanthrope, Céline, in his classic Journey to the End of the Night, cast his hero's eye on one such factory: "It's sickening to watch the workers bent over their machines, intent on giving them all possible pleasure, calibrating bolts and more bolts, instead of putting an end once and for all to this stench of oil, this vapor that burns your throat and attacks your eardrums from inside. It's not shame that makes them bow their heads. You give into to noise as you give in to war. . . . [Then] all of a sudden you've become disgustingly old." So what do the strikers actually win if they do keep their jobs?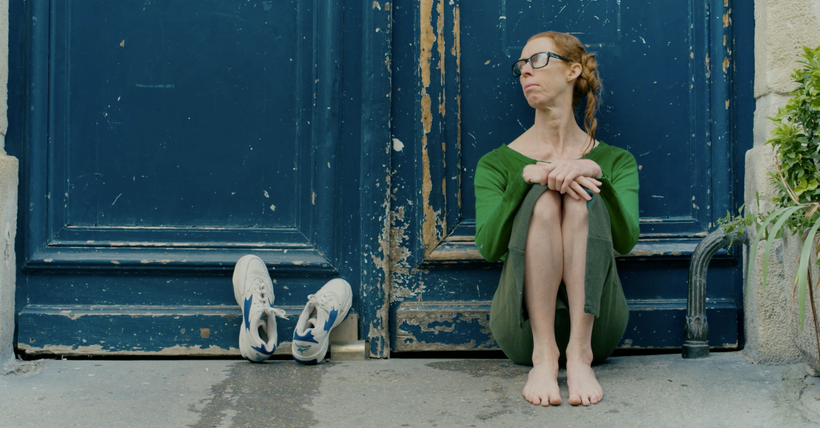 Moving on to a little feminism, several critics, though charmed by the musical, have responded to Footnotes' finale as a betrayal. Here, though, is a tale of an insecure, impoverished young woman who finds herself by taking a stand, and when she wins her battle, that victory is not enough. She follows her heart and an uncertain future. Being in love doesn't always undermine one's politics, especially if you can trill about them.
**************************************************************************
If one Gallic venture is not enough for you, sprint on over to Dominque Abel and Fiona Gordon's Lost in Paris (Paris pied nus), a deliriously funny, continuously inventive, slapstick extravaganza that Buster Keaton fans will devour with relish. A fiftyish French spinster (Fiona Gordon) gets a note that her octogenarian aunt (the grand Emmanuelle Riva in one of her final performances) needs her help. The laughs and whimsy never end in this visually resplendent production. One of the year's zany best.
(Footnotes opens July 14th at Village East Cinemas in NYC with a national release to follow. Lost in Paris is currently playing both in New York City and Chicago.)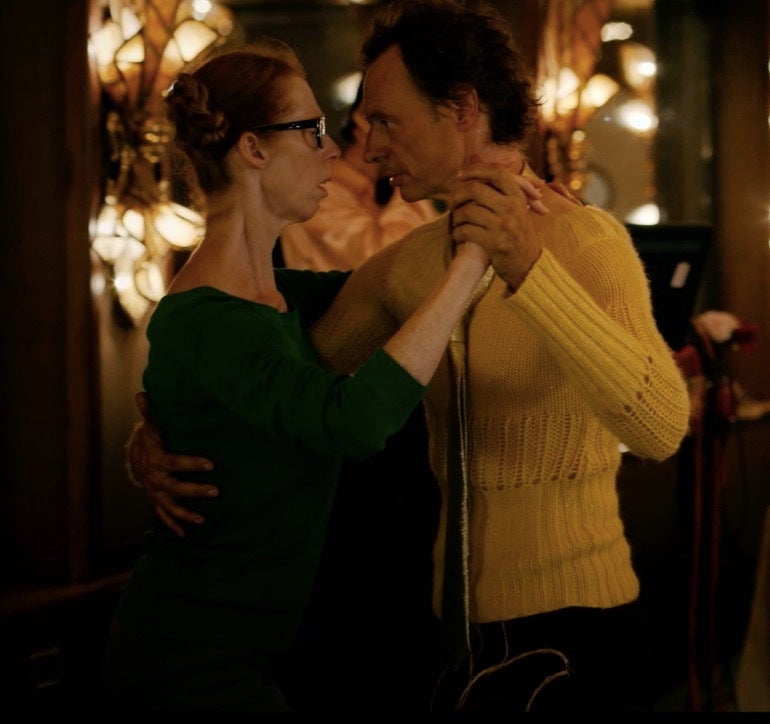 REAL LIFE. REAL NEWS. REAL VOICES.
Help us tell more of the stories that matter from voices that too often remain unheard.
This post was published on the now-closed HuffPost Contributor platform. Contributors control their own work and posted freely to our site. If you need to flag this entry as abusive,
send us an email
.