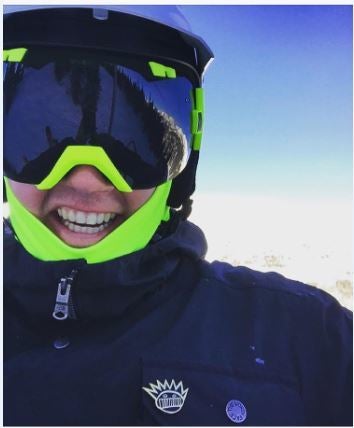 At the end of a rough, travel-filled work week, Steve Rice needed to get away.
His parents own a condo near the Keystone Resort and this happened to be one of the rare weekends during ski season when it was vacant. They said Steve could borrow it, so he zipped to his house in suburban Denver, threw some clothes and gear into his truck, and set out on the two-hour trek west with his wife, Mari, and their Border Collie, Alamo.
The next morning, Steve hit the slopes for a few hours. He returned to the condo around noon. He was unbuckling his boots when he felt a bout of acid reflux. At least, that's what he thought it was.
What happened over the next few hours proved to be a textbook example of an emergency response to a heart attack in a remote area.
It's a good thing this played out in February 2016. A decade earlier, Steve might not be alive to tell the tale.
The chain of survival that led to Steve's success story is part of Mission: Lifeline.
The program was launched in 2007 by my organization, the American Heart Association, to transform care for the most vulnerable patients: those experiencing high-risk, time-sensitive emergencies. The focus initially was on a specific type of deadly heart attack, but has grown to include all heart attacks as well as cardiac arrest and stroke.
Every link in the chain in crucial. Mission: Lifeline aims to make each as strong as possible.
The program's 10-year anniversary is a great time to celebrate its impact, such as:
Faster response times for certain types of lifesaving care.
More than 85 percent of the country is covered under the system of care for the type of often-deadly heart attack the program initially targeted.
Expansion into highly populated cities, including New York City, Philadelphia, Atlanta and Seattle.
About 800 hospitals were honored this year for meetings various standards of excellence – up from 77 in 2010, the first year of the award program.
For all its growth, Mission: Lifeline's roots are steeped in bringing rapid, quality care to remote areas … such as when an athletic, fit 32-year-old is having a heart attack atop Keystone Mountain.
About six weeks earlier, Steve was on another mountain, near Taos, New Mexico.
An environmental scientist, he was there for the cleanup of an ore mine. He brought his skis in case he had down time and, sure enough, was able to get in about five runs. He contemplated a sixth when indigestion hit. Added to the light-headedness he figured came from the elevation, he headed back to where he was staying.
On his black ski jacket, Steve has a pin of a spiky-haired, wide-grinning face. It's called Boognish and it's connected to the band Ween. (Pin is visible in image at start of story.) He wears the pin over his heart as a tribute to his best friend and favorite ski buddy, JJ, who'd died at age 31 only a few weeks earlier, likely because of a cardiac-related issue.
Much more active and seemingly healthier, Steve never considered the same might be happening to him. He just took some antacid tablets and a nap.
From then on, Steve kept his travel bag stocked with antacid tablets. So when the queasy feeling returned that day in Keystone, he munched on a couple and waited for relief.
Acid reflux wasn't the only symptom.
Steve also gushed sweat as if he was hiking on a 90-degree day. A shower couldn't douse it. Neither could guzzling cold water or walking in the brisk air.
Soon, his breathing sounded like hyperventilating.
Mari had seen enough. She told him to get in the truck, they were going to the hospital. The fact she was willing to make only her second appearance behind the wheel of his jumbo, jacked-up pickup – and would be steering down a mountain in a snowstorm – made it clear this was much more than indigestion.
In the emergency room of a hospital geared for treating broken bones, a nurse hooked Steve up for an electrocardiogram that would show his heart's electrical activity. The results widened her eyes, turned her face pale and sent her running for help.
A helicopter was on the way. The chain had been activated.

The air rescue team had flown up to Keystone to retrieve a boy with two broken arms. When the call came for Steve, they dropped the boy at the hospital where Steve was being treated, collected their new patient and headed down to Denver.
Riding a chopper over the Rocky Mountains was on Steve's bucket list. Despite his panic, and thanks to the nitroglycerin he received, he savored the view from the cockpit.
It nearly became one of the last things he saw.
Moments after landing, Steve went into cardiac arrest. That means his heart stopped beating; the electricity went out. This was in addition to the ongoing heart attack, which is more like having a clogged pipe.
Steve went about 40 seconds without breathing. A shock from a defibrillator revived him.
Now that the electricity was working, he was wheeled into the cardiac catheterization lab to fix the plumbing problem and get his blood flowing again.
Tests showed the blockage was somewhere in his right coronary artery.
Doctors explained how they would reach it and clear it.
"OK," said Steve, who in the previous 15 years had undergone surgeries on his knees, legs and ankles because of sports injuries. "When will you put me under?"
"We don't have time for that," the surgeon said.
With his right arm strapped down, Steve received an injection of tracer dye and watched on a screen as the dark liquid flowed through his body.
"The blockage was clear as day," he said. "It was like a pipeline that was blackish grey on top and then almost completely translucent on the bottom half."
Getting there proved tricky. Steve's zigzagged arteries thwarted the first batch of attempts. On about the fifth try, doctors pierced the blockage, expanded a balloon and implanted a mesh tube called a stent.
"Immediately," Steve said, "the sensation was as if someone had taken a 500-pound weight off my chest."

Most heart attacks are caused by a buildup of plaque in the arteries. Steve's culprit was a blood clot caused by a tear in his arterial wall.
"Just bad luck," he said.
That bout of indigestion in New Mexico? Likely another, milder heart attack.
Steve was diagnosed with high blood pressure at 16 and has managed it by with medication since he was 20. Steve's cholesterol was in the proper range for his age according to doctors, but perhaps his body requires it to be even lower. So that's part of his new regimen.
His diet already was quite heart-healthy, but it's even more so now. He remains active, either lifting weights or riding his bike pretty much every day. He's into breathing exercises and meditation to manage stress.
Steve marvels at many aspects of his ordeal, from his wife's bravery to the perfectly executed chain of survival.
"Had anything been delayed, even by a minute or two, I don't think I'd be here," he said.
He also thinks he had a guardian angel: his buddy JJ, represented by that smiling pin worn over his heart.
"I truly believe that he had a hand in my survival," Steve said. "He was looking down saying `No way, guy, there's no way both of us are going this early. You've got more to do.'"
Steve didn't ski this past winter, but it had nothing to do with his heart health. The reason is related to the "more to do" vibe he believes JJ sent his way.
In January, he and Mari welcomed a son, Arlo.