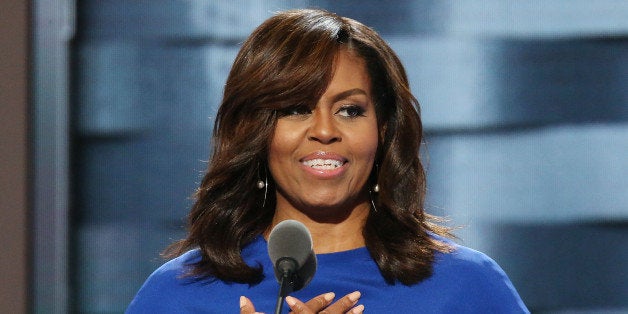 Yesterday, the Democratic National Convention began with a bang -- well, a loud cacophonous clatter of pots and pans crashing to the ground. Boos, jeers and protest chants interjected speeches becoming the overbearing brass to the symphony of scandal.
Like the eye of the storm, she brought peace to a crowd divided. Her speech, elegant but sharp, channeled her hope for the Clinton presidency to the tune of "I believe the children are the future." She simultaneously touched hearts and left us breathless with moving anecdotes about her daughters, clever jabs at Donald Trump and amazing one liners like this one, for the culture:

I wake up every morning in a house that was built by slaves and I watch my daughters, two beautiful, intelligent, Black young women playing with their dogs on the white house lawn.
Whether you're a crushed Sanders supporter or "with her" all the way, the first lady's speech brought in a constant stream of cheers and support from the crowd, continuing the family legacy of oratory greatness.
How did she do it? By telling a relatable story filled to the brim with inspirational pathos. She purposefully highlighted her role as a mother. Her fears and hopes for her daughters are parallel those of all democrats for the country -- safety and security in a polarized world and a desire for role models who will push us in the right direction.
But of course, the role model Michelle Obama was supporting was Hillary Clinton. It takes true talent to write such a glowing review of someone whose name is a magnet for mistrust and scandal. Her endorsement of Clinton navigated her pitfalls and crises so well, that this time, the protesters didn't even stop to interrupt her.
The person she trusts with the responsibility to lead our children is Clinton, she said, and anyone reading her letter of recommendation with no prior bias, would be inclined to agree.
Her support for Clinton, in fact, was the most divisive theme of her speech. Her content ruffled no feathers. She didn't go into the nitty-gritty of policy and social justice. She praised the heroism of the troops, police and protesters in Dallas, and those who volunteered to donate blood in the aftermath of the Orlando shooting in one breath.
And she taunted the common enemy without even uttering his name.
Don't let anyone ever tell you that this country isn't great that somehow we need to make it great again. ... I want someone with the proven strength to persevere, someone who knows this job and takes it seriously, someone who understands that the issues the president faces are not black and white and cannot be boiled down to 140 characters.
As she spoke of her daughters and the children of America she became emotional. She reminded me of my mother, stern yet comforting. She was, in that moment, the DNC's mother, commanding us to release our cynicism and frustration and trust that everything will be alright.
FLOTUS was the clear star of the night. For just 15 minutes, her speech suspended a thick fog of tension that hovered over the convention and brought unity to a crowd divided by disappointment and distrust. This historic speech will be the happy place we can all return to amidst the chaos of the remainder of the convention.
A version of this post originally appeared on Medium.
REAL LIFE. REAL NEWS. REAL VOICES.
Help us tell more of the stories that matter from voices that too often remain unheard.