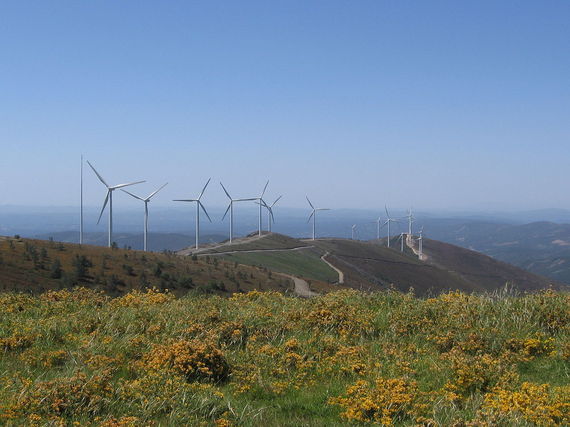 A wind farm in Lousã, Portugal. (Photo: CorreiaPM/Wikimedia Commons/Public Domain)
Portugal had, until very recently, been generating up to half its energy with combustible energies like coal, oil, and natural gas. But the country has also been ambitious with renewable sources, relying on renewables for 48 percent of all of its power last year, and more than tripling its output of wind energy in just three years.
Still, it was remarkable when the country announced that for four days, it powered itself on renewable energy alone, according to the Guardian.
For 107 hours, from May 7 to May 11, Portugal was the greenest country in the world.
This wasn't exactly intentional. The output of wind and solar farms can vary based on a lot of factors, mainly, of course, how windy or sunny any given day is. And energy use can also vary--fair weather can mean that fewer air conditioners are on, for example.
A huge part of the feat involved wind power. The Iberian Peninsula is so suited for wind farms, in fact, that the country has high hopes for a new industry: exporting renewable power to the rest of Europe.
This will require "an increased build-out of interconnectors, a reformed electricity market and political will," Oliver Joy, a spokesman for an industry association, told the Guardian. "But with the right policies in place, wind could meet a quarter of Europe's power needs in the next 15 years."
Well done, Portugal, well done.
Related