 If you are hoping to combine your love of pagan holidays and a more unusual take on politics, this is the year to do it!

This is not, of course, a new idea. There are sure to be as many people outfitted as the President or Governor Romney or elephants and donkeys and chads as there are e-mails from Barack Obama inviting me to dinner in my inbox. Still, with six days to go, could there be a better time to show your true colors?

As for me, I'd like to think I was one of the pioneers of six year olds literally "playing" politics.

This is me as Hillary Clinton for Halloween in 1996 (another one of those years). We were, of course, both younger then.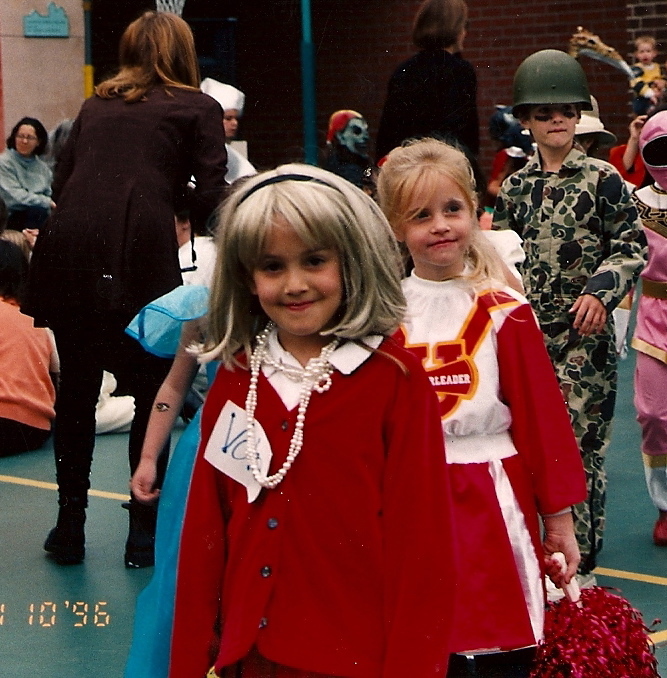 Political costumes are particularly entertaining when worn by small children. (Or, rather, entertaining to adults. My classmates were less than impressed). If you do not have the benefit of being a small child, that's okay too. You still can put together an entertaining political Halloween costume, and you'll probably get invited to better parties with more (potential) voters in attendance.

With that in mind, consider some of these possibilities:
The CEOs of Sesame Street: Everyone is doing Big Bird? Consider dressing up as his evil henchmen (far more Romney- like) 'Tax Me' Elmo and the Cookie Monster, who has been selfishly consuming 47% of the country's cookie supply.
Clint Eastwood and the Empty Chair: A particularly good couple's costume if you are concerned that your date might stand you up last minute.
Swing State: Bonus points if you incorporate an actual swing into your costume. I would recommend not using a tire swing, as the size and shape of the tire would take up a disproportionate amount of space in all directions--right, left, and center--and would force people to pay extra attention and go out of their way in order to maneuver around you. Hold on. On second thought, do wear a tire swing.
U.S. Armed Forces in the Middle East: Watch out for people who accuse you of outstaying your welcome.
WMDs in Iraq: The perfect costume if there's a party you're expected at but really don't want to attend - no need to even make an appearance!
The Youth Vote: Please, please show up. En masse.
The Electoral College: Carry a calculator and look very confused. Or carry a gavel and pretend you're a Supreme Court Justice who doesn't really care.
Filibuster: Find the house handing out the best candy and position yourself right outside the doorway, blocking the way for all other trick-or-treaters.
Remember, in some cities, Halloween celebrations can get pretty wild. Drive carefully. But, should you crash, explain to the other driver (and/or police officers) that it's performance art and part of your Halloween costume: This year, you're going as the economy.
Calling all HuffPost superfans!
Sign up for membership to become a founding member and help shape HuffPost's next chapter