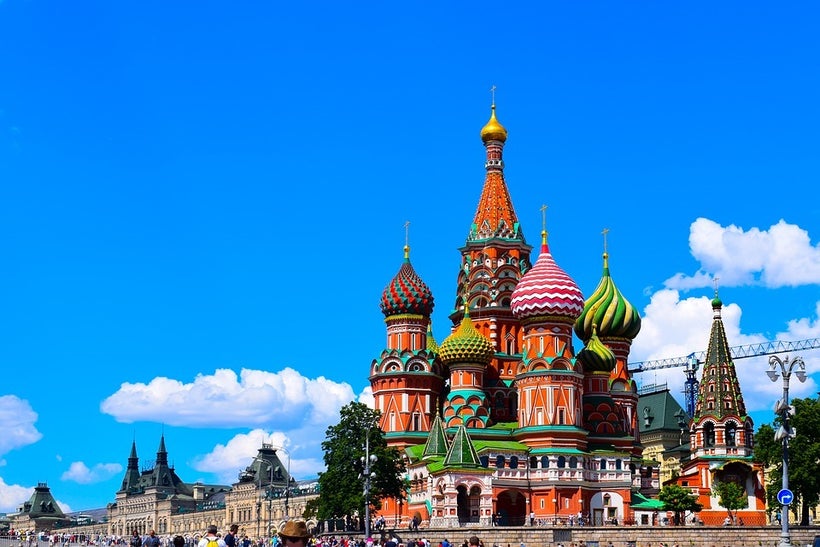 French investor Alexander Garese about the turbulent 90s and his work in Russia.
The Russian economy has begun to overcome the crisis trends. According to the Ministry of Finance and the Ministry of Economic Development, in May the industrial production index increased by the record 5.6% and GDP grew by more than 3%. After the revival of the economy, as a rule, investment processes become more active. On the peculiarities of work in Russia "Lenta.ru" talked to French entrepreneur Alexander Garese.
The world economy stumbled in 2008 and has continued to work to find its feet. While economic health has improved over the last few years, economic sanctions have taken a bite out of the Russian economy. This has convinced some experts that the Russian economy is currently a bad investment, and that all investors should avoid the country, or businesses based in the country.
This is simply not true, as Alexander Garese, a French investor, demonstrates.
Founder of the Wolkonsky bakery chain as well as head of the Garese & Associates law office, Garese is a member of the bars in both Moscow and Paris, as well as a well-known investor, lawyer and collector.
Born in 1968 in France, Garese founded a law office in Moscow in 1995. Now known as Garese & Associates, the office has undergone multiple revolutions to become the success it is currently. The bakery chain opened in 2005, and Wolkonsky now has more than 60 bakeries. His most recent project has involved developing the expertise of his companies, and continues to invest in digital media businesses and restaurant projects.
Many of Garese's projects are based in Moscow and the Ukraine, giving him a specific insight into the Russian economy. Here is what he thinks about the challenges of operating a successful business in the turmoil in Russia.
When did you come to Russia and why did you choose this country to start your business in?
Alexander Garese: I first came to Moscow in 1992; after the graduation from the Sorbonne I came to serve in the French embassy where I worked in Visa department. That was when I began to learn Russian.
The year of 1995 can be considered the starting date of my business in Russia: together with my colleagues we set up Seeberg, Stabreit and Garese, a law office in Moscow. In the mid-90s lawyers' services in the field of international law were in particularly high demand in Russia, so we grew quickly and built up a pool of reputable clients whose business interests were both inside the country and abroad. Thanks to the successful work I managed to make a significant capital to go into investment business.
How much has business environment in Russia changed since then?
That was an interesting time, the time of great opportunities. But, of course, it is much better to work now. In the 1990s the world looked at Russia with surprise and in some apprehension: "Oh, these crazy Russians have decided to build capitalism!" It was the time when enormous money was made and lost literally overnight. Nowadays no one will probably remember the names of some of the important and very rich people of those times.
A lot has been done in terms of establishing law and order – you have learnt to play by the rules. A businessman is no longer seen as a fraudster, as the Soviet people used to think, but is a respected and important member of society. Both the mode of business relations and the attitude of the state to businessmen have changed.
You advised the management of several companies that later became major players in the Russian and global markets. Have you been invited to be on the staff of any of these companies?
I just did my job. In the 1990s, as well as nowadays, many companies needed high-quality consulting services. My university training enabled me to provide them: I received a Master's degree in business and international law at the Sorbonne and then studied international law at Pantheon-Assas University in Paris and business law at Paris Nanterre University. These additional courses were necessary for the work since my clients often needed legal expertise in a variety of areas.
Besides I was not afraid to work under the success fee system, it is when the reward is paid only if the outcome of the project is favorable for the client. In most cases I would drill down the project and its development strategy in advance, looked at the market and only in case I was 100% sure that the project would be a success I agreed to participate in it.
What kind of business are you in today in Russia?
Now most of the Russian projects of my company Garese & Associates are concentrated in the hospitality industry: cafes, restaurants and clubs. In particular, they are the chain of bakery-cafes "Wolkonsky", restaurant-club "Kuznja" in St. Petersburg on the territory of New Holland, business club "Kelia", a yoga club. Also recently a new project has been launched, a café of wholesome foods - Cooker's.
Garese & Associates is actively developing its project expertise, therefore among the potential interests of the company is investment in oil and gas, commercial real estate and agriculture.
Do you invest your own funds or use external investment?
Basically, these are my own funds earned during my legal practice and business consulting. However, for the new projects in oil and gas and agriculture, we really consider the possibility of soliciting external investments. Now we are negotiating with some financial structures not only in Russia, but also abroad.
Why did you decide to set up bakery business? "Wolkonsky" is a rather unexpected twist in your legal career.
I have been living in Russia for many years and all the time a question has been nagging me: why can't one buy here the bread, which every Frenchman is used to since childhood. When we opened the first bakery we wanted to bring something new to the consumption culture in Russia. The emphasis was on quality – we invited specialists from France, used only French ingredients and carefully followed the format of a traditional French bakery. Now Muscovites can buy exactly the same croissant for their breakfast as Parisians can.
The soul of the project is my wife and the heart is the management team. It's important for me how it is developing so that's why when I am in Russia I start my day with a breakfast in "Wolkonsky". I take part in the development of the business as a consumer. "Wolkonsky" has become quite a big project - more than 60 cafes in Russia and Ukraine; and new partners are coming in under the franchise system.
Is it more difficult to work in Ukraine?
For a professional who is keen on his business, it makes no difference which country to build his business in. You may turn out to be very successful in a completely unfamiliar market or the one you would never think of entering before and at the same time may find yourself struggling with difficulties in seemingly hothouse conditions. The main thing for an investor is not geography but business administration, understanding all the subtleties of financial processes, professionalism and reputation.
How has the war of sanctions and counter-sanctions affected the development of the project?
Of course, we had to rebuild some processes. But every cloud has its silver lining - we have managed to find Russian suppliers who offer products that are as good in quality as French. The technology of production and the recipe remain the same, so the taste of our products has not changed and the customers, I'm sure, did not even notice any external shocks.
You've mentioned that it is your wife who runs "Wolkonsky". It looks like business takes almost all the free time of both you and your wife?
My wife's name is Stephanie; our wedding was in 1993 so we've been married for almost a quarter of a century. She comes from an old French family. We have six children. As we currently run the business in three countries, yes, indeed, it is quite difficult to find the family-work balance. But that's exactly the reason why we all try to spend every spare moment with the family. In addition, once a year, in August, as a rule, we spend the whole month together, usually at home, in France.
Do you have any hobbies? And how do you manage to find time for them?
I like to collect paintings and art objects from different periods and countries. I admire some painters and their masterpieces, so life in Russia is not at all an obstacle to my hobby. I, for example, have more than a thousand works of the famous Soviet caricaturists team Kukryniksy. They are now on restoration, but we are already negotiating to present them to the public in Russia and France. In addition, collecting for me is not only a hobby but I believe it also could be an investment in the future.
As for sports, my two major hobbies are yoga and horse polo. Speaking of polo, I have been doing it for a long time and last year I even played for the French national team in the Moscow Polo Club tournament. Yoga is a kind of antipode to such an active team sport as polo. In yoga one needs concentration and control but not speed and agility.
Alexander Garese is the co-author of the book "Investing in Russia, Ukraine, Latvia, Lithuania and Kazakhstan." What is the target audience of the book and do you consider this work to be successful?
Since I am quite familiar with investing in Russia and the post-Soviet space, I felt it necessary to share my experience. It is for the reader to answer whether this work is good or not but the book sold well. As for further literary plans, I will say: I would very much like to have time for this.
Is it worth investing in the Russian economy today?
In general, despite the international sanctions, many Russian companies still remain quite promising for investors. Especially if the entrepreneurs themselves take their participation in this or that project with all the competence and responsibility.
REAL LIFE. REAL NEWS. REAL VOICES.
Help us tell more of the stories that matter from voices that too often remain unheard.
This post was published on the now-closed HuffPost Contributor platform. Contributors control their own work and posted freely to our site. If you need to flag this entry as abusive,
send us an email
.