This past week I had the privilege to perform some songs by the composer Gustav Mahler. His music has spoken to me since I first discovered it while in college. The reason for this sometimes hard to articulate; his choice of words, musical phrases, the joy of singing some of these exquisite lines. I cannot justly put words to the intangible.
Awake during the night with music running through my brain, I stared to ponder about the power of a song. An audience member had mentioned to me that my presentation was so honest. I have mentioned the of the power of protest songs ala Pete Seeger in other posts, but this time the power in the classical music genre otherwise knows as art song, Lieder, chansons, canzone, etc.
According to Merriam Webster's Dictionary here is the definition of SONG:
1) the act or art of singing
2) a poetical composition
3) a) a short musical composition of words and music
b) a collection of such compositions
4) a distinctive or characteristic sound or series of sounds (as of a bird, insect or whale)
5) a) a melody for a lyric poem or ballad
b) a poem easily set to music
6) a) a habitual or characteristic manner
b) a violent, abusive or noisy reaction (put up quite a song)
7) a small amount (sold for "a song")
Curiously enough, all of these definitions apply to classical songs, including the animal sounds and violent reactions. Yes, even definition #7 applies, sadly due to the dismal support for classical music in our country and the image of it being elite. Song is anything but elite. It I can be earthy, deep, snarky, in your face, chill inducing, goose pimple creating, and more. It can shake the rafters or be so soft you need to lean in to hear it.
A miracle of a song is the experience one feels and one gives when singing it. The point is not necessarily vocal perfection but rather, sharing and moving using the voice, instruments, meaning, acting and words. Most songs have the blessing of being a relatively short length. Songs can be performed with or without accompaniment. When with another instrument, one experiences collaboration, a meeting of the minds and teamwork. Songs can even be performed with or without words. Sharing a song is a very simple, low-cost way to express, share, and experience great emotion, humor, sadness and more.
There is a boundless amount of song repertoire with more being added every day. I choose my songs first by the text and if I "get it." Sometimes this will depend on my mood at the time. Other times I will decide I want to present a theme to which the songs apply. Next I see what the composer has decided to do with the song. It is always interesting to see if my feeling of the meaning is in sync with theirs. Sometimes it is a challenge to get in the composer's brain (especially after they are long dead) to try to figure out why set it and what they felt. It can be as simple as a note value, or a pitch. It can also be found in which words are highlighted either by dynamics (any range from very soft to very loud) or length of the note value. The score is basically a road map Most everything is there if you know how and where to look.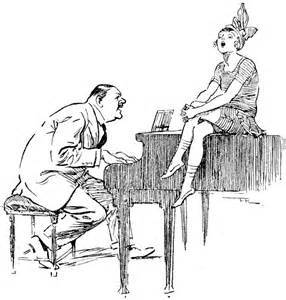 At certain opera companies, the wardrobe department keeps the name tags in the costumes of each artist who performs a role over the years. It is awesome to see who came before me. I feel the same about song-what happened between the time it was written and now? Who first sang it? How many people have heard it over the years?
Since art songs are often in a foreign language, singers must be able to translate the words and form an understanding, a point of view and pretty much own the words as their own. This takes a lot of time and some training but is well worth it. The translations are most always included in the programs and nowadays often projected on a screen on the stage. Even so the performer has to tell a story, inhabit a character while being honest and showing a bit of themselves. This harder than it sounds. Multi-tasking to the nth degree.
Another cool part of singing classical song is that you might first sing the song, say, when you are 25 but then you go back to it at later age it means something new or different. This is, in fact, one of the lovely aspects of classical song: a good song will be viable and relevant even two hundred years after it was composed. That is pretty incredible.'
I wonder if those past composers ever had an inkling that their music would continue to be passed down through the generations.
Each summer I teach at a program called Songfest in Los Angeles. (sonfest.us) It started small, the brain child of one person, and now has been going for twenty years.( I often refer to it as "art song on crack".) For one month you can see as many as 100 participants-both pianists and singers as young as high school and as old as professional teachers- come to celebrate and discover the art form of song. This intensive summer camp atmosphere hosts at least three masterclasses a day and many performances each week, as well as private study and one on one time with most of the faculty. That faculty is beyond exceptional and renowned in the classical music field; scholars, composers, performers, pianists. Sharing the experience of the value and miracle of art songs has been extremely rewarding for me as I watch these singers look deeply into a work and then perform it. The seed is planted for the future and continuing enthusiasm and mission of the power of song and the endless possibilities.
The piece I sang this week, "Das Lied von der Erde", is based on ancient Chinese poems then translated into German. They ponder the length and purpose and reason of earthly life in a quite abstract way. They leave me emotionally drained because I feel that I need to not just recite the poems but to make sense of them for the audience. I want the audience to feel involved-to come half way to me and I to them. Gustav's music is still mulling in my brain even after the fact and will for a while. It pretty much possessed me this week. I offer this article to perhaps inform and attract new lovers of song who may get as much from it as I do. After all, when you find a good thing why not share?
REAL LIFE. REAL NEWS. REAL VOICES.
Help us tell more of the stories that matter from voices that too often remain unheard.