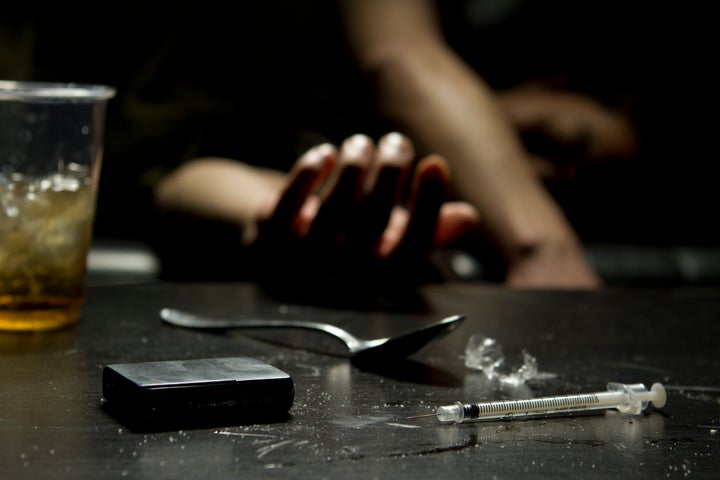 Here in Baltimore, on a blighted stretch of road known to some drug users as "Oxy Alley," America's opiate epidemic is on vivid display.
Addicts along this impoverished section of Pennsylvania Avenue—many of them African-American—can be found injecting heroin and melted down pain pills in vacant houses 24 hours a day, seven days a week, as area drug crews keep them flush with product.
Overdoses are common in this area, and drug-related violence, inescapable. Yet you're unlikely to hear about the plight of these addicts on the evening news, or read about them in your local paper. That's because the color of their skin has rendered them easy to ignore, say several self-described opiate addicts, including an Oxy Alley regular named Lisa, who worked at a Baltimore food store before a drug arrest cost her her job in 2015.
"Nobody cares that we're out here using," Lisa said last month, shortly before purchasing a $5 bag of heroin from a dealer along the alley. "When you're white, it's different. People pay attention."
Indeed, addiction treatment experts say that majority-white communities ravaged by opiate addiction—and wealthier areas in particular—have received a disproportionate amount of press coverage during America's current opiate epidemic. That coverage has, in many cases, led to increased interest from lawmakers in these areas, as well as more funding for treatment programs and higher quality care.
In impoverished black neighborhoods impacted by opiates, few residents get the same amount of attention as their white counterparts. They are less likely have access to quality treatment, research shows, and many have no access at all.
Overall, just 18 percent of the more than 22 million Americans with substance abuse issues in 2014 received treatment, research shows. And while majority-white communities continue to receive a bulk of government funding for addiction-related care, many communities of color are still suffering in isolation.
"It's pretty amazing that elected officials on both sides of the aisle now trip over themselves to pose for pictures with young recovering heroin addicts and parents who have lost a child to overdose, while promising more funding and better programs. We certainly didn't see that during the crack epidemic or previous heroin crises, so the game has changed," said Dr. Jeffrey Reynolds, President and Chief Executive Officer of the Family and Children's Association, a New York based organization that helps addicts get treatment. "Of course, we continue to see overdoses among people of color, but it's clear that the public face of heroin has become whiter, more affluent and more politically relevant... That's produced some changes in many states and federally in terms of policies and funding, but we need to make sure that all populations benefit from our new-found sanity."
"Addiction has been racialized to support punitive, prohibitionist drug laws in the U.S. for over a century.""
This, despite the rate of heroin overdose deaths having soared 213 percent among African Americans between 2000 and 2014, according to the Centers for Disease Control and Prevention. Since 2013, more than 22,000 news stories published by American media outlets have made mention of "white," "suburban," or "rural" addicts battling opiate addiction. Meanwhile, fewer than 20 such stories have focused on black opiate addicts living—and dying—in poverty-stricken urban areas during that same period.
"Now all of a sudden heroin has made its way out into the white suburbs, and the attention that is being given to it I applaud, but it is attention that quite frankly should have been given to this epidemic a long, long time ago," Baltimore's police commissioner, Kevin Davis, has said.
Dr. Helena Hansen, a New York University anthropologist, psychiatrist, and researcher who studies race and addiction, said images of white addicts in the media demonstrate the way addiction has been "racialized" in America.
"Regarding what opioid addiction means in black versus white families: the current media campaign is designed to humanize white opioid use. For example, white suburban communities such as Staten Island are organizing around opioid overdose as a human, public health crisis rather than as a moral fallout from criminal behavior," Hansen said. "In organizing to destigmatize addiction, their racial identity helps because white opioid users are characterized as "not your expected addict." They are not expected because addiction has been racialized to support punitive, prohibitionist drug laws in the U.S. for over a century. These days, black and brown families may feel they have less to gain from calling attention to opioid use among their members, because it threatens to reinforce, rather than disrupt, stereotypes about who uses drugs."
The impact of opiates in some heavily black urban areas has been devastating. In Baltimore, a majority African-American city with approximately 622,000 residents, 481 fatal drug overdoses were recorded during the first nine months of 2016—the most recent data available—up from 393 fatal overdoses in 2015.
Government statistics show as many as one of every 10 residents here is addicted to heroin—thought to be among the highest rates in the U.S. Among their ranks are an undetermined number of African-Americans, victims of a disease—addiction—that transcends all racial, demographic and socioeconomic boundaries.
In Philadelphia, officials recorded 900 fatal drug overdoses last year—a 30 percent increase from 2015, records show. In Miami's Overtown neighborhood, which is mostly black, fire rescue workers used the opiate-antidote spray Narcan nearly 1,700 times — more than double the rate of 2015, records show. Overtown saw the most opiate-related deaths of any zip code in Miami-Dade County from 2015 to late 2016, records show.
Experts say increased funding for treatment will be key to rolling back the wave of death and despair wrought by opiates in communities of color. The Obama administration allotted an unprecedented amount of money to fighting opiate addiction over the past eight years, but those gains could be erased during Donald Trump's administration, which has called for dramatic cuts in government spending.
It will take a massive effort on the part of all concerned Americans—activists, health professionals, researchers, politicians, and journalists in all 50 states—to ensure black addicts get the same amount of attention as their white counterparts.
All Americans—regardless of color, address, or income—deserve an equal chance at recovery.
Kevin Deutsch is an award-winning criminal justice reporter and author of two books: The Triangle: A Year on the Ground with New York's Bloods and Crips, and Pill City: How Two Honor Roll Students Foiled the Feds and Built a Drug Empire. He previously worked on staff at the New York Daily News, The Miami Herald, Newsday, The Palm Beach Post, and The Riverdale Press. His work has also appeared in Newsweek, The Village Voice, The New York Times, and Columbia Journalism Review. Deutsch specializes in journalism about street gangs and drug trafficking and has received multiple prizes for his writing about crime and national news events, including an Associated Press award for justice beat reporting. A graduate of Florida International University, Deutsch has taught journalism at Queens College and Hofstra University. He lives in New York City.
Support HuffPost
The Stakes Have Never Been Higher
Popular in the Community