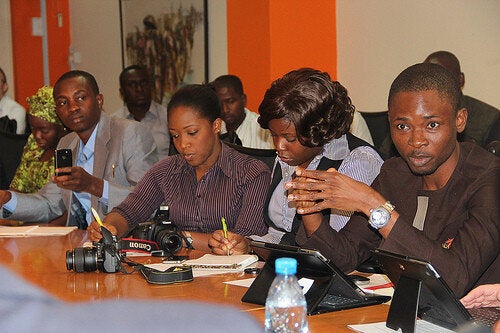 Youth Forum Breakfast on January 14, 2013 in Abuja, Nigeria. Photo: Bamidele Emmanuel Oladokun / World Bank
In 2011 African heads of state met in Malabo, Equatorial Guinea, for the African Union Summit. It was held under the theme: "Accelerating Youth Empowerment for Sustainable Development." The main aim of the gathering was to deliberate on Africa's youth which is growing faster than any other continent. More than 200 million people in Africa are between ages 15 through 24.
"Africa is the youngest continent. The current youth of Africa are not only important for Africa but also for the world," said Shantayanan Devarajan, Chief Economist for the World Bank's Africa region. Young people are usually the ones who lead innovation and are a source of labor force of any economy, Devarajan added.
I recently talked to him to find out what the World Bank is doing to help African youth.
There are a number of initiatives already taking the lead in putting Africa's youth to work. For example, in Uganda, a program to help girls ages 14 through 20 has achieved remarkable success. Girls who participated in the Empowerment and Livelihoods for Adolescent (ELA) project were 35 percent more likely to engage in income-generating activities, according to the project.
This project is successful and one of Devarajan's favorites.
He had just returned from Ghana. "I had a meeting with civil society groups in Accra--mostly to see how we can strengthen their hands," said Devarajan. Soon, it became very clear that the exciting part of this whole network is young people, he recalled with a smile. Devarajan interacted with Ghanaian youth via Google+ Hangout to talk about economic development. "Youth are doing tremendous amount on their own," he told the online audience during a Google+ Hangout when he was asked about what roles the World Bank could play in youth development.
Devarajan works with governments in Africa but says he wants to ensure that governments are not getting in the way of youth. He credits Africa's rise to tech savvy youth. "Without young people, you can't have tech growth," Devarajan asserted.
He believes one of the ways the World Bank has helped youth in Africa is by helping governments build technology infrastructure. Yes, it's true that youth who have access to technology are better off than those who are struggling to get digitally connected. I asked Devarajan what could be done to help those who are yet to be connected.
"That's where the Bank has to do some work," he said. Many youth work in the informal sectors and earn very low wages. One of Devarajan's challenges is to help change government's attitude toward informal sectors so that they could grow.
To help youth, it is imperative to help informal sectors flourish. Devarajan opined that it's not that governments don't have infrastructure in place to create formal sectors jobs, but the challenge is that it's very hard to absorb large number of growing youth.
Informal sectors jobs would be instrumental in providing opportunities for growing young population in Africa. That's why, Devarajan said, countries should understand that "informal is normal."
This post originally appeared in YouThink! - the World Bank's online space for youth to learn and discuss development topics.
REAL LIFE. REAL NEWS. REAL VOICES.
Help us tell more of the stories that matter from voices that too often remain unheard.