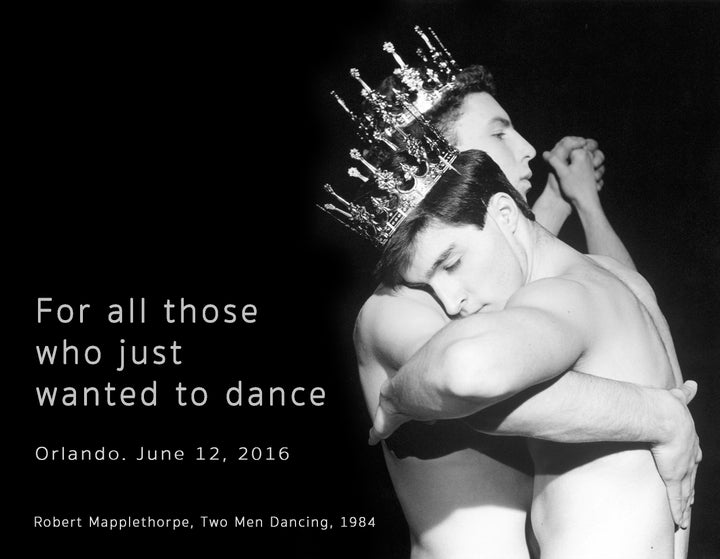 I created this now viral meme on the morning of the Orlando shootings. I had been studying the Mapplethorpe photo for a week -- having just seen it at the Los Angeles Museum of Art.
It was like some predestined preparation.
The photo: Robert Mapplethorpe's Two Men Dancing, 1984. Two kings dance in a formal and even starchy manner -- skin to skin. The man in the foreground: he's deep inside his passion, his yearning. His partner is perhaps cautious.
Mapplethorpe's photo captures a moment of awkward beauty. Maybe the men are merely playing at being kings, the string attached to that crown so evident -- because in so many cultures men yet ask the question: can we really have this? Each other? Are we allowed to dance?
When I learned of the shooting at the Pulse nightclub, I immediately turned to the photo that I had been fixated on. I was heartbroken, and kept thinking, all those people, they just wanted to dance. And then they were cut down, slaughtered. A simple night out dancing with friends had turned into a massacre.
I paired Mapplethorpe's photo, with all its layered pathos, with these words:
For all those who just wanted to dance. Orlando. June 12, 2016
This new image captured the exact heartache that I felt for my brothers and sisters in Orlando.
My meme went viral, with posts by Ricky Martin and others. Many said it encapsulated their sorrow, and stories flowed from every corner of the world to my inbox.
And now, after nearly two weeks, the words I wrote and the image have been repurposed in magnificent ways –– for fundraisers, and for both private and public expressions of grief. The most astounding: several survivors have begun to tattoo the image and words onto their arms.
The photo of the tattoo below comes from David Cotton, who tells me a survivor of the attacks had it tattooed on his arm a few days after the attacks. The tattoo is in memory of someone very close to him who lost his life at Pulse. The survivor has asked that the photo be shared on social media.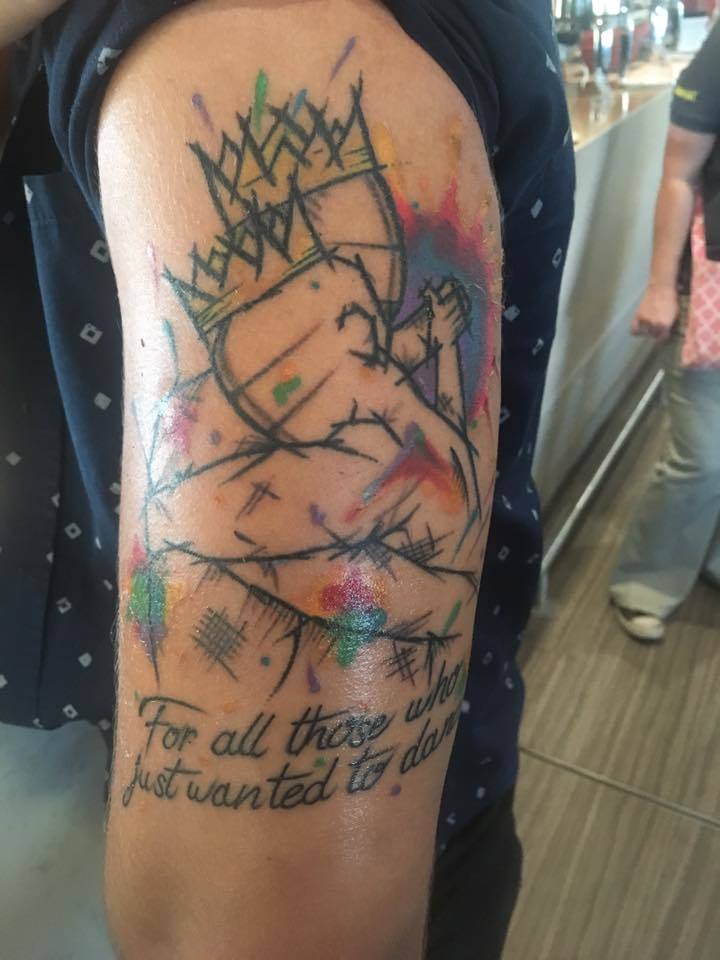 I especially like this tattoo because it reimagines my original intent, personalizing it for this survivor. Some have said that my meme whitewashes the fact that it was Latin night at Pulse, and that mostly people of color were killed. When I created the meme and posted it, I was aware of just one thing: lots of people had been shot at a gay nightclub in Orlando.
I am heartened then, that people are taking my words, and even Mapplethorpe's image, and making it their own.
Others are cashing in. A clothing manufacturer has used the words, "For all those who just wanted to dance. Orlando. June 12, 2016" on a new line of T-shirts, hoodies and tank tops. $22.90 –– $37.90.
Nothing like making a buck off mass murder. What came from my heart is now being used to sell murder-commemoration clothing, and yet I have no control over it. Gross. It's a wild and woolly Internet out there.
Collective grief – predictable hate
For many days after the shooting, I found myself connected to a kind of potent, collective grief with its own strange beauty. One woman's son had gone to see her, instead of to Pulse that night. She told me she is beside herself in wonder but also feels a kind of terror: her vulnerability so completely cracked open.
But the hate also came, and was sadly predictable: the image of two men being intimate is yet an anathema, just as it was for the Orlando killer.
The Mapplethorpe image: it propels people to love, and it incites them to kill.
Disgraced masculinity. It's an age-old problem rooted in culture and religion. Men and power and fear. At deeper levels, I believe all males fear each other, don't quite trust each other. Men are somehow not meant to submit, to embrace -- to dance. As if mere and simple touch is what will bring this world down.
But for the LGBTQ community, such intimacy is our exact and deep strength.
It is precisely what stops men from killing men.
CrowdRise has listed a number of ways to help. Donate here or through the widget below.
Before You Go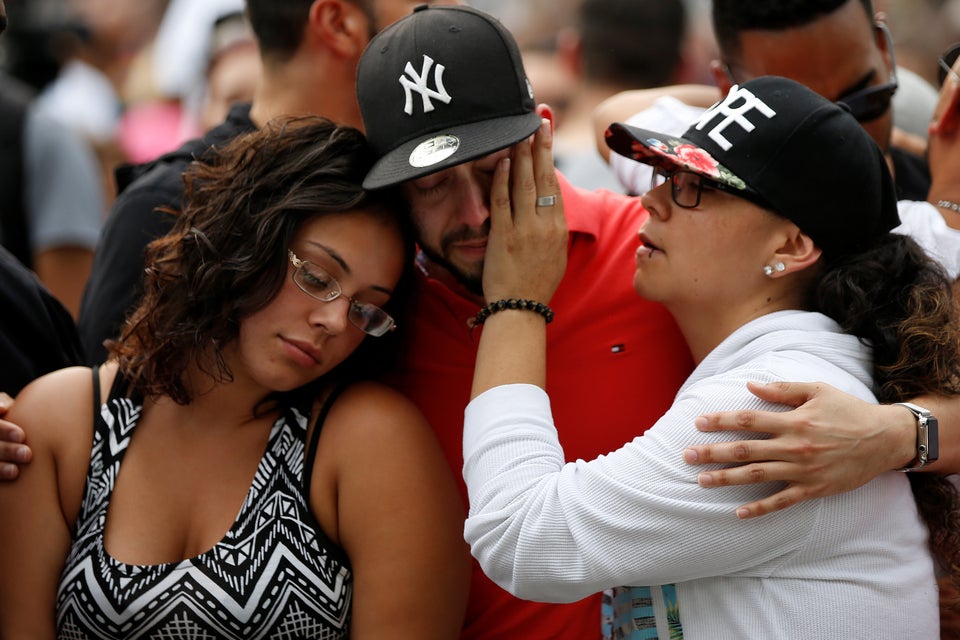 Orlando Florida Vigils
Popular in the Community