"The thing that is always tripping us up in the Caribbean is nationalism. We need to start thinking regionally, because in fact we share a similar history, a similar legacy and a common culture. We share more in common than not, and we can learn so much from each other by pooling closer together." So maintains Amanda Coulson, who is Director of the National Art Gallery of the Bahamas. She continues, "The mandate of the National Art Gallery of the Bahamas, founded in 2003, is to preserve and promote Bahamian art. But increasingly I am finding that the term Bahamian art is quite elastic. I find myself asking questions like: What about people who have lived and worked in the country for many years but are not Bahamian citizens? What if you are married to a Bahamian and have children here and lived most of your life here? Isn't there a place for you at the table too? How can I wrap regional artists into the mix of what is Bahamian art? These are some of the thoughts that I am preoccupied with these days."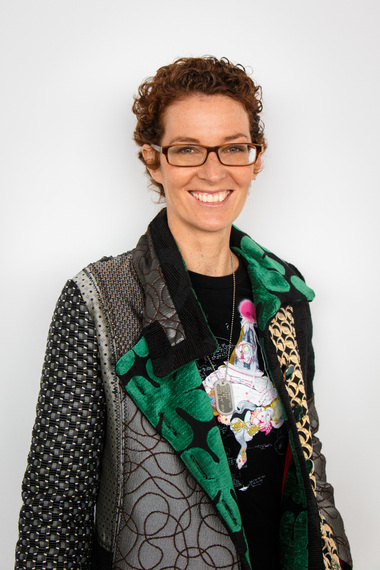 It is a forward-thinking and breathtaking proposition for someone who is the head of a national art gallery.
But perhaps this is no surprise coming from a woman who has always been traversing boundaries. Amanda Coulson was born in the United States to an American mother and a Bahamian father. She would be raised between England and the Bahamas, and would go on to get bachelor's degrees in European Cultural Studies and Art History in France. From France she would pursue a master's degree in Art History at New York University. Following her master's degree Coulson would follow a peripatetic route that would see her working in an auction house focused on old master works in New York, being a film producer in Los Angeles, working in art galleries in Europe, being a critic for several notable art publications, before she and her husband decided to form the now renowned Volta Art Fair, which is focused on new and emerging art and artists.
"We wanted to form something that had the production value of Art Basel but focused on artists who were not super famous," Coulson told me. "We had no idea that it would become as popular as it did! But I think Volta's popularity speaks to the fact that the art world seems to be divided into two extremes: very new galleries and really established galleries. It's the galleries in between that have difficulties showcasing themselves and their artists and these were the artists and galleries we wanted to showcase."
But even as Volta keeps growing and developing, and Coulson continues being part of the organization as its artistic director, after a number of years she started feeling a new itch, and that was an itch to put down roots and return home; home for her being the Bahamas. "The Bahamas was always the one constant in my life, even as I moved around. While it is true that I do have an American passport, I have never felt very American, maybe because I never put down roots in the United States. I also never really felt particularly British, which is where my parents and I moved to when I was a young child, even though I have friends in England and that is where I grew up. When the Bahamas got its independence from Britain in 1973 my father renounced his British citizenship and took up Bahamian citizenship, and moved back to the Bahamas. My mother stayed on in the United Kingdom. I continued living with my mother but would go to the Bahamas to visit my father every holiday. With the death of my mother, I ended up having no family in England, while in the Bahamas there was my father and other family members. In the Bahamas I always felt most rooted and grounded, and when I was approached about taking on the job of Director of the National Art Gallery, in a sense I felt like I was coming home."
The job of Director of the National Art Gallery of the Bahamas came at the right time in Coulson's life. By then she was a wife and a mother and, "At some point my husband and I started thinking through our goals for our future. We both thought it would be fantastic to help develop the art scene in the Bahamas, and so we moved back here."
In so many ways the development of an indigenous Bahamian art parallels the development of art in many parts of the Caribbean. There have been two successive waves of Bahamian art. One that started in the 1950s as a tie-in with the independence movement, and a more recent generation of artists led by the likes of Blue Curry who are the offspring, so to speak, of an older generation of "master" artists who set about building structures, including galleries and an art school, on the islands of the nation state. With the development of a Bahamian middle class, and with more and more people becoming socially aware and socially conscious because of the independence movement, the role of art was now being called into question and art became one of the ways to build a national identity. Indeed, Coulson explained, it was a property developer in the Bahamas that brought someone over from England to form what would become the Chelsea Pottery, which became a hub of artistic activity on the islands. Several important artists would emerge from the Chelsea Pottery group including Max Taylor, who ended up studying at the Art Students League in New York City. "Taylor worked in a cubist style but did social realist work. However, his stark images of social realism were often rejected by Bahamians who were afraid it might hurt the tourist industry," Coulson said.
Other artists to emerge were the brothers Jackson and Stan Burnside, who went away to study and came back to the islands to teach. There was also Brent Malone, who worked assiduously to develop a system of galleries on the island. Malone -- the first artist on the island to receive a distinction in art in the Advanced Level examinations -- is also credited with calling attention to the rich visual culture to be found in the Bahamas, especially with regard to Jonkunn -- a street parade that harkens back to African roots. These artists are today referred to as "masters" in the Bahamian canon.
Naturally, I wanted to know where the women artists are among the masters. "That is such a tangled issue for us," Coulson admitted, "for while we have had large numbers of women artists since the 1970s, prior to that there is no one that you can really point to. Yes, there were some expat women who had time and leisure on their hands to engage in art, but not at the level that the men were practicing. These days you arguably could not put on a serious show of Bahamian art that does not include women artists, but this was not the case even just a few decades back."
Indeed, in a recent show at the National Art Gallery of Bahamas focused on female artists, the curators found that, as in other assessments of art produced by women, particularly women in the Caribbean, the demands of being wives, mothers, and family caretakers often significantly interrupted the artistic trajectories of women, in a way that it did not impact the lives of male artists. Other discussions that arose around the exhibition were questions of race and class and who had the "leisure" time to produce art. "We are still bucking a trend," Coulson explained, "where art is still seen as belonging to those who have the money and consequently the time to pursue the visual arts. Things are of course changing, but all of this is still a factor in visual art production in the Bahamas."
What, then, would be Coulson's advice to particularly female artists as they seek to make their way in the art world? "The best thing you can do as a female artist -- in fact as an artist, period -- is to hang out with other artists and insert yourself in the scene. You need to form and/or be part of an artistic community. You need to be present. You need to go to openings. You need to go to shows and be engaged. I am continually amazed at young artists who do not know this. Things have gotten so much better for women working in the art world, but there remains an endemic systemic sexism that women still need to overcome. The irony of all of this is that here in the Bahamas as in many other places in the Caribbean there are very strong women in society, very strong women in the arts, but it is so easy for women to get written off unless they put their foot down. So my advice to women artists would be to put your foot down and band together. Be seen. Be heard. Don't allow yourself to be written off."
Calling all HuffPost superfans!
Sign up for membership to become a founding member and help shape HuffPost's next chapter