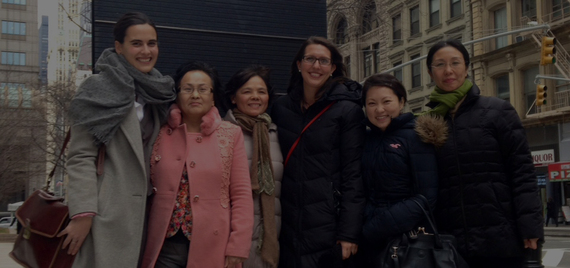 In his school in Nigeria, Timothy was ostracized and beaten because he was gay. But the greatest danger came from his father, who forced Timothy to have sex with prostitutes over and over to "remedy his illness." Instead, he contracted HIV. When Timothy's father realized he couldn't change his son's sexual orientation, he plotted to have him killed. Narrowly escaping, Timothy fled to the United States on a previously issued visa.

While out of immediate danger, Timothy didn't know if he would be allowed to stay. He couldn't find housing or a support system, and his father continued to sabotage his relationships with the Nigerian community.

Thanks to a dedicated team of pro bono lawyers, including lawyers from Greenberg Traurig, Timothy filed his asylum application. Now, as he awaits a ruling, he finally feels safe. He can live openly. He's receiving medical care and counseling for trauma. Soon he'll have employment authorization. Trained as a doctor in Nigeria, Timothy hopes to work in the medical field.

This week marks National Pro Bono Week, a time to celebrate the dedication and generosity of pro bono attorneys. For asylum seekers like Timothy, a lawyer can mean the difference between life and death. With representation, asylum seekers have a much better chance of receiving protection. Without it, they must navigate a complex legal system on their own and as a result are often sent back to face danger of violence, persecution and discrimination. Yet the U.S. government does not provide lawyers for people in immigration proceedings, and many asylum seekers, having fled with only the clothes on their backs, cannot afford them.

The U.S. immigration system is increasingly complicated and almost impossible to navigate without the help of legal counsel. In September, a Transactional Records Access Clearinghouse report found that nearly half a million cases are pending before U.S. immigration courts and that on average there is a 635 day-wait time for cases to be heard, an all-time high. Many refugees wait years in legal limbo from the time their cases are filed to the time their hearings are scheduled.

That's why pro bono representation is so critical. In the past year Human Rights First in Houston has consulted with nearly 500 people to assess asylum eligibility, and with our pro bono partners, accepted 55 cases. We work with over 15 Houston-area firms, and have trained dozens of lawyers to help people fleeing violence and persecution all over the world.

People seek protection in the United States for many reasons. Like Timothy, they may be persecuted for their sexual orientation. Some are fleeing violence from ongoing political conflict and war, while others flee domestic abuse or gang violence from which their governments cannot protect them. Others are oppressed by their governments, whether for their religion, political opinions, or membership in a social group. To them the United States is a beacon of hope and freedom, a chance at a life free from fear. Pro bono attorneys make those hopes a reality.

Now more than ever, pro bono lawyers are needed to take on the cases of refugees. We are facing the largest global refugee crisis since World War II. The United Nations Human Rights Commission (UNHCR) estimates that there are at least 60 million people displaced and around 20 million refugees worldwide--the largest amount ever recorded. It amounts to about one out of every 122 people on earth. They come in particular from Africa, the Middle East, and central Asia, where widespread violence and longstanding conflict are forcing people to try to make perilous journeys in hopes of finding safety.

In Texas we've seen thousands of refugees--including many unaccompanied minors and mothers with young children--from Guatemala, Honduras, and El Salvador. These countries boast some of the highest murder rates, and child murder rates, in the world. Without access to counsel, many of these children and families face fast-track removal proceedings and quick deportations back into life-threatening harm. Others are sent to immigration detention facilities, where their mental and physical health quickly deteriorates.

Through pro bono representation, attorneys have the chance to make a real difference in the lives of many who desperately need protection. By donating their time and expertise--nearly $40 million in services last year alone--our pro bono partners have brought hundreds of people to safety. And for that, we are grateful.

Ashley Kaper is managing attorney for Human Rights First in Houston, TX.
Calling all HuffPost superfans!
Sign up for membership to become a founding member and help shape HuffPost's next chapter