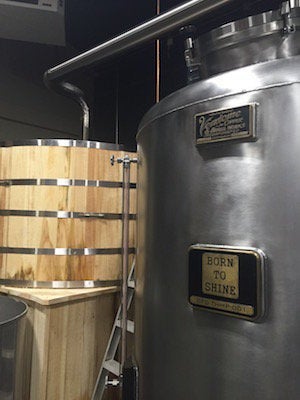 The 1961 New Yorker is quiet now, its 500-horsepower engine still and silent.
The vintage Chrysler isn't retired, exactly. This car — painted brilliant Carolina blue — still gets around some. People gather near it to hear stories, to tell stories, to relive its history in this place — these glorious North Carolina mountains surrounding Wilkes County, often referred to as the "Moonshine Capital of the World."
Brian Call, master distiller at Call Family Distillers, says this big Chrysler — fitted with toggle switches that kill the brake lights — was the weapon of choice for moonshiners. Now on display at the distillery, this behemoth once tore through the back roads of Wilkes and surrounding counties at the speed of white lightnin', all the while loaded down with some 130 jugs of clean, crisp moonshine.
"It's my dad's favorite whiskey car," Call says, referring to his legendary father, Willie Clay Call, who hung around with a guy named Junior Johnson and a one-time revenue agent named Joe Carter.
According to Brian Call, an agent once said of Willie Clay: "You heard of the untouchables? Willie Clay was the uncatchable."
Willie Clay learned to make liquor from his father, Willie Simon Call, who was simply carrying on the family business. It's a business that goes at least as far back as the Rev. Daniel Call, who, because of pressure from his congregation, says Brian Call, sold his still — seven generations ago — to whiskey enthusiast and burgeoning entrepreneur Jack Daniel.
Different times for sure, but the Calls still make moonshine, in one of two distilleries — Copper Barrel being the other — in Wilkes County. Call, in Wilkesboro, and Copper Barrel, in North Wilkesboro, are part the N.C. Distillers Association and just two of the dozens of stops on the state's Craft Distillers Trail, a partnership with the N.C. Department of Agriculture and Consumer Services.
To step inside the Call's distillery is to see, smell and taste history. Willie Clay was a collector of, well … let's call it "moonshine memorabilia."
The walls are covered in still photos of moonshiners and revenuers; the shelves and floor with mash barrels and grand copper stills — some pockmarked with holes and gashes from bullets and axes — and rustic tools used to shell corn and to make cornmeal. The tasting bar is, in fact, made from the remnants of one of Willie Clay's whiskey barrels.
"A lot of history is right there in that barrel," says Brian Call.
Brad Call, Brian's nephew, talks of how Willie Clay would drive to local malls, where he would talk to people about the history and culture of moonshine.
Before the ubiquitous TV shows. Before people began buying and bottling grain-neutral spirits and calling their products something they surely are not. When, before NASCAR expanded West, stock car pioneers — descended from moonshiners — raced around a once grand but now defunct and decaying short track called North Wilkesboro Speedway.
"He had the foresight," Brad Call says of Willie Clay. "He wanted (the history of moonshine) preserved."
The Calls use a 2,100-gallon still — which Brian designed and Vendome built — employing a unique method of direct-steam injection that prevents the mash, produced in 1,000-gallon, clear white pine mash tanks built at the distillery, from scorching.
"It's the largest direct-steam injection still in North Carolina," Brad Call says.
The award-winning distillery crafts a 101-proof sour mash moonshine — Willie Clay's "The Uncatchable." It uses individually quick-frozen fruit to infuse a strawberry moonshine, a cherry moonshine and an apple pie moonshine, which, Brian Call says, is probably its best-seller.
"It's the same recipe my dad taught me," Brian Call says of the distillery's line of 'shine, made with white corn meal — ground the "old-timey way" in a mill just down the road — barley malt, wheat and cane sugar.
A sign above the bar reminds all who read it to "respect the fruit," which the Calls clearly do. The cherry is a must-try; the strawberry equally aromatic and naturally sweet.
"They all get reviewed as dangerously smooth in one form or fashion," Brad Call says, "but that apple pie tends to be the go-to."
But don't discount the white whiskey, which is clean and complex with just a hint of sugar on the tongue.
The Calls opened just five months ago, so — not being open for tours and tasting — they missed serving the huge crowds that gather for MerleFest, one of the country's premier musical festivals held annually at Wilkes Community College, fewer than two miles down the road.
The distillery is just yards from the Yadkin River, a popular camping site for MerleFest. The Calls say they will stay open late this year to accommodate festival-goers, who will descend April 28-May 1.
"We hope to be a nice surprise for the folks that come here maybe just once a year, and that's it," says Brad Call, who wants the distillery to become part of the MerleFest experience.
The festival, according to Merlefest.org, was founded in 1988 in memory of the late Eddy Merle Watson, son of American music legend and stalwart Doc Watson. "MerleFest is a celebration of 'traditional plus' music, a unique mix of music based on the traditional, roots-oriented sounds of the Appalachian region, including bluegrass and old-time music, and expanded to include Americana, country, blues, rock and many other styles," the website says.
Headliners this year include John Oates, Jason Isbell, John Prine, Old Crow Medicine Show and Brandi Carlile.
Roots music and moonshine: Ah, what a lovely couple.
See more from John Trump at halfwaysouth.com, or email him at halfwaysouth@gmail.com
Popular in the Community