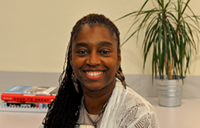 I graduated from a large urban school system and currently teach in a similar one where, as an Advanced Placement (AP) teacher, I have a unique vantage point from which to gauge the skills needed for college and career preparedness. Today's workforce differs vastly from the workforce of a few decades ago -- the key difference being that both knowledge and skill are now the core essentials for attaining a job and becoming financially secure. I know that my students are prepared -- but only because, as an AP class, we dig deeper than the basics and we use the AP exam to measure results.
Already this fall, I have been filled with hope as hosts of my former students have come back to visit sporting their college gear: Boston University, Hamilton, Harvard, Suffolk, Spellman, and UMass, just to name a few. As a teacher, I always want to know how well prepared they were to succeed after high school. What I've learned is that it's not uncommon to do well on the MCAS and then struggle in college.
Last year, Janaya, an 11th grade honors student, touted her advanced MCAS score as proof that she did not need further AP English instruction. The truth is that she was not prepared to do the required pre-AP work. She then had a very difficult rest of the year as we undertook longer and more complex fiction and non-fiction reading. What will happen if she experiences that same level of frustration during her first year of college? Will it affect her ability stay in school and earn her degree?
It's clear to me that passing MCAS does not guarantee college or career success, and the new PARCC test is the best tool to assess my students' college and career readiness. PARCC pushes and prepares students to critically think and demonstrate what they know and understand about core academic subjects and make connections to their world. Without assessments like PARCC that require students to delve beyond surface-level thinking, there is a high probability that college freshmen will struggle.
PARCC is also the right tool for my highest-needs students. Daymone, a student with dyslexia and ADHD, tackled a PARCC practice test with relative ease. The depth of the PARCC questions helped his learning and thinking process. Instead of picking a random answer, Daymone reviewed his choices and verified his answer with evidence from the text. The fact that his previous testing experiences didn't provide that is testimony to the drawbacks of the basic skills" approach embodied in MCAS. Daymone, no longer daunted by the task of critical thinking and answering text-based questions, is now tackling a 20-page research project.
We need assessments that push teachers to ensure that all students -- including the highest-needs students like Daymone -- are able to tackle the kinds of complex questions that they will be faced with in the real world. Teaching and learning must evolve to reflect the rigors of higher education, and the complexity of global relationships. PARCC appropriately recognizes that fact and works to advance meaningful teaching and learning for all students.
This month, the Massachusetts Board of Elementary and Secondary Education will decide whether to adopt PARCC, offer MCAS, or explore switching to something policymakers are referring to as a PARCC-like "MCAS 2.0." This decision will impact how we teach. I am confident that the Board knows and understands that moving beyond developing basic skills means that change, though hard and unpopular, is imperative. Rather than the lower bar of MCAS and the limbo we'd be in while waiting for MCAS 2.0, Massachusetts should recognize that PARCC is the right test.
The advent of MCAS mandated accountability for district and state achievement. It necessitated the change of our curriculum framework and content standards to raise the bar higher. We have now adopted the Common Core State Standards. Now we need to upgrade our state assessment. The MCAS served its purpose and it's time to move to a more rigorous assessment reflective of today's world. MCAS cannot live up to the rigorous demands and standards needed for educational achievement. It has outlived its usefulness. PARCC is designed to assess our new knowledge of what it means to be a critical "educated" learner. The reasoning and critical thinking skills needed for the 21st Century reality are now the emphasis of assessment. PARCC incorporates those factors; MCAS does not. Our end goal and objective must be to move forward on all matters of education. PARCC is the right test at the right time.
Kalimah Rahim is an 11th grade English teacher at New Mission High School. She is a Teach Plus Teaching Policy Fellow.
Popular in the Community