The film, "For Colored Girls", is gonna have sista girl flair for sure, but there are a number of reasons to peep it and especially watch how it unfolds in the movie market. Looking beyond the all-star cast, there are things at stake for non-traditional filmmakers, women, non-colored girl audiences, southerners, and yes, Tyler Perry. It is more than a "made for Oprah" moment.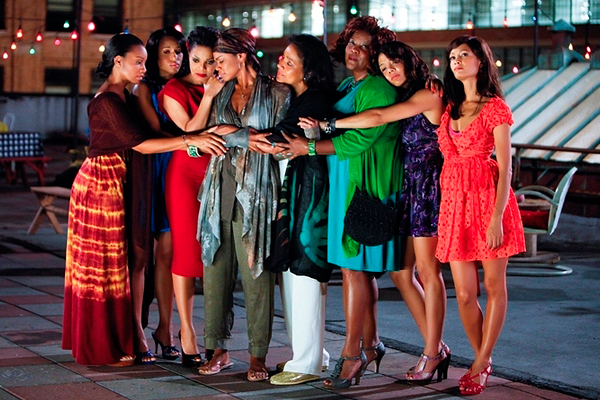 For starters, there's the brassy re-introduction of the work that the film is based on and how its approached. For Colored Girls Who Considered Suicide When the Rainbow is Enuf by Ntozake Shange has had quite a journey itself, worthy of a documentary. From play in California to off-Broadway to Broadway to a book, regional theater circles and lots of places in between, it is not the path we normally associate with elements of making box office these days. And even as a play, it wasn't characteristically that either -- 20 poems on the travails of black women mixed with music and other elements, it was self-referenced as a "choreopoem."
Which makes turning it into a movie all the more of a challenge. One fraught with hope about what the medium can still offer in new storytelling motifs to its audiences. And then try to do it with more well-known black actresses at one time -- from Janet Jackson to Whoopi Goldberg to Kerry Washington -- than an NAACP Image Awards segment.
One particular challenge for Atlanta-based Perry is the notion that he is taking his particular established brand of television and filmmaking and taking it in a new direction. That is what much critical focus will be around. After all, why wouldn't we wonder if the man behind wise crackin', hush-yo-mouth Medea of many films and TV sitcom House of Payne can take on such fare as this? Oddly, no one questions the elasticity of the Coen Brothers to do frat-housey The Big Lebowski and at the same time No Country for Old Men, but thats another topic.
And thats not all the brother had to think about. In some ways, forget the critics. But man, you mess this up and black women all over the country will be cussing you out. No worries. Black women have been a large part of his base when he was just slinging it out on the theater equivalent of the chitlin' circuit long before he became the enterprise he is now.
Some will also want to lump it in the category of the ensemble movie or even a "chick flick" and it will have to carry all that comes with either of those labels. But, lets be clear -- this is not a black Sisterhood of the Traveling Pants or The Vagina Monologues for those that would go down that path. Ugh. It preceded all of that by 30 years.
But it could cut a new path for the talented works of people like Sarah Jones with her well-done multiple voices onstage (off-Broadway, then on, then Tony-winning) or playwright Suzan Lori Parks. Granted, For Colored Girls success could even give new consideration to the incredible theater works of August Wilson. So, don't hate on Tyler's success. Watch what it might bring.
Imagine. August Wilson's Seven Guitars, starring Denzel Washington, Danny Glover, Jada Pinkett Smith with Usher doing cameo as a blues musician. Directed by John Singleton. Produced by Tyler Perry.
It could happen. An easy Hollywood pitch. All riding on the For Colored Girls wagon.
Popular in the Community