In my opinion it really is the most wonderful time of the year. I love the holidays because, first and foremost, they give me an opportunity to decorate everything that's not nailed down. They also foster sentimentality, generosity and kindness to friends and strangers alike. In short, I buy into the whole thing---hook, line and sinker.
As a kid I got to take on decorating the family home at a very young age. I was even tapped by other relatives to decorate their places and wrap their gifts. I guess I just have Christmas in my bones.
I have great memories of Christmases past and I reflect on them at this time of the year as I celebrate Christmas present. And for me there's no better way to honor the past than with vintage objects.
Vintage Holiday Décor is Inviting and Delightful

I began collecting vintage Christmas ornaments, lights and decorations when I was just 7-years-old. My father gave me a box of decorations and said, "It's time you started collecting something." Flash to several decades later, and I am still adding special pieces of holiday décor to my collection. And yes, I still have most of those ornaments from the original box that started it all.
At the moment I've got four trees in my home, and they are all decked with vintage ornaments. I love the way they capture the light and add a certain glow to each room. Each tree is really a 3-D embodiment of my love of Christmas and of all things vintage.
While I decorate each year for my own pleasure, I also take great joy in sharing my trees with loved ones. It's fun to see people's reactions when they see vintage ornaments. Nearly everyone says something like "My grandmother had one of these" or "these remind me of my aunt," etc. etc.
Vintage ornaments, lights and decorations add that nostalgic, sentimental vibe to a home, and people respond to it---especially at this time of the year.
I also love the information that vintage décor reveals about other times and other places. For example, WWII ornaments made in the USA were un-silvered and often had paper caps, as all metal was needed for the War effort. Early German ornaments known as 'kugels' were much heavier and had fancy brass tops. Czech ornaments were often made of glass beads. The list goes on and on...
Have Yourself a Merry Little Christmas
While I admit my trees are over-the-top (I make no apologies for this, since I think anything goes at the holidays), I think vintage décor can also be done in smaller ways.
For example, I've got a dear friend who has her mother's glass ornaments, but she doesn't put up a tree. Each year, she puts them in a large glass bowl in her entryway, and they bring back good memories without having to create a lot of work for her.
Similarly, I have three choirboy candles that were always on my grandmother's buffet in the dining room. When she gave them to me, she recalled that she purchased them at Woolworth's in my hometown. She told me that she didn't have much money that Christmas so they were the only decorations she bought that year. They were special to her, so now they are special to me, and each year when I bring them out, I think of her.
I've also encountered people who didn't have any decorations passed down to them, but they find pieces at flea markets that bring back childhood memories of happy times spent with those people.
By now everyone on my gift list knows that they will get at least one vintage gift from me. I love combing flea markets and antiques shops for unique vintage items for special people on my gift list.
Some easy vintage gifts that can be found at any vintage venue include costume jewelry, handbags, cufflinks, pottery, glassware and a myriad of other items.
One of my favorite things to do is to go to a friend's Facebook page and print out a photo of them or their kids and put it in a vintage frame. In this age of digital photography, people really appreciate getting a framed photo.
I also purchase unique vintage vases when I see them and give them as hostess gifts. I simply get flowers at the deli or supermarket and put them in the vintage vase. Not only is it unique, it is always appreciated because the recipient doesn't have to run and put flowers in a vase when he or she has other things to attend to in the moment.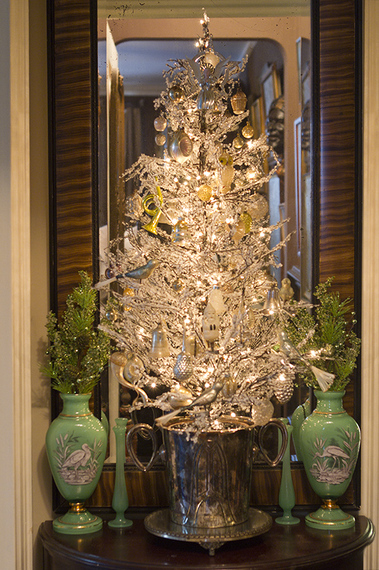 I decorated this small tree with vintage silver ornaments, some of which used to have color, but have faded over the years. I placed the tree in a vintage ice bucket I found at a flea market.
Send a Real Greeting Card
Another reason I love the holidays is that it is one of the few times a year people still send physical cards. I like to take it one step further. I often find vintage holiday cards (still in the box and never used) at flea markets or online auctions) and send them out to friends. People love receiving a vintage card with a hand-written note.
Tip: Look for these and other vintage holiday items in off-season moments. Vintage holiday cards are much cheaper in July then they are in December.
I also look for vintage Christmas seals, which routinely adorned cards and gifts, and I put them on the envelopes.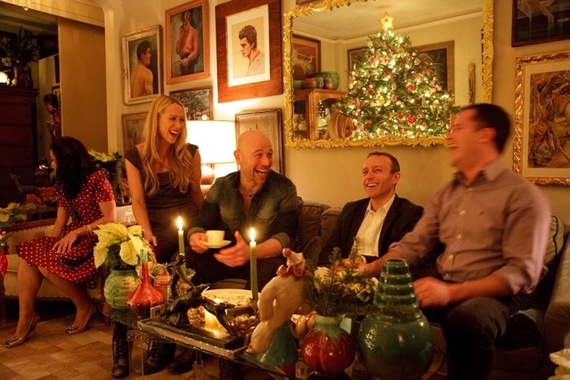 I love having small gatherings at the holidays, so I can focus on my guests and enjoy their company.
Entertain the Old Fashioned Way
I used to have large holiday parties and each year I found that there were so many guests that I only really talked with a few. Now I like to have multiple smaller gatherings. I enjoy talking with my friends, eating some treats and sharing my vintage holiday home.
It also seems that guests have a better time and are more engaged when there are fewer of them. We sit around the tree, listen to holiday music and catch up. Since the groups are smaller, it feels more old-fashioned to me. Another plus is that people come together and seem to spend little to no time texting or making phone calls.
Of course entertaining for me not only means sharing good food---it also means it's a chance for me to use one of my many sets of vintage china and glassware. People enjoy drinking coffee from a cup and saucer and eating with silverware and good china.
Watch a Classic Holiday Film
I love old movies and watch the same ones year after year at the holidays. For me, no Christmas would be complete without seeing George Bailey find Zuzu's petals in his pocket. "It's a Wonderful Life" reminds me of all that's important and unleashes a stream of happy tears.
Similarly, I love watching Barbara Stanwyck shine in my favorite holiday screwball comedy "Christmas in Connecticut." She plays a Martha Stewart-type who really doesn't know how to cook or sew, but has to figure it all out for the holidays. Another Stanwyck holiday favorite is "Remember The Night," where she plays a lady jewel thief whose heart melts at Christmastime.
My list of holiday favorites continues with Loretta Young and Cary Grant in "The Bishop's Wife," and Robert Mitchum and Janet Leigh in "Holiday Affair." Another fantastic one is "The Man Who Came to Dinner" with Monty Wooley and Bette Davis.
So while their are an endless supply of new Christmas movies on TV, I always gravitate to these old favorites. They really do bring me comfort and joy, year after year.
To set the mood, I love playing vintage vinyl at the holidays. I've got all of the old Christmas records that belonged to my relatives, or that I found at vintage venues. As for the record player, I found it at a yard sale in Pennsylvania for $10.
Guests love picking out records, admiring the artwork on the album covers, and reminiscing about certain artists and songs. The experience brings back memories, often leads to lively stories, and fosters togetherness.
Now I realize not everyone has an old record player or records, so at the very least, consider cueing up a vintage playlist on Spotify. There are some songs that just sound better sung by original artists. "White Christmas," for example, has been covered by just about everyone. But I'll always choose Bing Crosby's version. There's a reason why it remains the biggest selling single of all-time.
It remains to be seen whether or not Christmas 2014 will be a white one, but each time I hear Bing hit those signature lush notes, I have childlike hope.

WATCH THE VIDEO: Tag along as my friend Mary and I do some vintage Christmas shopping at NYC's Green Flea.
Christmas Tree Photos by Ethan David Kent