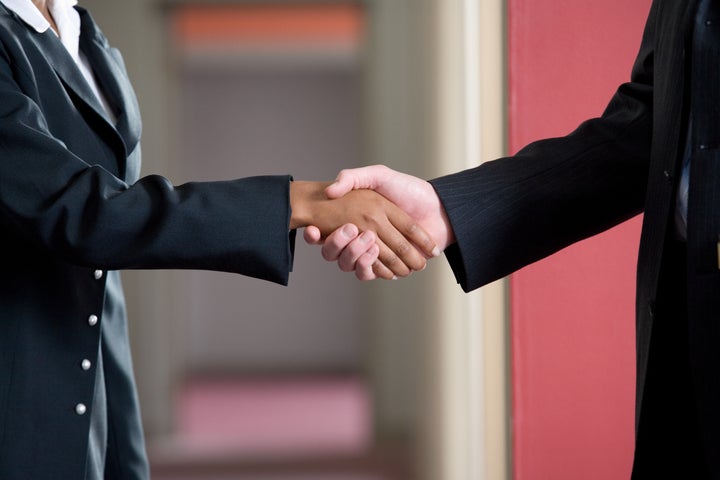 It's hard to negotiate with your ex. Whatever the issue, the two of you have a history together and often know just how to push each others' emotional buttons. And when the issue has to do with the children, the ante is upped. After all, most Mamma Grizzlies and Lion Kings will fight to their death when the cubs are at risk. So before you talk to your ex about an important joint custody issue, think business.
Reframe your relationship. Instead of a dueling divorce or hostile takeover, think of a reluctant business partnership or irascible client. Whether you're battling over the kids' camp plans, the visitation schedule, or unhealthy eating habits, consider your children to be your most valuable assets and your ex as a client with whom you must work in order to keep those assets intact. As you begin your meeting, ask yourself: "If I want to land this account, how would I behave?" Then pick your battles and start with the basics.

Have a plan of action. Just as you would map out a road trip, you need a plan before you meet your ex. This plan is like a blueprint of the communication that includes several pieces of information: (1) where and when you'll speak to your ex, (2) what you want to say and how you will say it, (3) how to disengage if things become hostile, and (4) what actions you'll take if necessary.

Make an appointment to talk. In a business relationship you would not drop in on a client unannounced, nor should you do so with your ex. When you make an appointment with him or her to discuss an important issue, you are making a commitment to give him or her your undivided attention and requesting the same. This is an act of respect that sets the stage for problem solving. It gives both of you time to think through your positions on the given subject, to prepare your arguments logically, not emotionally, and to feel comfortable.
Find a neutral territory. It's best to choose a neutral setting--someplace outside of either of your offices or homes. Meeting in a public place ensures that the children aren't running around or listening and that things won't get too heated.
Meeting on your ex's territory puts you at a disadvantage, especially if that territory used to be your territory, too. Meeting in your old home may distract you. You might find yourself looking around to see what has changed and what hasn't. In addition, it's typical for old surroundings to trigger old patterns of behavior.

Likewise, going to your ex's office places you in an unbalanced position. It's common to consider someone sitting behind a desk as an authority figure. If your ex assumes that position, your argument or issue may be substantially weakened because of this dynamic and your feelings of discomfort could affect your level of confidence. Your ex may be emboldened and overly aggressive, as well, due to his or her familiar surroundings.
If you can't discuss something on the phone, go to a coffee shop, a museum, a department store, or a park bench, and leave plenty of time to get there so you don't feel pressured by outside responsibilities.

Know what you want. Before you start your meeting with your ex, know what result you want. Just as in business, this will keep you focused on your assets (your children) and help you achieve your desired outcome. As you would with a client, actively watch for opportunities where you can admit that your ex has a good idea. This win/win negotiating helps clients feel listened to and important. While it may be more difficult to do with your ex, it will have the same effect.

Disengage if necessary. Most business people don't engage in a verbally abusive war with each other. Even clients who misunderstand and resist you are treated with kid gloves, especially if you want their business. If the tone of the conversation starts getting hostile, be prepared to call a halt. Saying something like, "I see that you're upset and I'm sorry this is so difficult. Perhaps if we take a break for a few minutes, we can resolve this. I need to get some water," often takes the pressure off.
Disengaging during a conversation with your ex gives you the opportunity to collect yourself and set yourself up for success. Planning an excuse beforehand can help you disengage more easily because you won't have to fumble for words. If you are on the phone, you can say, "We'll have to continue this another time, because I have a meeting in a few minutes." This ensures that your emotions don't get the best of you and helps you present yourself as efficient, calm and collected, even if you're not! Once you give your excuse to disengage, schedule another time to talk. This way, your ex won't assume you're avoiding him or her, and you will remain in the position of power.