Editor's Note: This post contains nudity.
Although her name may not be a familiar one, the young actress Elyse Poppers has become the talk of New York. Paul McCarthy, the provocative, powerful and acclaimed performance artist, filmmaker, installation artist and sculptor, has discovered and uncovered his "muse." In his wildly attended, X-rated Park Avenue Armory show and at Hauser & Wirth galleries, both uptown and down, Poppers is depicted as Snow White, Natalie Wood, and herself, in a silicone sculpture so exacting as to be stupefying.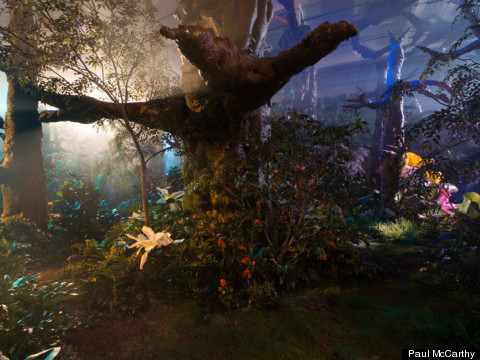 In the Armory, the Los Angeles-based McCarthy presents an elaborate gargantuan installation, a replica of his childhood home in Utah, portrayed after a dissolute and violent spree, surrounded by thousands of looming sculpted plastic flora, and multi-screened visions of a celebration gone awry amongst Snow White (here White Snow), Walt Disney (Walt Paul) and the scholastic sweatshirt wearing dwarfs, many of whom stand well over six feet. Hauser & Wirth's expansive downtown space features the first McCarthy/Poppers collaboration, a reimagining of Rebel Without a Cause. The uptown gallery contains the supremely realistic sculptures of Elyse, her youthful body taut, legs apart, a sprinkling of delicate veins and freckles across her flesh, as flawless as any human can possibly be. These pieces contrast with the inanimate clone modeled from the artist; McCarthy is presented as mottled, dotted with cherry angiomas, with hairs missing from his head but sprouting elsewhere, a naked seemingly dead middle-aged man, flaccid, but well-endowed.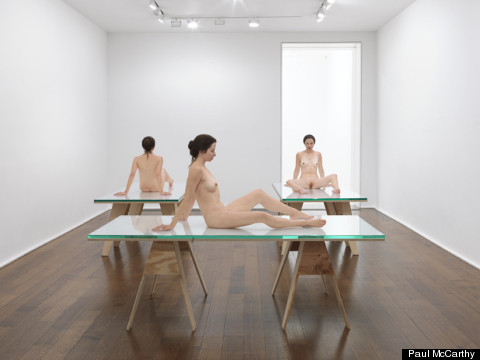 Elyse was an art fraud investigator in San Francisco prior to committing to her acting passion in L.A. That background perhaps gave her more of an understanding of the art world than most of the girls who auditioned to play Natalie Wood in Rebel Dabble Babble. I initially met her as an actress, little suspecting she would morph into an art piece!
Elyse, who somehow resembles a cross between Natalie Portman and Anne Hathaway, possesses large luminous amber eyes and the kind of billowing lips that plastic surgeons can only fail to copy. As anyone who has viewed the McCarthy shows will notice, the petite Poppers is perfectly proportioned, what they used to call a Pocket Venus.
Elizabeth Sobieski:I remember when you called me to say you had been cast to play Natalie Wood opposite James Franco's James Dean. Did you ever imagine an acting role leading to your becoming a muse and an art object?
Elyse Poppers: I will say that I never could have imagined a role that combined all my interests: acting, performance art, experimental film and cultural criticism. And as far as the muse designation, it is mutual with Paul. The feedback loop of ideas and willingness to try something completely new together is what made these pieces possible.
ES: In Rebel, you and Franco are doubled by two porn actors. What did James Franco and James Deen, the serious and the profane, have in common, aside from being noted performers in their chosen fields with personal James Dean obsessions? Are they both nice Jewish boys?
EP: I didn't work as closely with James Deen as Heather Vaughn did so I can't say that much but yeah, both Jameses were very nice. In terms of the piece, it was interesting to see representations of James Dean in multiple contexts and layers, which begs the question of what is real and what is fantasy. All our culture icons fall somewhere in between.
ES: For Rebel, I noticed new posters, quasi movie posters from the 50's. Are there any other changes in what is being shown in New York from what was originally exhibited last year in Los Angeles?
EP: The sound was remastered before it was moved to New York and over four hundred photos shot on set where included in the exhibit as well. Also, in New York the viewer is able to walk upstairs in the bungalow and watch the scene 'Seduction,' which was inspired by the Vito Acconci performance, projected on the wall of the bedroom where the scene was shot.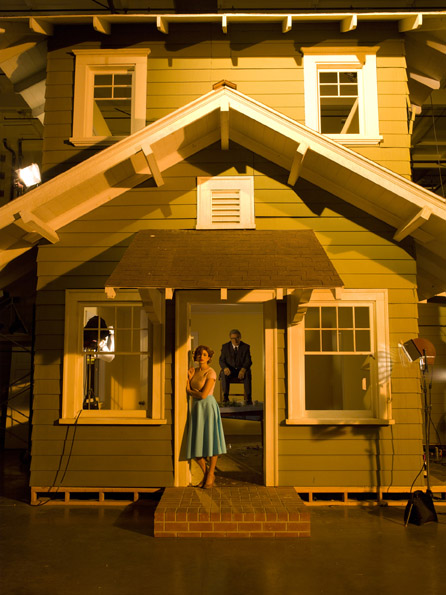 ES: Paul mentioned that his mother looked like Snow White, as does his wife. After first becoming his Natalie, when did he decide to cast you (and really actually 'cast' you) as White Snow? Were you ever told you look like Snow White?
EP: He asked me if I would play White Snow after I worked on 'That Girl,' the body casts. We had finished shooting Rebel. I had worked as a Snow White children's party princess at one point and I think she is the fairytale princess I most look like. With a wig!
ES: Rebel is Paul's take on the rumored personal entanglement between Natalie Wood, James Dean and director Nicholas Ray during the making of Rebel Without a Cause. Do the McCarthys (Paul McCarthy co-directs his films with his son Damon) believe that Walt Disney had a romantic or sexual relationship with Adriana Caselotti, the young actress who voiced the heroine in 1937's Snow White and the Seven Dwarfs?
EP: No, no, no. Damon and Paul never mentioned that. I've never even heard that rumor.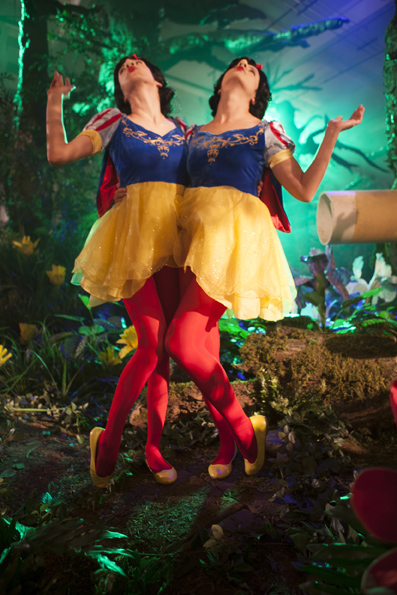 ES: McCarthy's work can be carnal, scatological and perverse... and in the middle of it all is lovely, Elyse (doing some carnal, scatological, and perverse things, especially with food). I met your parents at the LA opening of Rebel. Your mother has worked in the art field and her father was an art appraiser, but that is not your dad's background. What did he say about seeing his beautiful daughter so raw and exposed?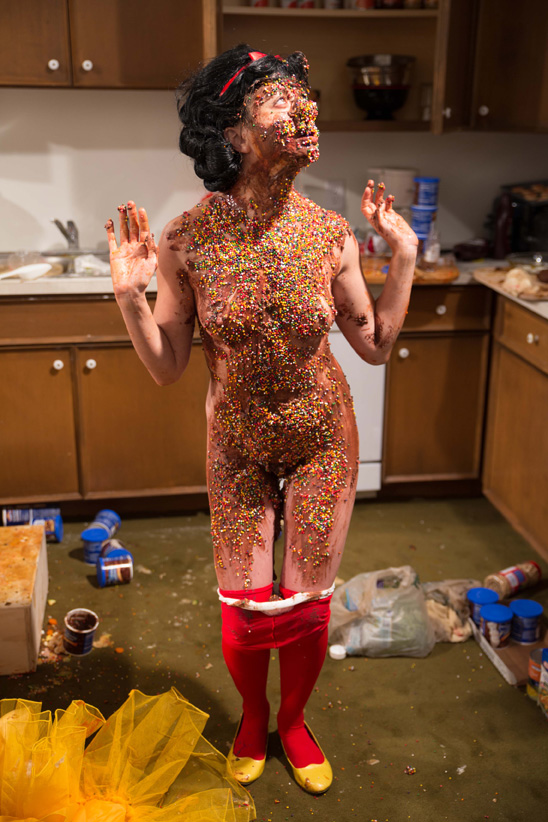 EP: My dad is proud of me for making work that is challenging to me and shakes things up a bit but he is still my dad and I know it was hard for him, even if he understood intellectually, in the scenes where he felt like I was overexposed or that the dwarves might be hurting me. From my perspective it was playful and never scary but to the viewer and especially my dad it could be overwhelming.
ES: There are a number of brothers who have engaged in filmmaking together. I can think of the Coens, Farrellys, Hughes, Weitzes, Duplasses, Quays, Dardennes and Polishes, but I can't recall another father/son duo, other than Paul and his son, Damon. How did they handle the chain of command while shooting Rebel and WS?
EP: Paul and Damon would discuss each scene before we would start filming but when the cameras were rolling, Paul was usually in front of the camera. Damon would be on a camera and directing several other cameras and, at times, us in action. Damon can see what we can't from within the performance. He and Naotaka Hiro, Paul's director of photography, work seamlessly with Paul to get these strange, beautiful shots.
ES: And despite Paul's reputation for making works that can be perceived as grotesque and sexually charged, people who know him talk of what a nice gentleman he is and what a family man, his son and wife working with him, and his daughter exhibiting his work at her gallery, The Box, in Los Angeles. Many viewers are shocked by the nature of the show at the Armory. What misconceptions does the public have about Paul McCarthy?
EP: That he's a pervert. He's not. He's holding up a mirror to a perverse world. He makes work about what he despises, what limits the freedom and potential of the imagination.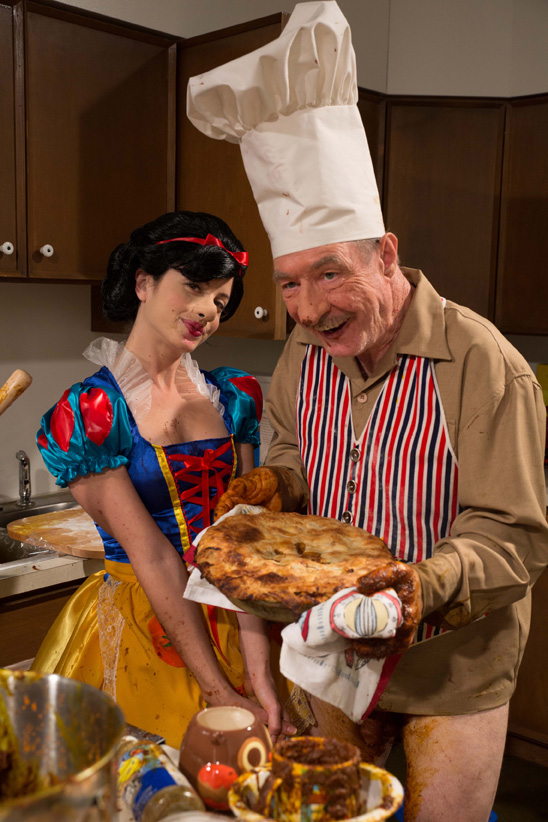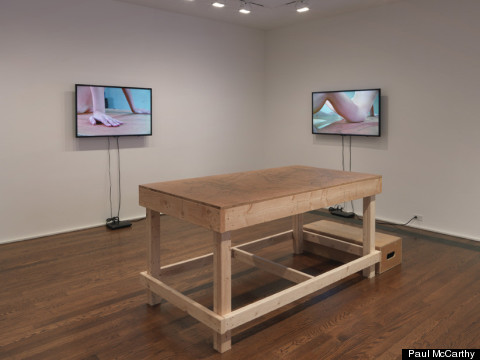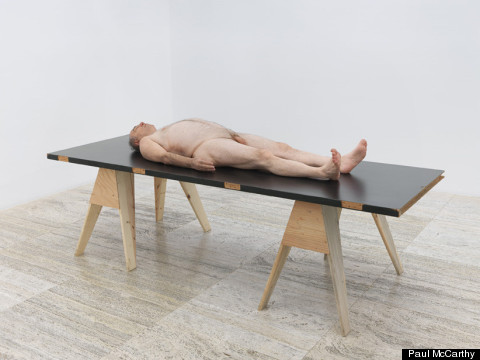 Popular in the Community