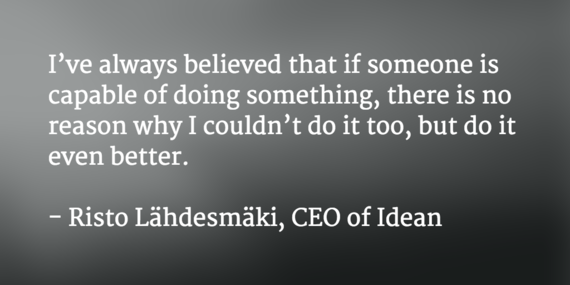 Risto Lähdesmäki is the CEO of Idean, a Palo Alto, CA, based global design firm. While interviewing Lähdesmäki, I quickly came to understand that he is hardwired for solution. When Risto encounters an obstacle it's not a question of if Lähdesmäki will overcome that obstacle but how he will overcome that obstacle.
Risto told me the story of a multimillion dollar obstacle. He was expanding Idean into China, and that failed catastrophically. It placed the company's future into question. But instead of allowing that loss to forecast the end of Idean -- Risto assembled his team, and they feverishly worked on a solution. That solution allowed Idean not only to survive the multimillion-dollar failure but today the company thrives as a design firm.
Failure is an ever present situation in the life of an entrepreneur. And I have been the victim of countless failures, so I understand Risto's frame of mind -- not allowing the failure to define your future but to go around the obstacle, or over it, or through it.
Risto's philosophy is one that every entrepreneur needs to adopt:
"I've always believed that if someone is capable of doing something, there is no reason why I couldn't do it too, but do it even better."
That belief is built on positive results. The more wins you have, the more you believe in your potential to take massive action. A strategy for obtaining this belief is to do the work, which needs to be done.
Lähdesmäki's journey is a great narrative but pay close attention to his story about IBM; it will inspire you.
The Interview
So Risto, what's your story?
I grew up in a city in Western Finland called Alahärmä. I was always passionate about music and art and had aspirations to become a professional musician. But, as every wannabe musician knows, it's hard and you need money to support this passion. So to fund my music career, I decided to use my interest in art to set-up a design agency with some friends.
As time went on, I realized that although I loved music, design was my true passion and I was good at it. Something shifted in me, and I knew that running a design agency was exactly what I should be doing. As the client work poured in, we moved to Finland's capital city, Helsinki, and then opened another studio in Tampere to serve the needs of the country's industrial clients.
After over 10 years in Finland, I was now Idean's CEO and decided it was time to take the company to the next level. I bought a one-way ticket to San Francisco for my family (my wife, Maija, and our four children) and we moved to Silicon Valley to spread the UX gospel across the U.S. That was three and half years ago.
In the short time we've been here, we've expanded our business organically here in the U.S. from zero to eight digits, we have more than 100 employees (and another 50 in Finland), and we're working with 20 Fortune 500 customers out of five studios in California, Texas and New York.
Moving to the U.S. has not just been a success for Idean, but also for myself personally. We have a fantastic life in California, my wife and kids love it here, and we've been able to explore a country that once felt very far away from our home in Finland.
What's the biggest mistake you've made and what did you learn from it?
I am sure that anybody running a business who wants to expand out of their domestic market has made a few mistakes - especially when those expansion plans are to a different continent. I know I've made my fair share of mistakes over the years. But the most important thing is the lessons I've learned from them.
Back in 2007, we decided to expand to China. After losing a million dollars (and then some!), we realized we'd made a mistake and that this wasn't the right market or the right time for us. I realized that I needed to be part of the small details and decisions, as well as driving the overall vision of the business. It's so easy to get caught up in the excitement of expansion plans, but you really need to know exactly what impact that will have on the business, good or bad.
So when we decided that the U.S. was the right market for Idean, I knew I had to lead the plans and get involved in every decision from the look and feel of our studios to the business development strategy. This involvement has also ensured that the strong and distinct culture we created in Finland is felt in each and every one of our studios - which was really important to me.
Tell me about an accomplishment that shaped your career?
One moment sticks out that I will never forget. We won an exclusive deal with IBM after nine months of competition, thousands of pages of proposal writing, and going head-to-head with everyone in the design industry - that moment has defined our future in many ways. I've always believed that if someone is capable of doing something, there is no reason why I couldn't do it too, but do it even better.
This one particular win was massive, not only because it's likely to be the most important design transformation of our time - and boy they're doing some kickass stuff there - but also because we realized we weren't the underdog anymore and could be the best in our industry.
Tell me about the time you realized you had the power to do something meaningful?
It was during the first few months of my time here in Silicon Valley when everyone said, "Don't even try it, you'll never make it."
People compared it to trying to sell sand in the Sahara desert. But as we got out there and started meeting with businesses, we realized we had something different to offer that could make a difference to them and entire industries. As a Finnish company, we have strong roots in design, and our style is characterized by simplicity, functionality and minimalism - something U.S. companies were and are still striving to achieve, particularly in the digital industry.
Once we started to get deals because of this approach, we realized we could make a serious impact here. I used to think that being from Finland, it could hold us back in the U.S. market. But I realized this could work in our favor, and it was about the value we were adding rather than where we came from. Since those early days, I have never doubted the capabilities of our team. I know I can say we are doing something meaningful, not just for our clients, but also within the design industry.
Can you tell me about a time when you almost gave up, how you felt about that, and what you did instead of giving up?
To be honest, I have never thought about giving up. It's just not in my nature. If something doesn't work out, I am constantly thinking of new ways to make it work and move on. But in 2008 things were tough, we'd failed at trying to make it in China, and we didn't have a lot of money in the bank. Then the recession hit.
I remember having a really bad week or two that summer, but I was determined we'd get through it. So I got the team together, outlined the situation, and we didn't leave the room until we'd come up with a plan to fix it. Nine months later we were back in the game, and it was time to talk about what we could do to grow the business once more.
Solving complex problems often requires a re-framing the problem. So what is your process of re-framing the problem so it can be resolved?
I think it's all about attitude.
There are so many times when things don't go to plan. You could sit there and think that's it, it's all over, but it's about using those moments to spot opportunities or change direction and feel confident doing so. I like to "use the force" and believe that there is a solution out there.
As a creative director and designer by trade, my career has been built on trying to find and solve problems rather than waiting for issues to appear and then trying to solve them. I think constantly trying to find those faults and create or achieve something better is my driving force.
Final Thoughts
Where are you now? Where do you want to be? What have you done to get there? I know that you will have reservations on pursuing your goals, but I guarantee you if you let fear control what you pursue you will look back on your life through the lens of regret.
So your only option is to... do the work, learn from your failures, do the work. Rinse and repeat. Now… when you look back on your life, it will be through the lens of a life lived on purpose.
I help you, the creative entrepreneur, make your ideas happen. If you are looking for more info please head ramonbnuezjr.com.
Popular in the Community