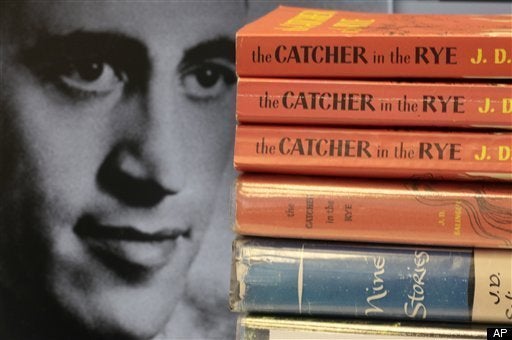 A few weeks ago I went to a book reading in Manhattan. It was some sort of networking event, and as I met people I probably would never meet again, I came across a women who introduced herself as Esme (there's an accent over the "e" I don't know how to make on my computer).
"Esme? Were your parents Salinger fans?" I asked, a little too enthusiastically.
It sounds laughable, but come on, when would I ever get to say a line like that again? I half expected a happily shocked face, followed by a lovely back story about growing up reading Salinger in a little French village somewhere.
She politely smiled at me like people are wont to do when you think you've come up with a clever nickname for them and it turns out they've been called that since kindergarten. We talked for the required time, exchanged cards like everyone else, and that was that.
I once read an essay by the New Yorker fiction critic James Wood about a somewhat forgotten writer. Explaining his love for one story, Wood wrote that it's the kind you want to read aloud to someone.
If I had to pick a few stories that meet Wood's assessment, one of them would have to be Salinger's tender For Esme With Love and Squalor. It's about a soldier who befriends a young girl in England before heading off to D-Day. They keep in touch even as time grinds on and both lose much of the innocence they had on first meeting in a cafe, when after the little girl leaves the soldier reflects:
"It was a strangely emotional moment for me."
I first read the story in college, but not in a class. My dad brought it to me on a visit. It was an older edition. Since my dad is one of those people who loans you a book and worries about it coming back destroyed or dogeared, I remember turning the pages as if examining a rare document.
I went to a small liberal arts school in Ohio, the kind of place where everybody wanted to be a writer. The kind of place where everybody probably wanted to be discovered in their dorm room reading Salinger. Oh I didn't even see you there. So enraptured in this story was I. That kind of thing.
On first reading the story, I can recall feeling that it was beyond me. It was great, I knew that much, but why? I felt like I sometimes do when looking at a great painting. Like a Turner. Visceral. Was it the tone, the color, the vivid depiction of a sunrise?
My dad told me that he read the story aloud to my mom as they made the long drive to visit me. He said that he cried while reading it.
Almost a decade later I'm in graduate school at Northwestern and perusing its vast library. Out of nowhere I thought about the Esme story, and sure enough the library had a beaten up hardback edition of Nine Stories.
After a few days the weekend comes and I hit the town, out late with a buddy. In Salinger lingo, we were raising high the roof beam at a bar in Chicago. When we got back to my apartment I decided that I wanted to read something aloud. Taking Salinger out of my bag, I spent the next 30 minutes or so reading the story. I finished the last line as I closed the book. My friend hadn't fidgeted the entire time. We just let it sit there, the story, then went to sleep.
I could feel what my father felt. I could understand what James Wood had in mind.
It was a strangely emotional moment for me.
REAL LIFE. REAL NEWS. REAL VOICES.
Help us tell more of the stories that matter from voices that too often remain unheard.