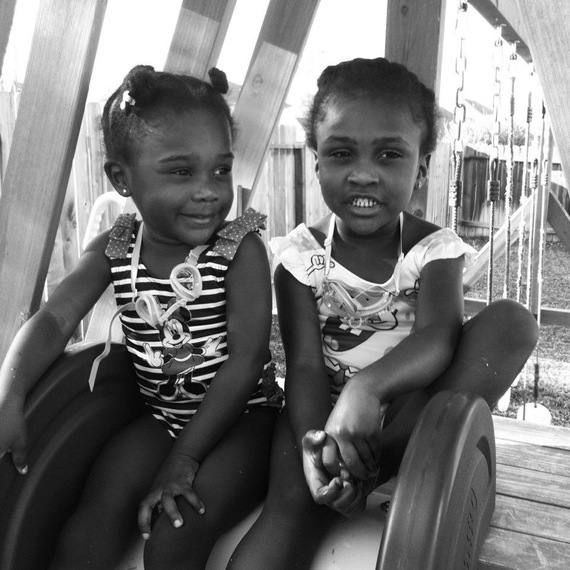 Faith, my niece, will be 6 soon. A couple of years ago my sister called me to say that Faith found a pair of scissors and cut her hair after watching Disney's Mulan, because she wanted to be a warrior just like her. Faith found the scissors all by herself in a kitchen nook and cut off a sizable portion of her plentiful afro, put on her cowboy boots and hat and tied a towel around her back as her battle cape -- just like Mulan.
My sister called me again last year with a more sobering story. The pitch of her voice was low between pauses.
"I need to ask your advice on something," she said urgently.
"The other day Faith asked me why she wasn't born white."
I was as stunned as I was hurt. Because my sister and her husband have always lived in upper-middle class and predominantly white suburbs in the Houston, Texas area, their daughters have gotten used to being the only black children in their classrooms. Immediately after that call during a visit to Houston, I showed them Sesame Street's incredible "I Love My Hair" song by Joey Mazzarino, the parent of an adopted Ethiopian daughter who was having issues with accepting her hair. Still, such questions arise, especially now, when childhoods are corrupted by the steady news of racism's effect on black bodies. So in a time like this, how do you change a 5-year-old's mind about race?
In Walter Dean Myers' stunning New York Times essay, "Where are the People of Color in Children's Books?," he shared the void he experienced while reading books that lacked narratives he could relate to. "As I discovered who I was, a black teenager in a white-dominated world, I saw that these characters, these lives, were not mine," Dean wrote. He finally encountered this while reading James Baldwin's Sonny's Blues, and continued: "it was a story concerned with black people like those I knew. By humanizing the people who were like me, Baldwin's story also humanized me."
When we talk about representation, specifically the representation of minority perspectives in larger media cannons of film and literature, we present numbers and statistics. In the children's book world, we are presented with data, each year, collected by the Children's Book Center at the University of Wisconsin. The most recent study reported that of the 3,500 children's books published in 2014, only 180 were about Africans/African-American, 38 were about Native Americans, 112 were about Asian Americans and 66 were about Latinos. These statistics are important because, among other things, they give factual evidence of the need for stories that more accurately depict the contemporary American experience.
However, we rarely examine the psychological effect exclusion in media has on children of color, despite efforts of parents and caregivers to positively reinforce their beauty and worth at home. The most famous (and heartbreaking) trial of this was "The Doll Test," by Doctors Kenneth and Mamie Clark in the 1940s. The experiments studied the psychological effects of segregation on African-American children. Children ages three to seven were asked to identify which color doll they preferred, and the majority chose the white dolls that they'd previously assigned positive characteristics to. The tests examined to which extent color and self-awareness about race and socio-economic status influenced each child's self-esteem. The test has been recreated a few times since with similar results.
My mother never told me to stay out of the sun. My mother has dark black skin and African features -- not mainstream America's definition of a classic beauty -- and she genuinely believed she was beautiful. She was actually her happiest when my siblings and I ran freely in the yard and sat for hours playing, returning only when the sun went down, two shades darker than the morning. During playdates when friends ran into the shade when the sun was its highest, afraid of getting darker, I stayed outside, danced in it, confused at what had made those jump ropes fall so quickly to the ground.
My family is Liberian -- we immigrated here when I was a child in 1991 -- and growing up, though in majority white neighborhoods, my issues with racism were never as austere as my issues with culturalism. I was more afraid of being teased by black and Hispanic peers for being foreign, being called 'African Booty Scratcher' (a popular derogatory insult used in elementary school against young African immigrants and first generation Americans of African descent), than I was about slights from white peers. We did not regularly talk about racism at home. It wasn't until I was older that I realized encounters in the past I once believed were effects of xenophobia, may have actually been examples of both blatant and mico-aggressive racism. So, although my sister's husband is African-American, there was a learning curve in talking about race with our nieces and children. Discussions about race were at first reactive, and not proactive. Among households in America, there's a myriad of stories that affect conversations about racism. There may be more than one culture, like Faith's; or more than one race (The U.S. Census Bureau found that, in 2010, about 9 million Americans chose two or more racial categories when asked about their race); or issues with colorism; complicated or disjointed family dynamics, or classist ideologies. In some households poverty, not race, is the biggest burden.
Talking about race, in a way that truly impacts the psychological well-being of future generations in America, entails first examining ourselves, and digging into the many layers of our personal and familial journeys that contribute to the vast melting pot in which we live. These personal histories eventually dictate how we handle confrontations with that four-letter word. And it is in how we handle those confrontations, that racism, both systemic and internalized, has opportunities to thrive.
We pulled from our mother's method, which, though she may not have realized it, empowered us to live fearlessly in a world that did not always consider us worthy. She did not regularly talk about racism, but when the outside world attempted to force-feed us lies about our dark skin and heritage, she fought for our minds daily. She censored everything -- the amount of television we watched, the music we listened to, and more passionately, the books we read -- because she understood the role the images we were exposed to played in the development of our self-confidence.
So, we tried that with Faith. We found more films that featured little girls that look like her. Her mind has been changed by films like Disney's, The Princess and the Frog. The heroine of the film, Princess Tiana, wore an afro ponytail that we endlessly praised. Now it is one of her favorite hairstyles. She was front row and center, alongside her sisters, for NBC's December special, The Wiz! Live. She hung on Shanice Williams' iteration of Dorothy to the last scene, touching her hair upon notice of the large afro on the screen. Her energy changes after experiences like that. The boost in her confidence over time, though nuanced, is evidenced. Therefore, those calls for diversity in film and television are valid-- those calls for America's most popular visual platform to include, accurately, narratives that refute stereotypical portrayals of black characters, narratives that portray girls like Faith, not necessarily as heroes, but as human, visible, with stories worth telling.
For this, we are also fans of destinations like The Brown Bookshelf, a blog founded by a collective of African-American writers that seeks to raise awareness of the many African-American voices in picture and middle grade books. My sister regularly reads to Faith from such books, rehabilitating her imagination to include characters with skin and hair and a story as vibrant as hers. Eventually, my sister would overhear Faith discuss the characters and the lives they lived with her sisters, developing a deep interest in the stories, and a love of reading. If the most important support a child can be given to ensure the successful management of their future is literacy, then how powerful, how much more confident would our children be if the literature they read reflects their truth, their names and their cultures?
Recently my sister called to tell me a different story. Faith is, again, the only black student in a classroom of white faces, and she proudly told her peers who invented potato chips: an African-American man named George Crum. She has developed a sense of pride more beautiful than we could have hoped, and her confidence grows. Still, like our mother, we are committed to fighting for the mind of my niece and her sisters. Each day we hold her hand and with our words, our actions, and what we believe of ourselves, we lead her into the sunlight. Each day we affirm her beauty, her complexity, and that rare, unconquerable mind, a warrior's mind--her greatest inheritance.
Wayétu Moore is a writer based in Brooklyn, NY. She is the founder of One Moore Book, a boutique publisher of multicultural children's books. Follow her on Instagram.