Fresh from celebrating the historic marriage equality victory on the steps of the U.S. Supreme Court, Aaron and Austin Rhodes -- the twins well-known for their recent and emotional YouTube video in which they came out to their dad -- visited the Los Angeles LGBT Center.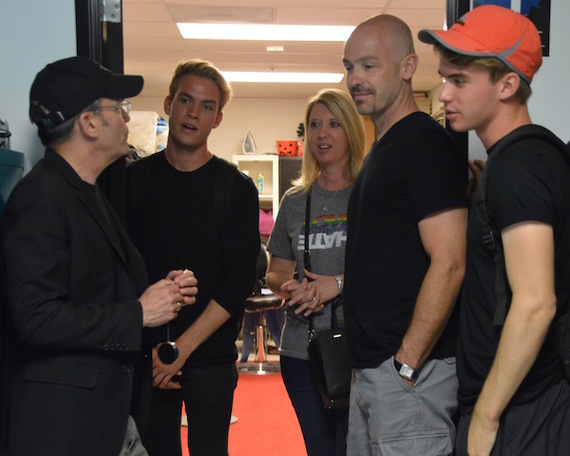 Their mom, Deena Pfahler, had heard about the Center's programs for homeless youth, so while visiting her sons in West Hollywood over the Fourth of July holiday weekend with her husband Chad, she asked if the family could tour the Center's 24-bed transitional living program for homeless youth and its Youth Center on Highland.
"I've been concerned about a few LGBT youth in my area not feeling accepted or loved," said Pfahler. "It breaks my heart knowing that these kids feel like they have nowhere to turn or anyone to rely on."

Pfahler met with the Center's Children, Youth and Family Services Director Curt Shepard to learn how she could create a safe place for LGBT kids in her conservative community in Ohio. She wants it to include an emergency shelter for those who have been rejected by their families and to be a safe place for parents and allies to access resources and information.
"I wish there were more moms like her," said Shepard. "I was so inspired by her passion to help LGBT kids who aren't as fortunate as her sons and who don't have a place to turn if their families abandon them. We're happy to help however we can."
While touring the Center, the "Rhodes Bros" -- as they call themselves in the videos posted to their popular YouTube channel -- were frequently recognized by formerly homeless young people living at the Center. One of them said he was grateful their video had inspired him to come out to his dad, even though his father hadn't yet accepted him. Clearly touched by his story, they -- and their mom -- encouraged him to give his dad some time.
"We get so many emails and letters from kids sharing their stories with us," Austin said after the tour, "but to actually be able to put a face with those stories is always such a humbling experience for the both of us and inspires us to keep working for greater visibility for these kids."
The duo, recently featured in People magazine, are inspired -- and surprised -- by their mom's plans to help LGBT youth in their hometown.
"Honestly, if you would've told me on the day we came out to her that she'd be doing what she's doing now, I probably wouldn't have believed you," said Aaron. "It's been a journey for all of us, and Austin and I are so proud of the voice she is creating for herself. And we're so inspired by what the Center is doing. You've created a beautiful atmosphere for kids to thrive, be themselves, and make a difference in the world."