Six black women currently hold the title of police chief in North Carolina, marking the first time this has happened in state history, according to WRAL.
"We've broken a glass ceiling," Deck-Brown told WRAL's Lena Tillett. "So, becoming chief, the honor is knowing that somebody else has that opportunity to get there."
The women, who said they often feel the need to do more to prove their abilities to men who may doubt them, have over 100 years of experience among them. Andrews, who was sworn in to her position in Morrisville last year, was the fourth black female police chief appointed in her area. Others, like Hawkins, who began as Fayetteville's police chief in June, became the first woman and first minority in the city to do so.
The police chiefs recognize the existing tensions between cops and the black community and the unique challenges they face in building trust while keeping communities safe. The women acknowledged that compassion, empathy and communication were among the key traits they display on the job ― and that these qualities can contribute to a positive change in the way cops police communities, especially those where people of color are specifically targeted.
"This is a paradigm shift in policing," Deck-Brown said. "This is what 21st century [policing] looks like. All we need is the opportunity. Some do it better than others, but we need the opportunity."
As a mother of black children, Hawkins said she does her job while also reckoning with the racism that law enforcement officers can perpetuate.
"We've always been of color," Hawkins said. "We've always had those family members, and that conversation that we have with our family members and our friends doesn't change because we happen to have our uniform on."
Black women have been among the fiercest leaders to call out racism in America, including Nakia Jones, a black police officer from Ohio who issued an impassioned plea in a viral video she made in response to the fatal shooting of Alton Sterling in Louisiana last year.
"It bothers me when I hear people say, 'Y'all police officers this, y'all police officers that.' They put us in this negative category when I'm saying to myself, 'I'm not that type of police officer.' I know officers that are like me that would give their life for other people," Jones says in the video, going on to call out and condemn racist police officers.
"If this is not where you want to work, then you need to take your behind somewhere else," she adds.
Before You Go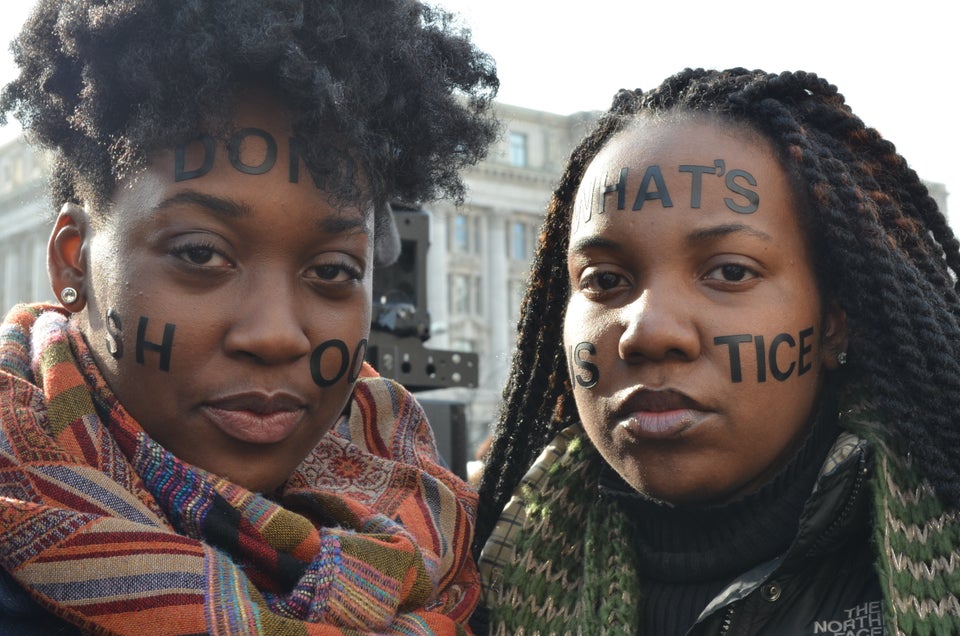 "Black Lives Matter" March
Popular in the Community