Where is the little man behind the curtain of flight search? There has to be a cheaper flight, right? What's the trick? When to book? Where to book? Which airports? Are layovers worth the saved cash if they give you gray hairs?
MIT-grad Adam Goldstein and Reddit Co-founder Steve Huffman are setting the stage for a new act in flight search with their newest venture, Hipmunk.
One month ago, Goldstein and Huffman launched the flight search engine Hipmunk, which sold $350,000 worth of flights, averaging $50,000 a day in its first seven days and garnered huge amounts of publicity. Now Huffman's Reddit partner, Alexis Ohanian, the creator of the site's cute chipmunk logo, has signed on board.
How does it work? Hipmunk is not finding flights for you that no one else can, (it's currently pulling its flight data from Orbitz with plans to integrate with other travel services in the near future) but it is making the process of choosing a flight smarter, faster and easier by presenting an intuitive interface to visualize options ad-free.
Users can sort results by "agony," price, duration, number of stops, etc., easily filter results by time of day, using draggable triangles on the left and right (this is awesome) and keep multiple searches open at once in tabs (this is very awesome). Hipmunk even hides useless flights (accessible by clicking on the "worse option," e.g. "3 worse"). This week they announced multi-city trips, autocomplete forms and glanceable times.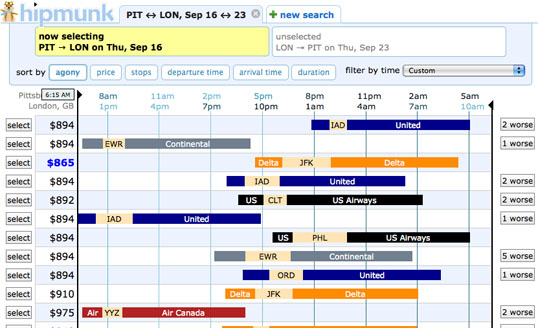 It's one of those "A-haaaa" moments that occurs so rarely when booking travel.
So while Hipmunk is not the little man behind the curtain, they are putting on quite the show. They won't release official numbers at the moment, but Goldstein says, "Last week we had our highest-revenue day yet...higher than any day leading up to Labor day and any day in our first week." Hipmunk is definitely growing and may even be looking pretty menacing to the Kayaks of the world. With financial support from big names like Y-Combinator and Paul Buchheit, the creator of G-Mail and Google AdSense and the entrepreneurial skills of Goldstein and the whiz kids of Reddit, the tired curtain of flight search may be opening to reveal a hip little chipmunk rocking aviator goggles.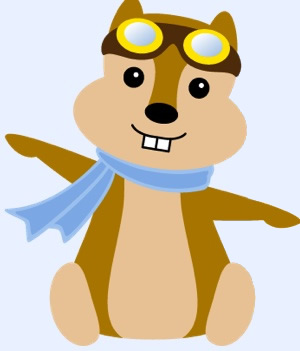 Calling all HuffPost superfans!
Sign up for membership to become a founding member and help shape HuffPost's next chapter