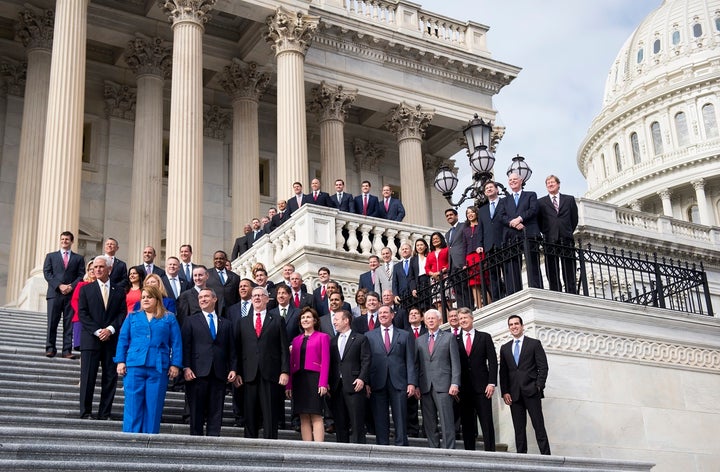 President Donald Trump has said, often and with great pride, that he is "the king of debt."
That's not a distinction any congressional campaign is gunning for, though, and most manage to avoid it. The median campaign debt for a member of the 115th House of Representatives as of Nov. 28: Zero.
But a look at just the freshmen members of the class tells a different story: Their median debt was $73,893. And the 10 most indebted freshmen at that point, detailed in the chart below, had a median campaign debt of about $444,000.

When it comes to winning a first term in Congress, amassing debt is often unavoidable.
"For freshmen it just happens, because that's what you have to do to get elected," said Meredith McGehee, chief of policy, programs and strategy at Issue One. "Once you're an established incumbent, you're not expected to go into debt unless you have a very competitive race."
But all that debt can pay off, as winning brings rewards. Corporate and other political action committees, though they may be reluctant to invest in the campaigns of unfamiliar faces, are often happy to lavish congressional newcomers with attention and money once they've secured their seats.
"Freshman members can call up these people and say, 'Hey, I'm new here in Congress, and I know you want to build a relationship with me. Here's a way to start doing this,'" said Every Voice's Adam Smith.
And PACs may have a preference for the shiny new lawmaker. In the weeks after the 2016 election, that translated to relatively high rates of contributions from PACs to the 10 indebted freshmen as compared to the 10 most indebted incumbents. Between the election and Dec. 31, the incumbents received, on average, contributions from two PACs for a total of less than $4,000. The average for the 10 freshmen, on the other hand, was a total of almost $22,000 from 10 contributing PACs. Excluding freshman Rep. Francis Rooney (R-Fla.), who received no post-election PAC money, bumps those numbers up to 11 PACs and nearly $24,000 in contributions.
(Note that these values exclude contributions of $200 or less, and omit the handful of refunds issued from campaign committees to PACs for donations given before Election Day.)
Rep. Paul Mitchell (R-Mich.) received $39,500 from PACs after the election, the highest total among the 10 indebted freshmen. He netted $2,500 from Comcast Corp.'s PAC, which gave a combined $15,000 to him and Reps. Trey Hollingsworth (R-Ind.), Lloyd Smucker (R-Pa.), Neal Dunn (R-Fla.), John Bergman (R-Mich.) and Lisa Blunt Rochester (D-Del.) from Nov. 9 through Dec. 31.
But Comcast wasn't the most generous PAC in the post-election landscape: That honor went to the National Cable and Telecommunications Association, the trade group for the cable industry. It gave a total of $21,000 spread out between five of the candidates — all of them Republican.
Overall, 64 PACs gave to at least one of the 10 freshmen after the election, for a total of over $218,000. The top seven (there's a nine-way tie for eighth place):

The leading donors were a mixed bag of corporate and leadership PACs, which are formed by members of Congress and used, in part, to donate to other lawmakers to build loyalty and support. Over the course of the entire 2016 campaign cycle, the House Conservatives Fund, tied to Rep. Patrick McHenry (R-N.C.), doled out almost $297,000 to federal candidates; House Speaker Paul Ryan's (R-Wis.) Prosperity Action gave more than $1.3 million. Less prolific was Rep. Joe Barton's (R-Texas) Texas Freedom Fund, which contributed $33,000 to federal candidates throughout the cycle — meaning that it made about 18 percent of its total contributions after the election.
The two Democrats in the group of freshmen —  Blunt Rochester and Rep. Vicente Gonzalez (Texas) — averaged a lower total of PAC contributions after the election (under $18,000) than did the Republicans (nearly $22,500, which includes Rooney's $0). With Republicans sweeping Congress and the White House, getting in the GOP's good graces seems to have been a priority.
One reason many of the campaigns of the freshmen on our list were so deeply in debt: They owed money to the candidates themselves. PACs may give plenty, but what's more reliable than your own bank account, assuming you're well-enough off to spare the funds?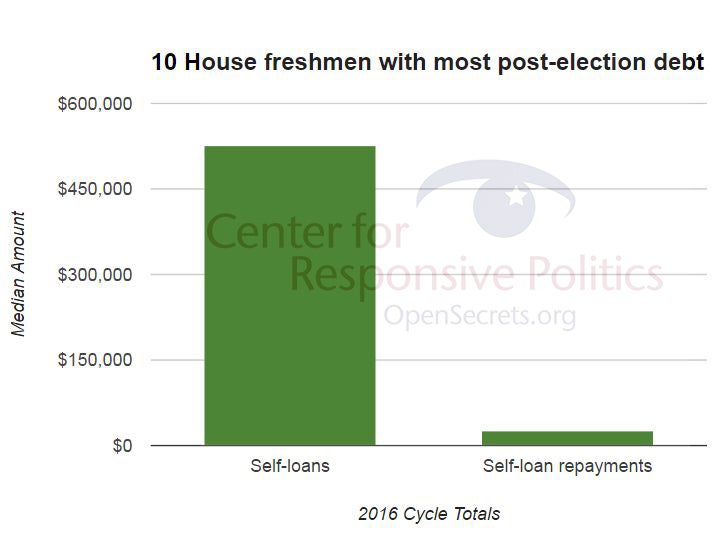 The median amount of money that the 10 freshmen loaned themselves as candidates over the course of the entire 2016 cycle was around $527,000. The median sum that they paid back to themselves, usually with funds from their donors, was roughly $27,000.
Why use the median rather than the average? The answer is simple, and it comes from the Midwest: GOP Reps. Paul Mitchell (R-Mich.) and Trey Hollingsworth (R-Ind.) both had accumulated more than $3 million in self-loans by election's end, and therefore significantly skew the group's average upward. What's more, the saga of Mitchell and Hollingsworth's debts highlights the fact that although repayments to these freshmen from their own campaigns were effectively negligible, the lawmakers had other means of decreasing debt. By the end of 2016, the $3.1 million that Mitchell owed to himself after the election had dwindled to just $30,000 without any corresponding repayments — indicating that he had forgiven most of his loans. The same was mostly true for Hollingsworth; the amount his campaign owed him fell from over $3 million to $60,000, though he made repayments of only around $43,000. Neither Mitchell nor Hollingsworth responded to requests for comment.
(Across the aisle, similarly, Gonzalez' year-end report made no mention of his nearly $1.9 million in self-loans — none of which his campaign committee repaid.)
McGehee called the practice of candidates lending money to their own campaigns "pretty much standard operating procedure" for many with the resources to do it. The financial strain of mounting a congressional campaign is one reason why deep-pocketed candidates often scare away challengers.
That financial burden becomes a bit easier to bear when money starts flowing in; and some, like Smucker, relied heavily on funds from campaign donors to recoup the money they'd lent. In the 2016 cycle, Smucker lent himself $590,000 and made almost $236,000 in repayments — a notably larger amount than Hollingsworth's. Mitchell and Gonzalez didn't pay themselves back a penny.
Researcher Doug Weber contributed to this post.
Calling all HuffPost superfans!
Sign up for membership to become a founding member and help shape HuffPost's next chapter