This post is part of a series sponsored by Cisco and its partners promoting women in STEM. Check out more stories about women in STEM here. Find out even more on HuffPost ImpactX, where people, technology, and social impact converge.
Little real evidence is available to indicate that the brains of men and women are "hardwired" differently, yet, perhaps due to lingering stereotypes, women remain underrepresented in the science, technology, engineering and math (STEM) fields.
In her book, Pink Brain, Blue Brain, Lise Eliot writes, "What I found, after an exhaustive search, was surprisingly little solid evidence of sex differences in children's brains."
This appears to run contrary to common claims that women somehow are less adept at STEM, a conclusion that would seem to follow from their marked underrepresentation in university science and technology programs. (See the statistics below for more information.)
Eliot, who is a neuroscience professor, notes, "Only two facts have been reliably proven." The first is that boys' brains are larger than girls' -- "somewhere between 8 and 11 percent larger, depending on the study," which is a difference similar to gender differences in height and weight.
The second is the difference that shows up around the onset of puberty: "Girls' brains finish growing about one to two years earlier than boys'," she writes. That also mirrors the differences in children's physical growth -- girls enter puberty a year or two before boys do.
So, according to Eliot, "the reality, judging by current research, is that the brains of boys and girls are more similar than their well-described behavioral differences would indicate."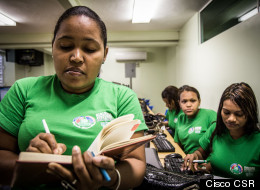 Linda Billings, director of science communication at the Center for Integrative STEM Education at the National Institute of Aerospace, is similarly skeptical of neuroscientific theories that male and female brains are built differently.
"Based on my readings of secondary literature and 60-plus years of observation and experience, I lean hard toward thinking that male-female differences in cognitive ability and style [are] primarily the product of socialization--that is, learned," she says.
Billings, who volunteers as a "scientist in the classroom" with second and fourth graders, says she observes "noticeable gender-based differences in social behavior but no noticeable gender-based differences in cognitive ability or style."
"I do see differences in cognitive ability and style from individual to individual, which is in line with the literature on the topic," she says.
Helping Girls Find a Sense of Belonging
Both science and women lose when stereotypes "serve as unnecessary gatekeepers" to educational pursuits, writes Cordelia Fine in the book, Delusions of Gender: How Our Minds, Society, and Neurosexism Create Differences. She points to work by psychologist Catherine Good and others that shows that "a sense of belonging" is an important factor in women's intentions to continue in the field of math.
"This feeling of belonging, however, can be eroded by an environment that communicates that math ability is a fixed trait and not something that hard work can increase," especially in combination with the often accompanying message that women are naturally less talented than men, according to Fine. Several nonprofit organizations and companies are devoting themselves in a number of ways to increasing girls' sense of belonging in STEM:
Joni Blakeslee, senior manager in corporate affairs at Cisco, has long experience as a volunteer helping girls find that sense of belonging.
"I feel it's my responsibility to get girls interested. And it's a way to build a pipeline to Cisco. There has to be that talent pool," says Blakeslee, a 17-year Cisco veteran who has a degree in computer science and engineering.
Over the years Blakeslee says she has seen what doesn't work in STEM education: "a couple of girls in a class with a bunch of boys. It's intimidating. I was in that situation" in a remote school in Alaska.
"Girls need to be in settings where they feel more comfortable. A lot of times girls do better than boys, they just don't think they can," Blakeslee says.
Sometimes girls "have assumptions that you have to be rich, have to be a certain skin color," to succeed in science and math, she says, so it's especially helpful when the girls "are able to see people who look like them" acting as mentors.
She's found that girls are interested in doing well in society and making a difference. For example, the veterinary field "is probably 85 percent female," Blakeslee notes, perhaps because girls have a good idea of what a veterinarian does and how the work contributes to society.
Her goal is "building awareness, getting girls to understand at an early age that technology can be rewarding, can be fun, can be social," Blakeslee says.
Oftentimes "girls say they want to help people. We want to show them that having a background in technology will help them solve the world's problems more easily."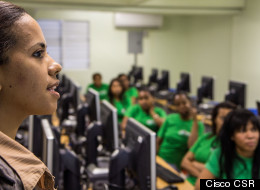 Ashley Covington was introduced to Cisco's efforts to encourage girls' participation in STEM education in 2005 when she attended Edmondson-Westside High School, a technical school in Baltimore.
"I love to see how things work. I took apart radios and put them back together," says Covington, who found that "a lot of times learning from the book is tiresome, it's not as interesting."
So she was especially impressed that, as part of Cisco's program, "they gave us equipment, like routers. Learning hands-on really inspired me to want to do IT."
Today, Covington is a system administrator with Baltimore City Public Schools and volunteers to talk to high schools girls about STEM careers because she believes that if girls "talk to someone close to their age and see it's not that hard and it's the worth the work, more would get into the field."
Women remain underrepresented in science and engineering, although to a lesser degree than in the past, according to the National Girls Collaborative Project report, "The State of Girls and Women in STEM."
Girls and boys in kindergarten through 12th grade "do not significantly differ in their abilities in mathematics and science, but they do differ in their interest and confidence in STEM subjects," according to the report, which was issued in June. Here are some more pertinent facts:
Male students are more than three times more likely to be interested in STEM majors and careers, compared to female students.
At the college level, men earn 82 percent of engineering degrees, 82 percent of computer science degrees and 81 percent of physics degrees.
Women make up 47 percent of the overall workforce and constitute only 27 percent of the science and engineering workforce.
Fewer than 1 in 10 employed scientists and engineers are minority women.
Every year, the Cisco Networking Academy program teaches hundreds of thousands of students worldwide the skills needed to build, design and maintain networks--improving their career prospects, while filling the global demand for networking professionals. With 10,000 academies in 165 countries, the Cisco Networking Academy helps individuals prepare for industry-recognized certifications and entry-level information and communication technology (ICT) careers in virtually every type of industry.
Related